Online supply shop for Witches, Pagans and Wiccans.
Visit our store at the Beenleigh Markets every Sunday from 6am till midday.
---
Runes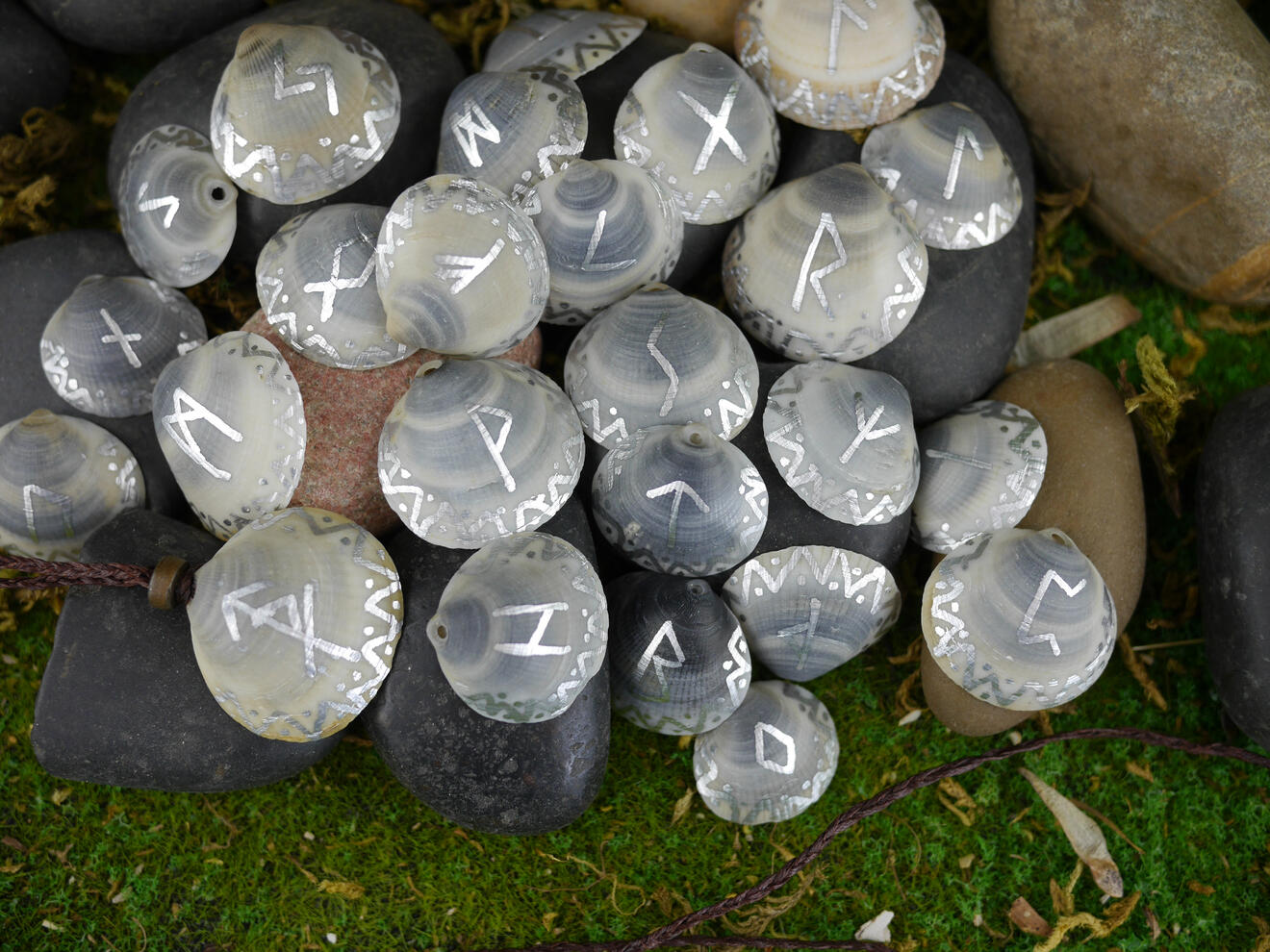 Seashell Elder Futhark Runes & Strength Bindrune Pendant
Length: approx. 2-3cm
Thickness: approx. 0.5cm
Material: Seashell
Strength Bindrune Pendant
Material: Seashell
$55.00
---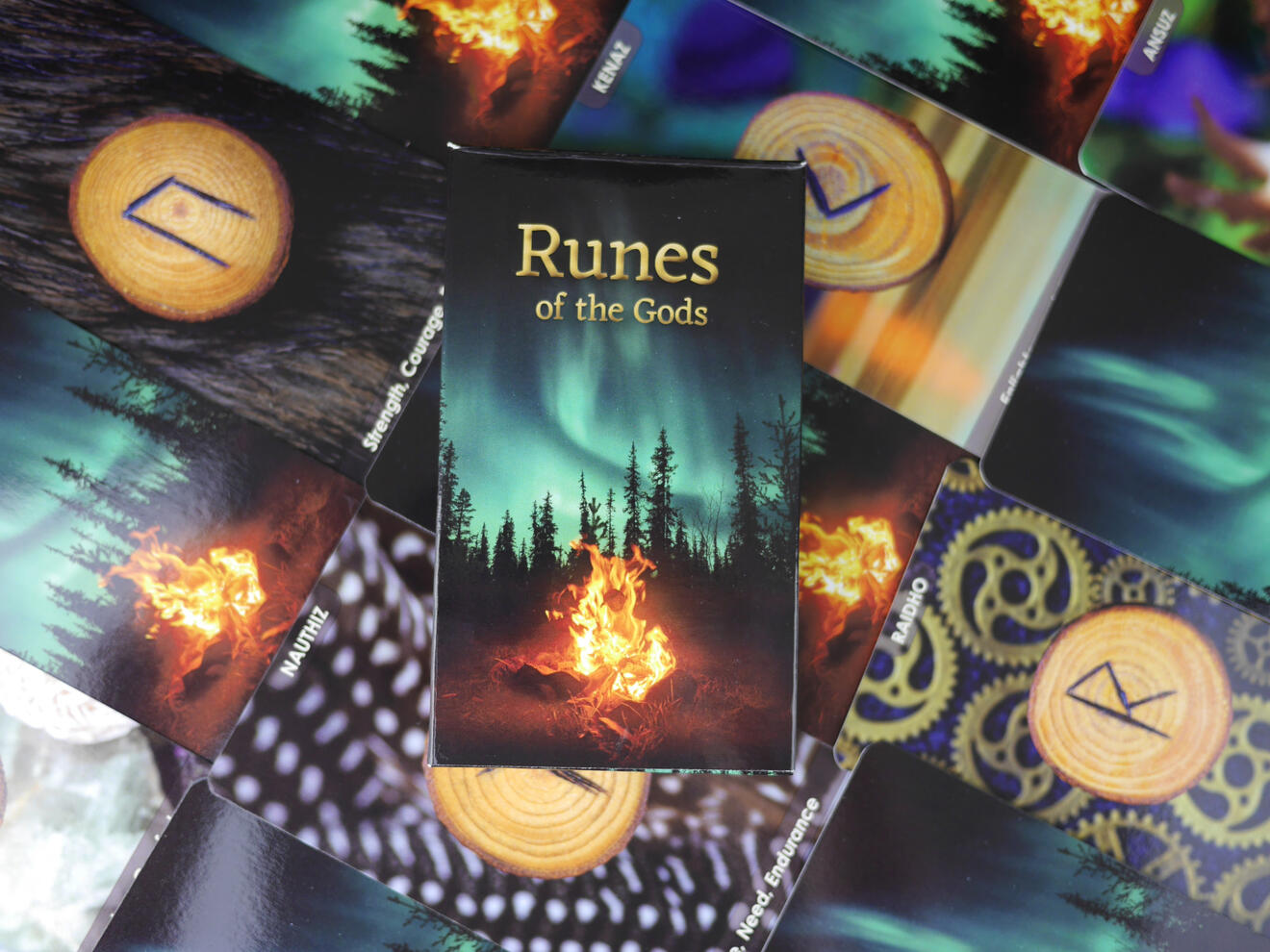 Runes of the gods oracle cards
Condition: New
Runes of the gods are sets of oracle cards based on Elder Futhark rune system
By: The Rune Workshop
Dimensions
120mm x 70mm
The runes are an ancient language of the Germaic people and are used for writing, divination, healing, spell work & guidance, The Runes are a direct line of communication to the Gods
Contains 24 rune cards with meanings.
Designed and printed in Australia
$34.00
---

---
---
---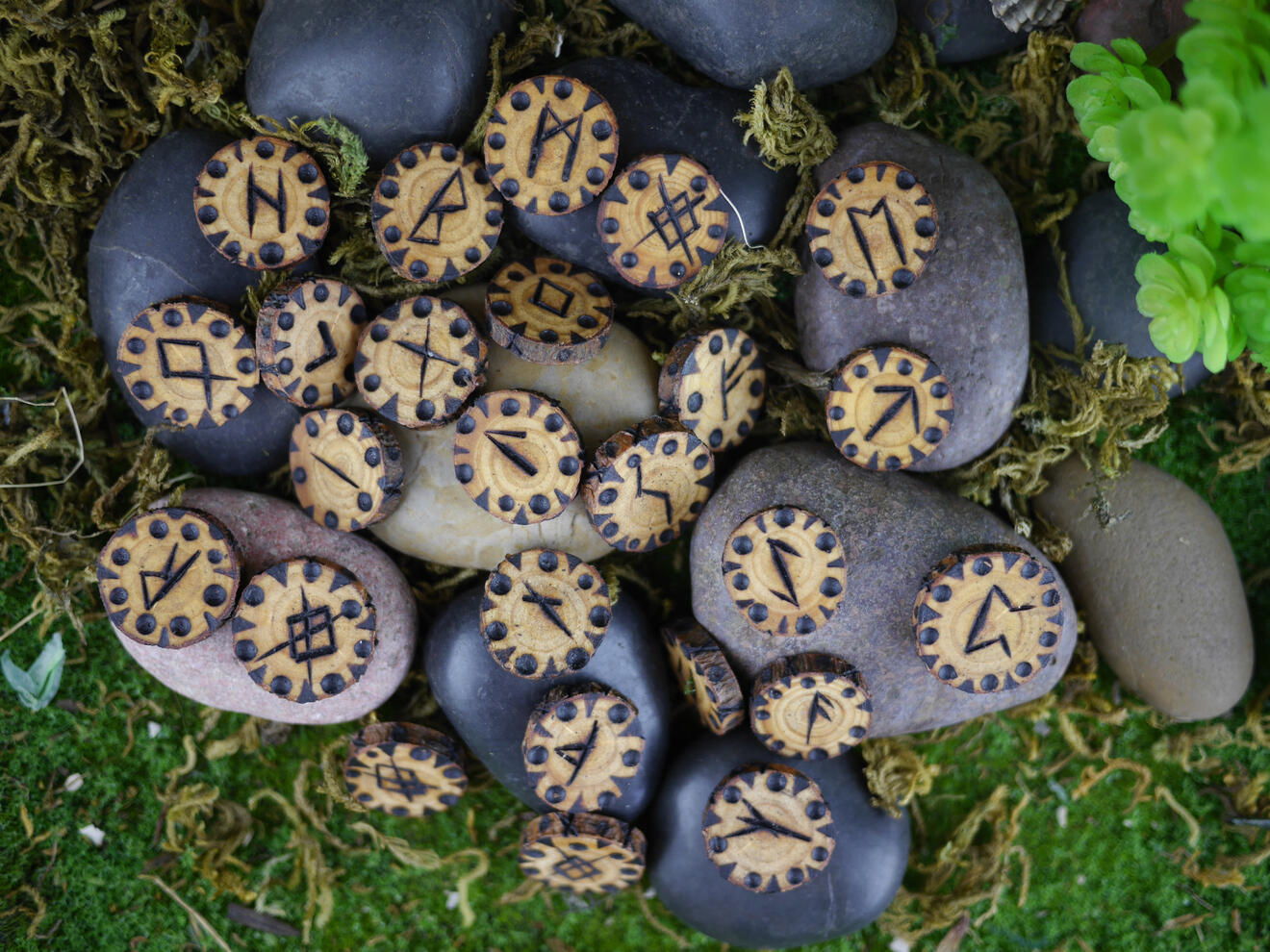 Elder Futhark Runes Round
Length: approx. 2cm
Thickness: approx. 0.5cm
Material: wood
Pouch
Material: Burlap
Size:9cm x 13cm
$35.00
---

---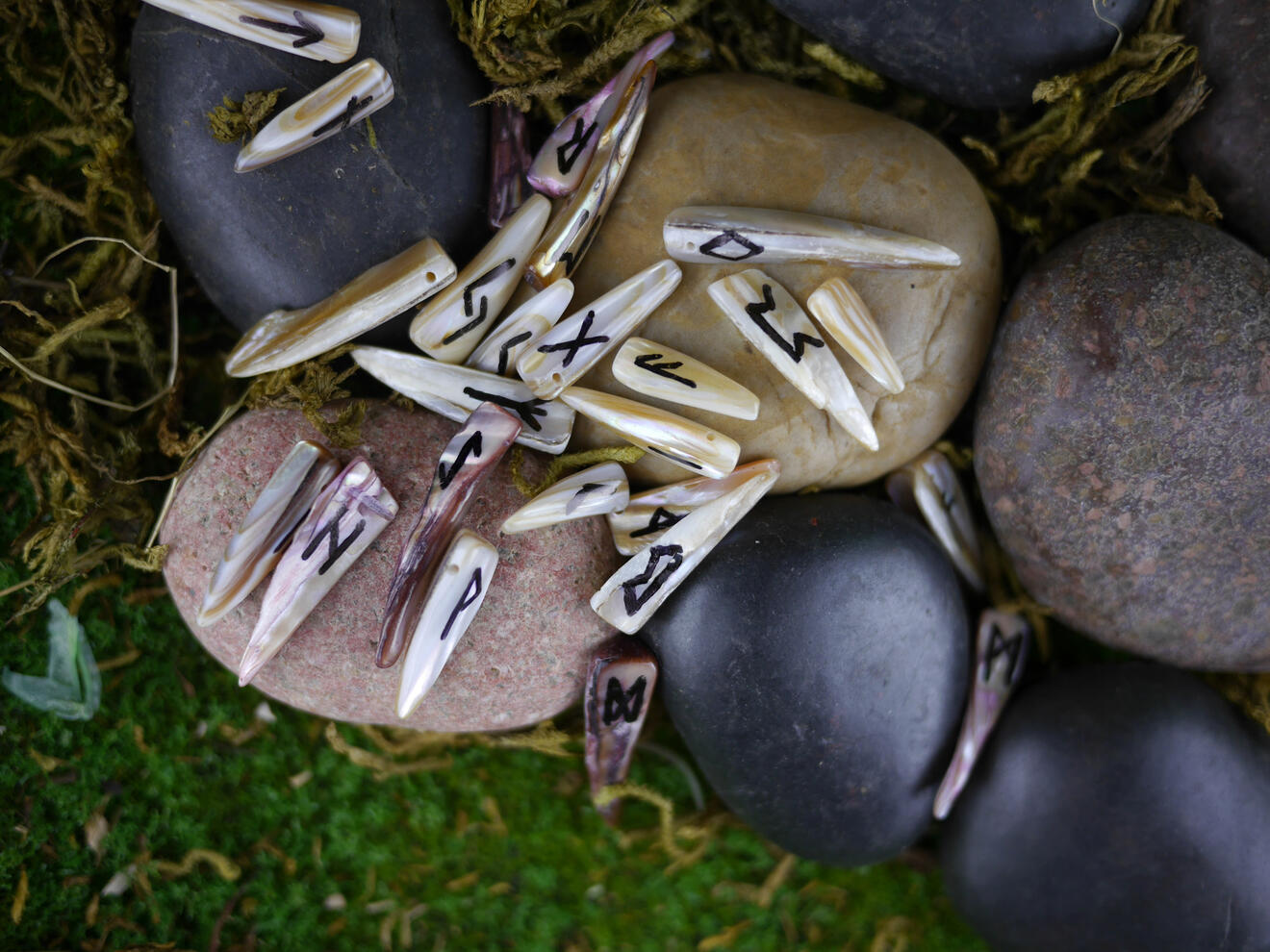 Mother of Pearl Elder Futhark Runes
Mixed Size : approx. 1.5cm to 3cm
Material: Mother of Pearl
Pouch
Material: Burlap
$35.00
---

---
---
---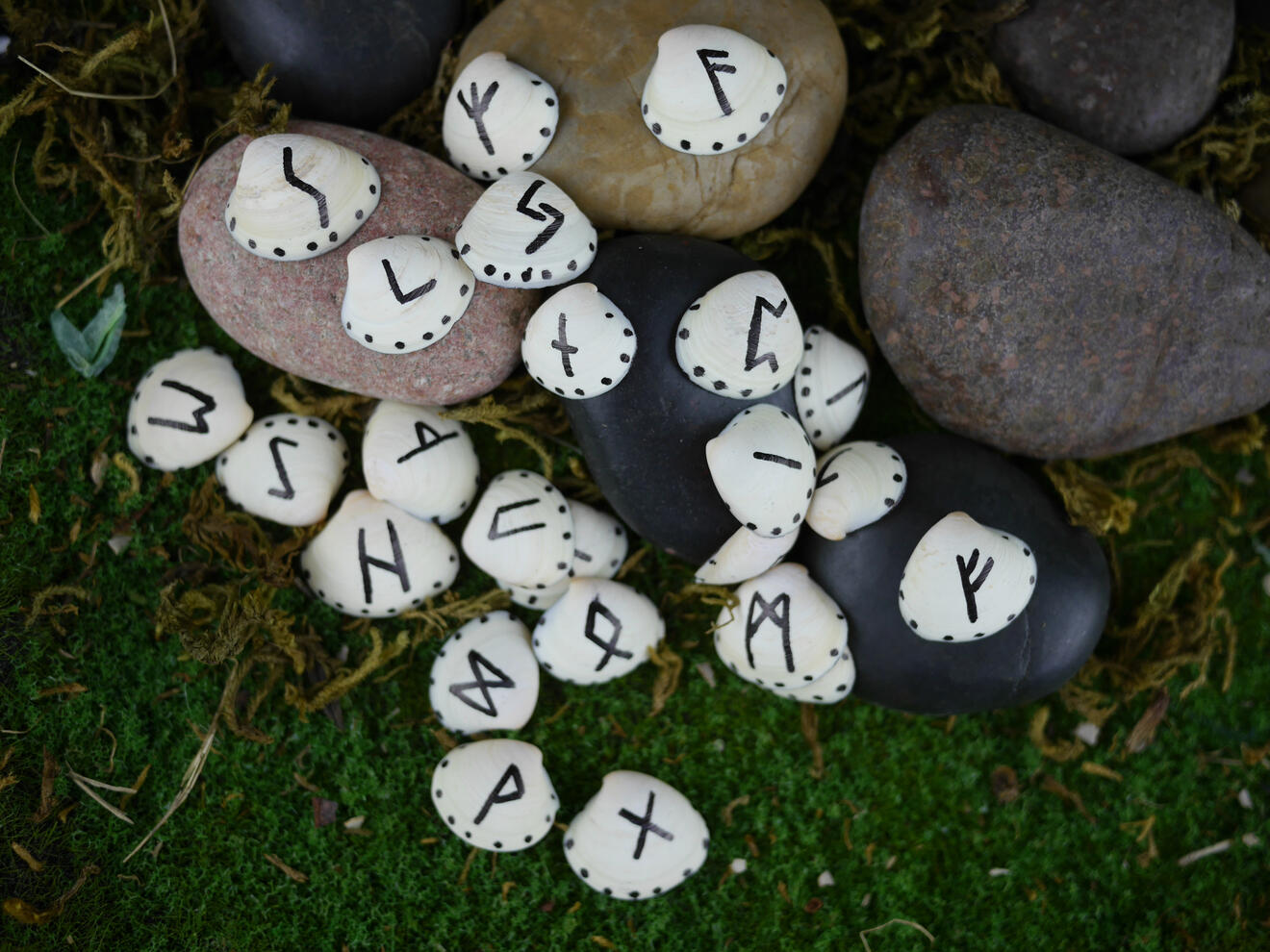 Seashell Elder Futhark Runes
Length: approx. 2cm
Thickness: approx. 0.5cm
Material: Seashell
Pouch
Material: Burlap
$30.00
---

---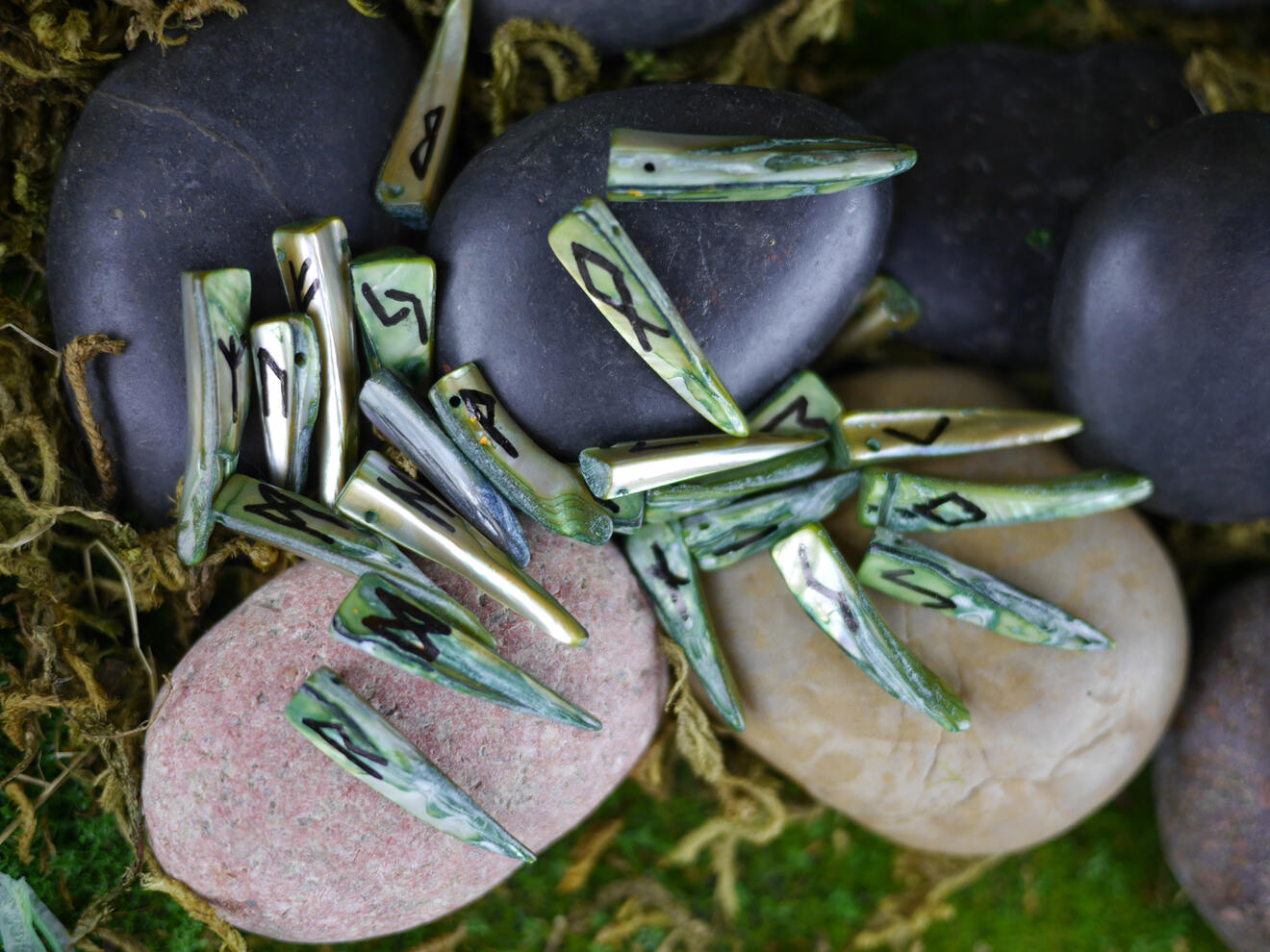 Mother of Pearl Elder Futhark Runes Green
Mixed Size : approx. 1.5cm to 3cm
Material: Mother of Pearl
Pouch
Material: Burlap
$35.00
---

---
---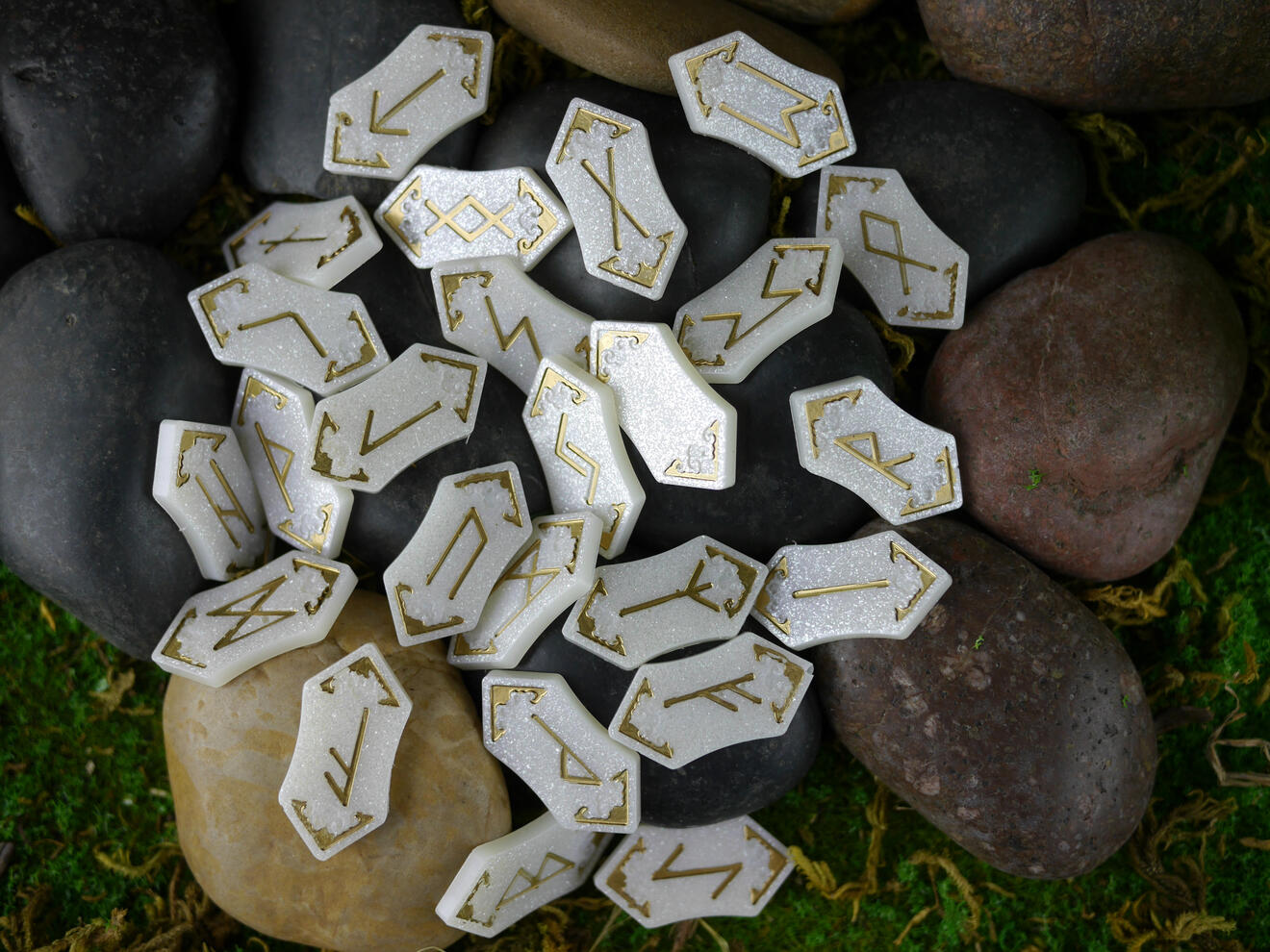 Elder Futhark Runes White
Length: approx. 3cm
Thickness: approx. 0.5cm
Material: Epoxy Resin
$30.00
---

---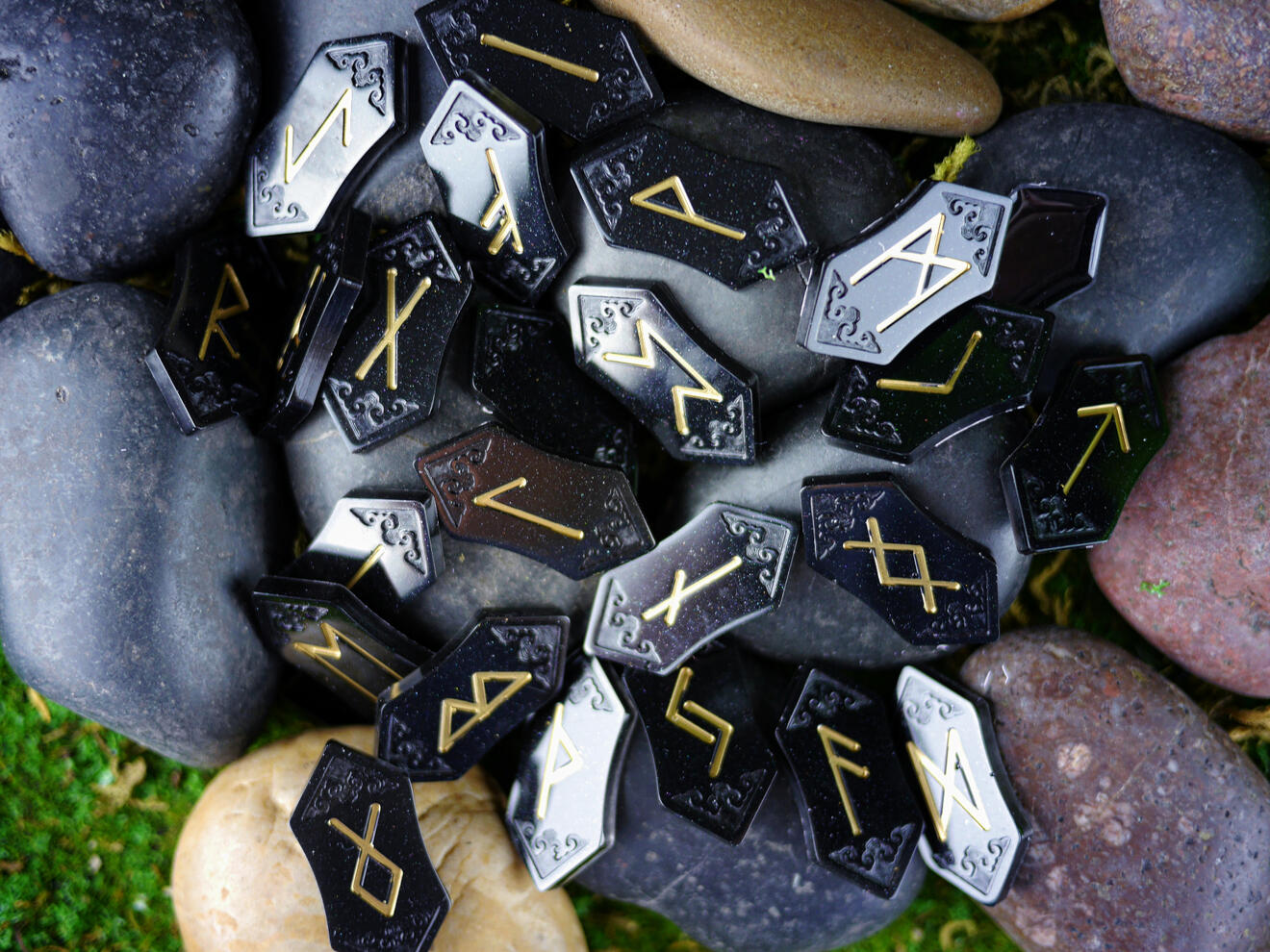 Elder Futhark Runes Black
Length: approx. 3cm
Thickness: approx. 0.5cm
Material: Epoxy Resin
$30.00
---

---
---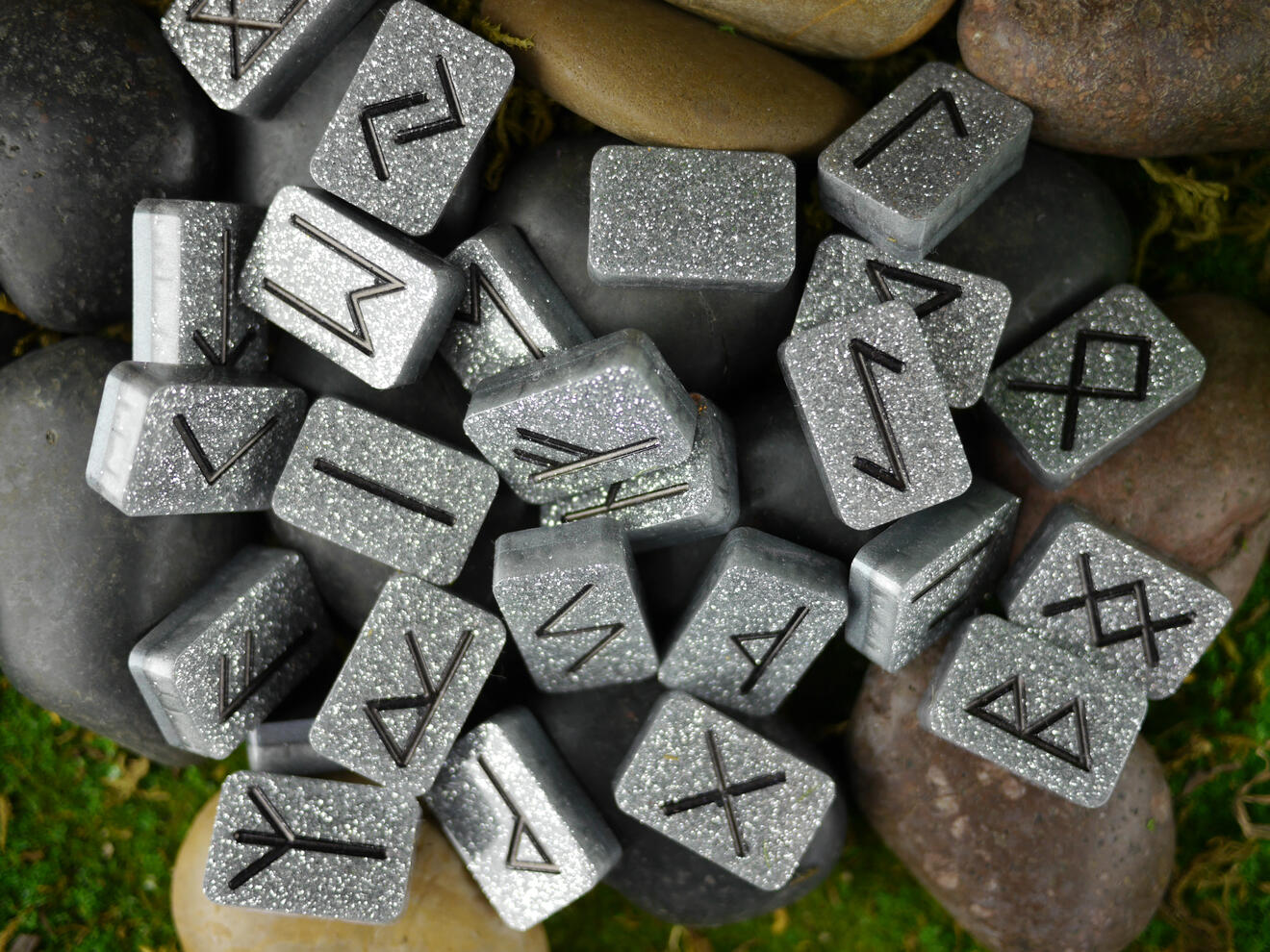 Elder Futhark Runes Silver
Length: approx. 3cm
Thickness: approx. 0.5cm
Material: Epoxy Resin
$34.00
---

---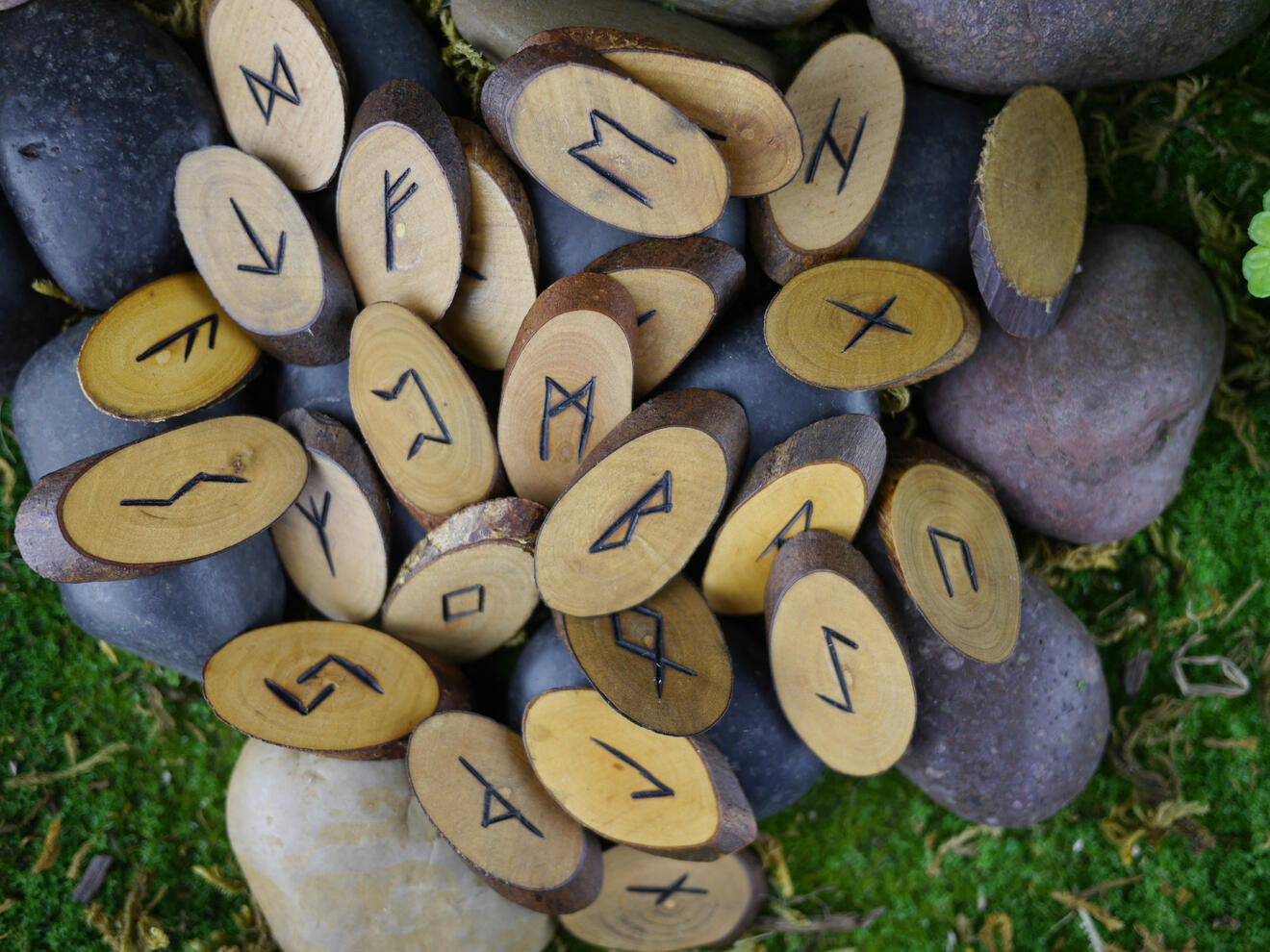 Elder Futhark Runes Oval
Length: approx. 4.5cm
Thickness: approx. 0.5cm
Material: wood
$38.00
---

---
---
---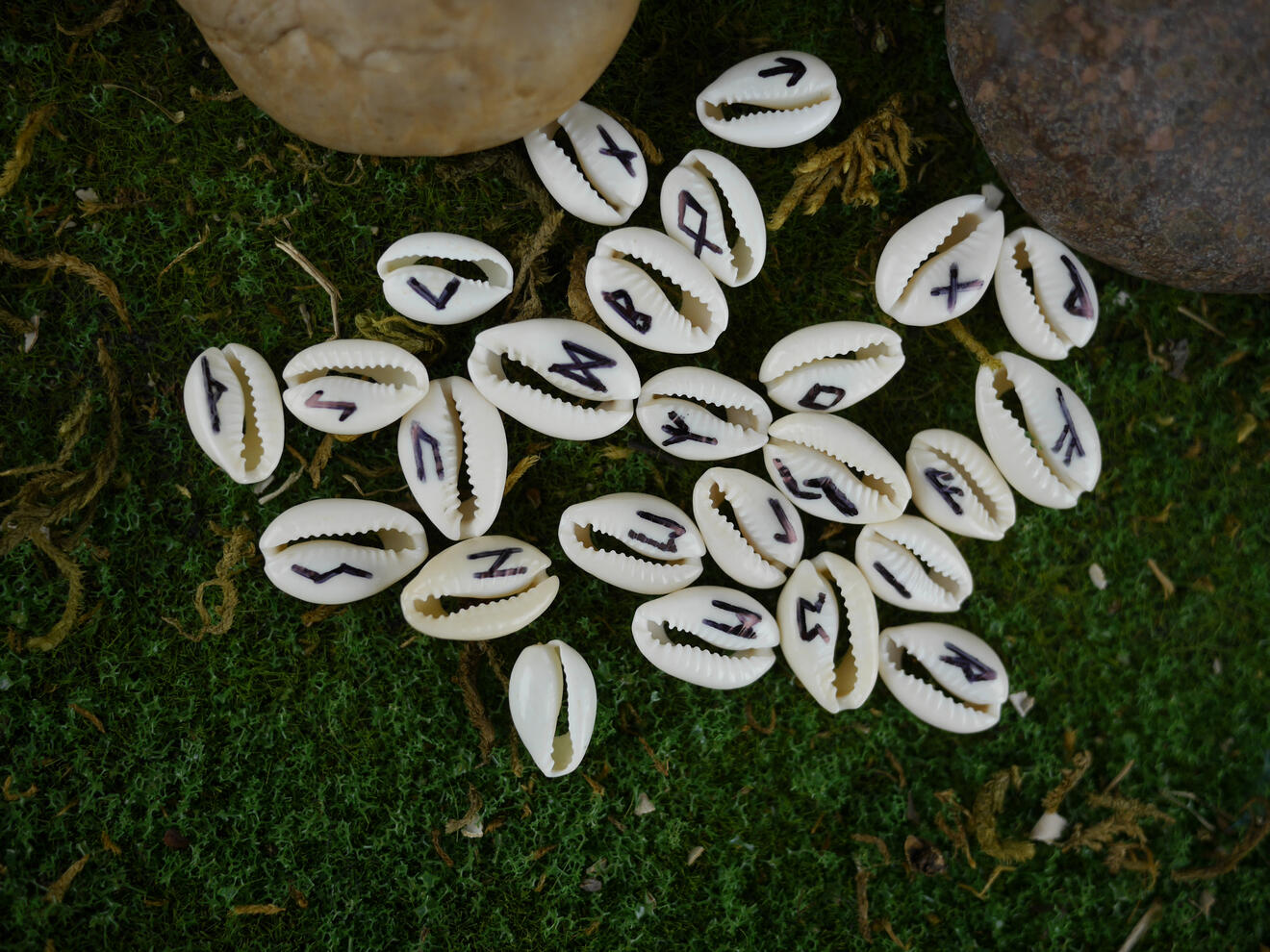 Cowrie Shell Elder Futhark Runes
Diameter: approx. 1.5cm
Material: cowrie shell
$30.00
---

---
---
---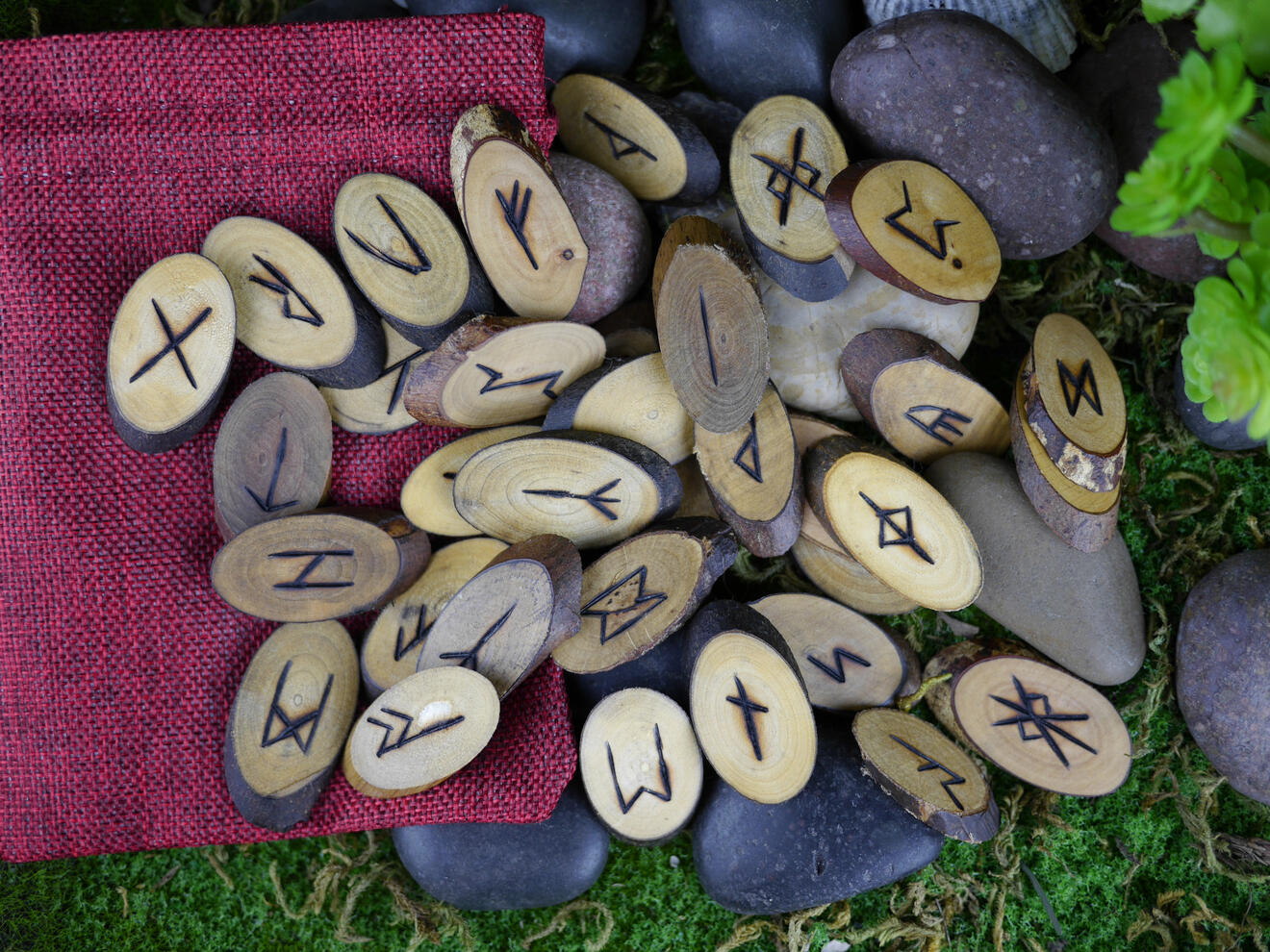 Anglo Saxon Runes Oval
Runes
Rune Size: approx. 4cm
Thickness: approx. 0.5cm
Pouch
Meaterial: Burlap
Size:10cm x 14cm
$35.00
---

---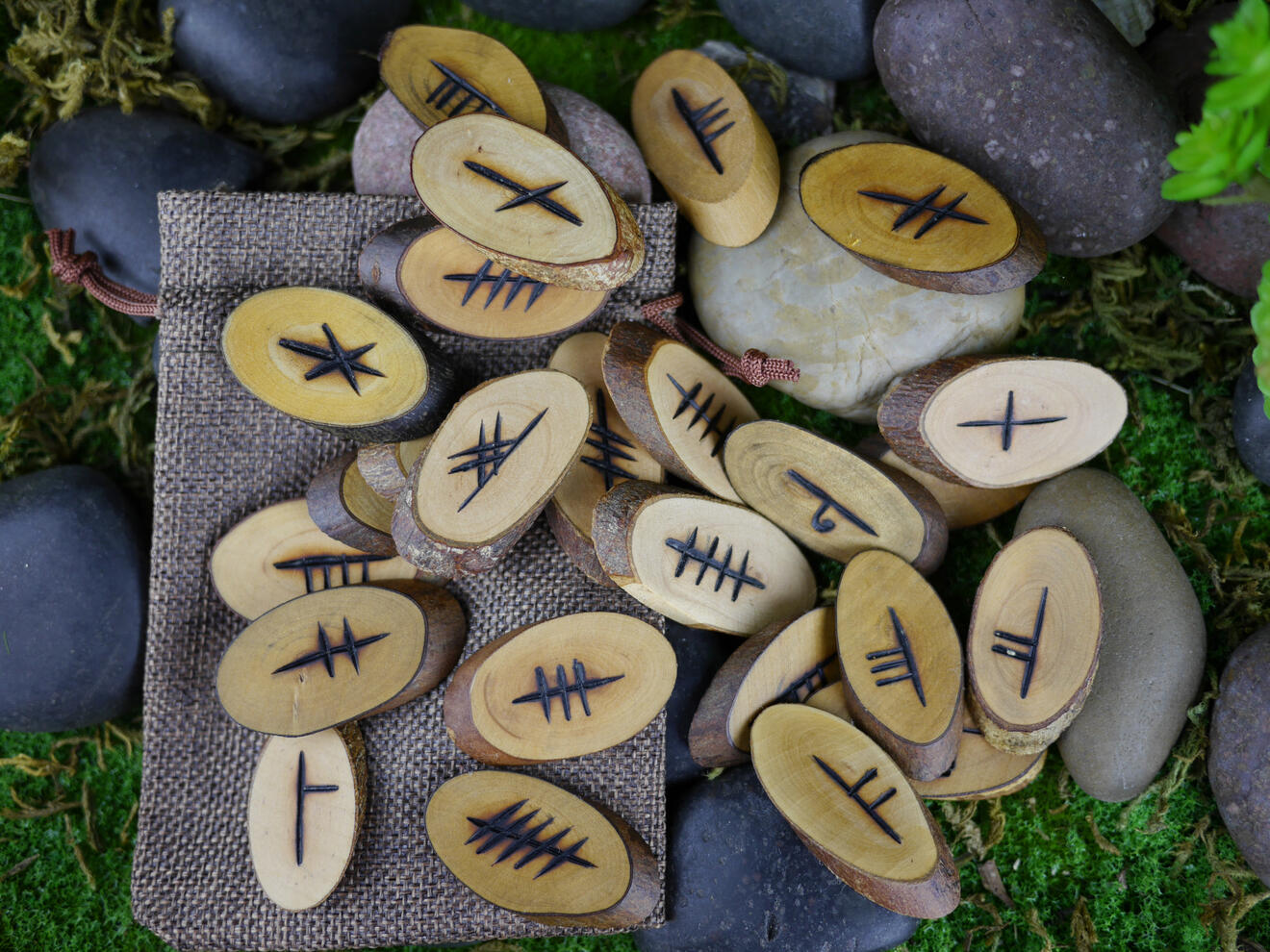 Ogham Runes
Runes
Length:approx. 4cm
Thickness:approx. 0.5cm
$35.00
---

---
---
---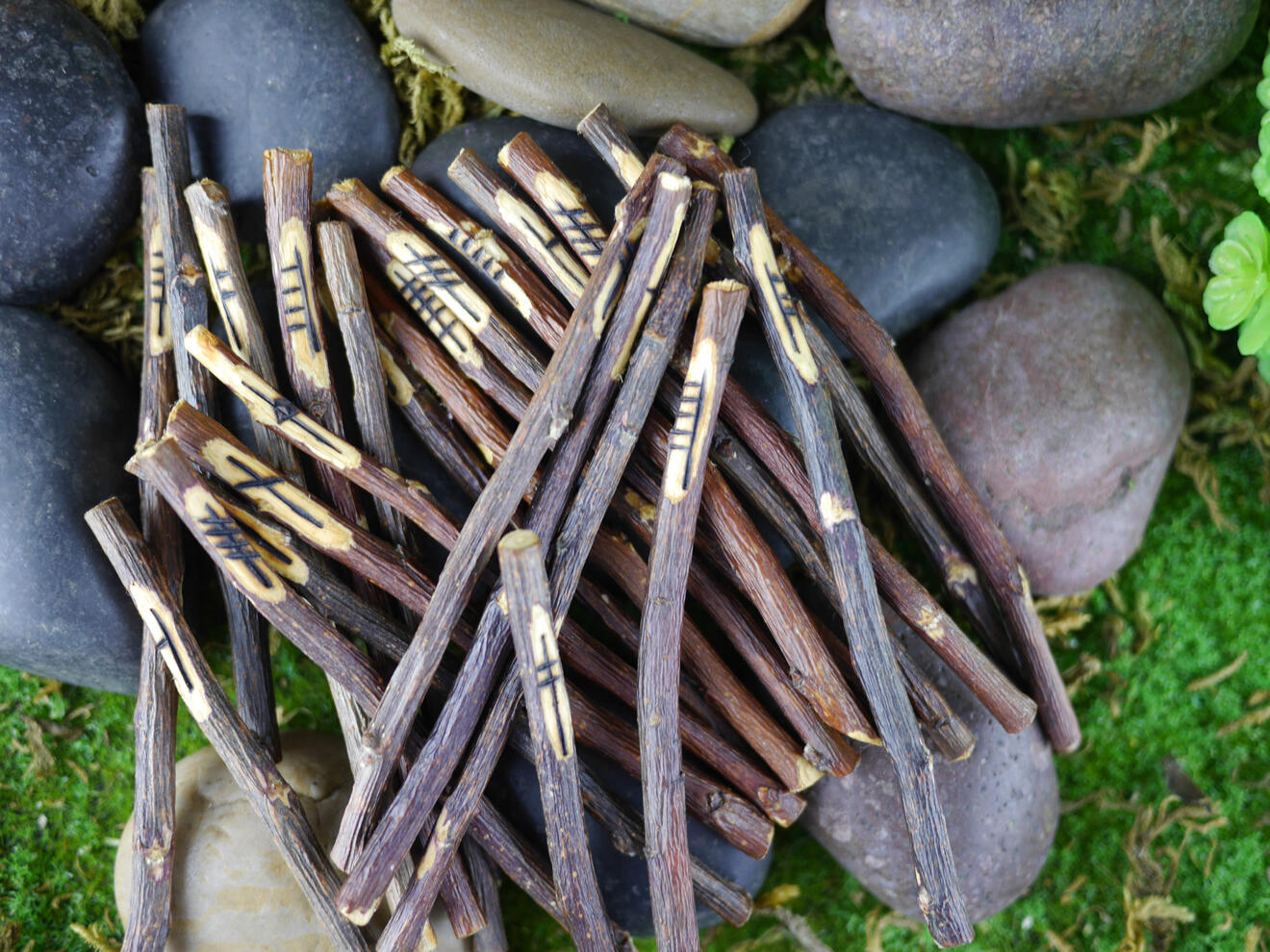 Ogham Rune Staves
Runes
Length:approx. 12cm
Thickness:approx. 0.5cm
Material: Apple wood
$35.00
---

---
---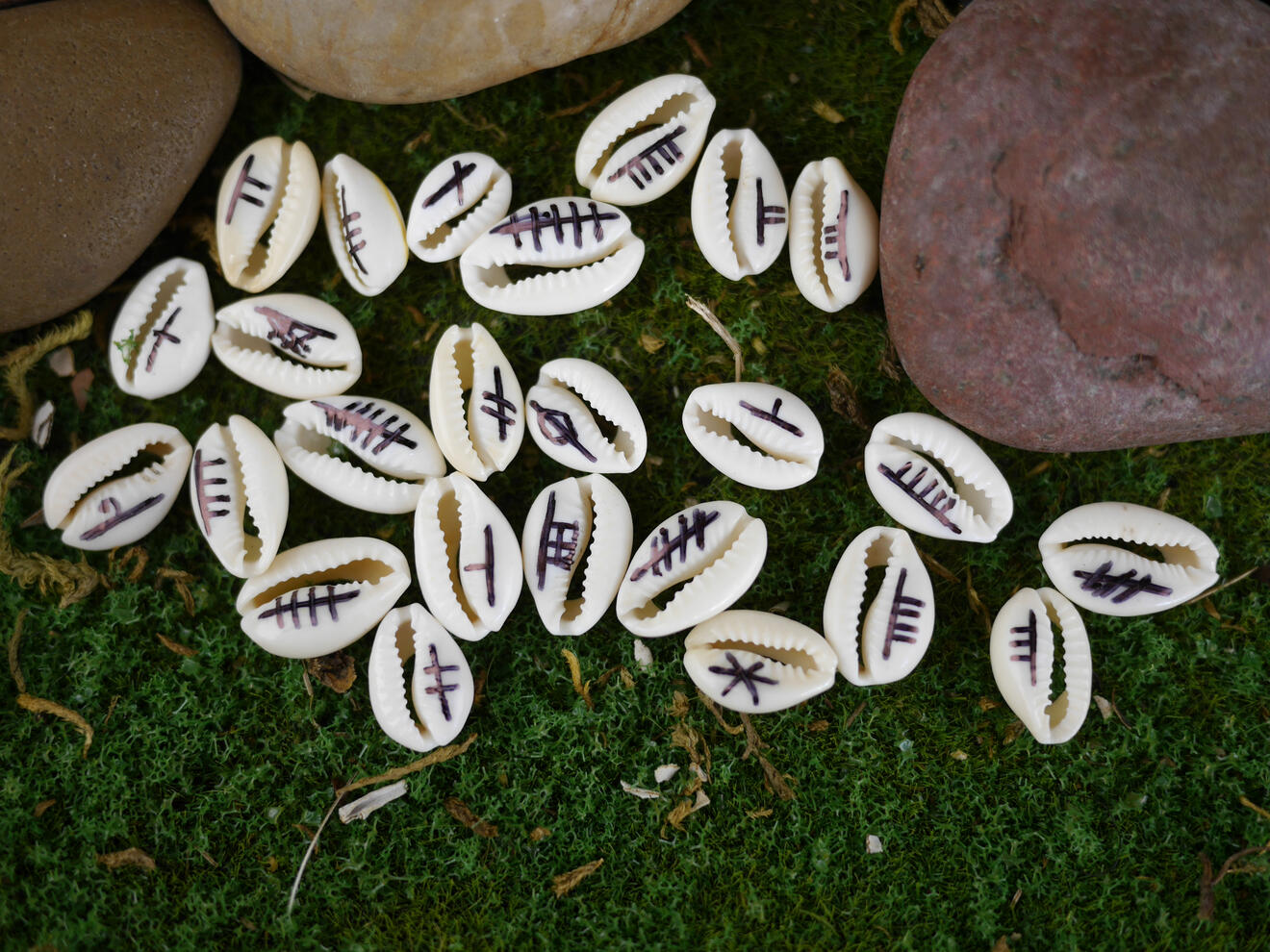 Cowrie Shell Ogham Runes
Runes
Length:approx. 1.5cm$30.00
---

---
---
---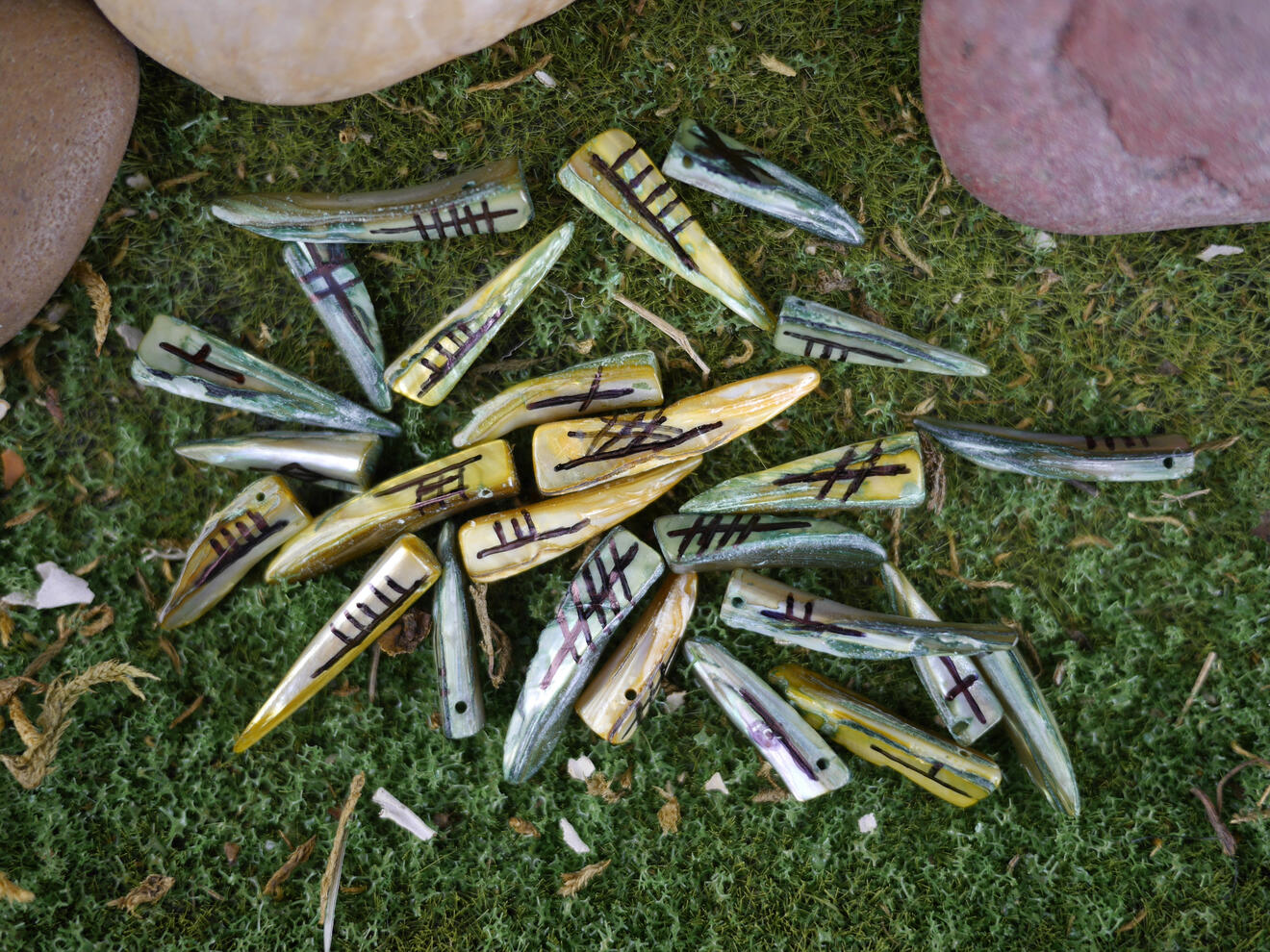 Mother of Pearl Ogham Runes
Runes
Mixed Size : approx. 1.5cm to 3cm
Material: Mother of Pearl
$35.00
---

---
---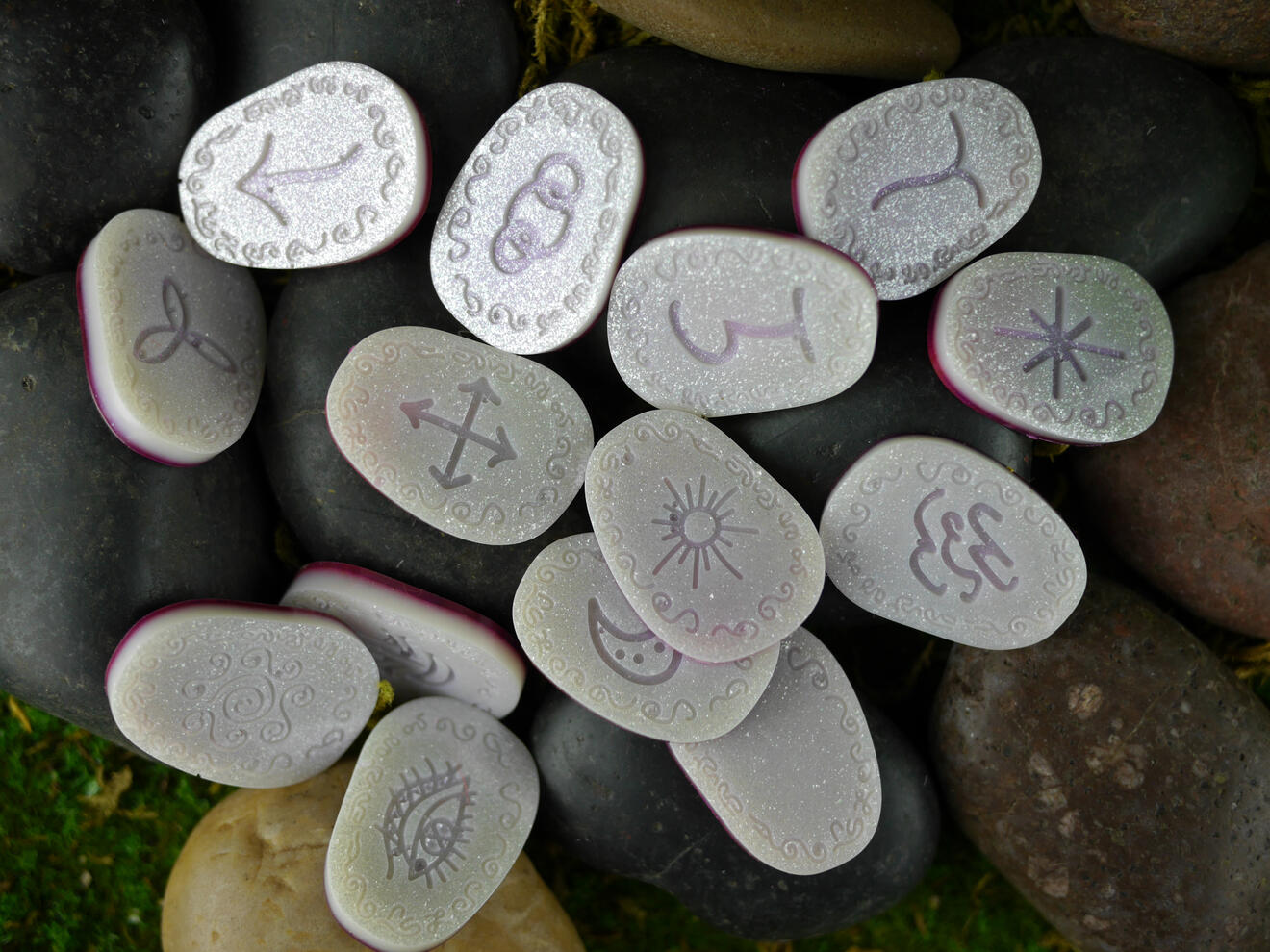 Witches Runes White/ Purple
Runes
Length: approx. 3.5cm
Thickness: approx. 0.5cm
Material: Epoxy Resin
$30.00
---

---
---
---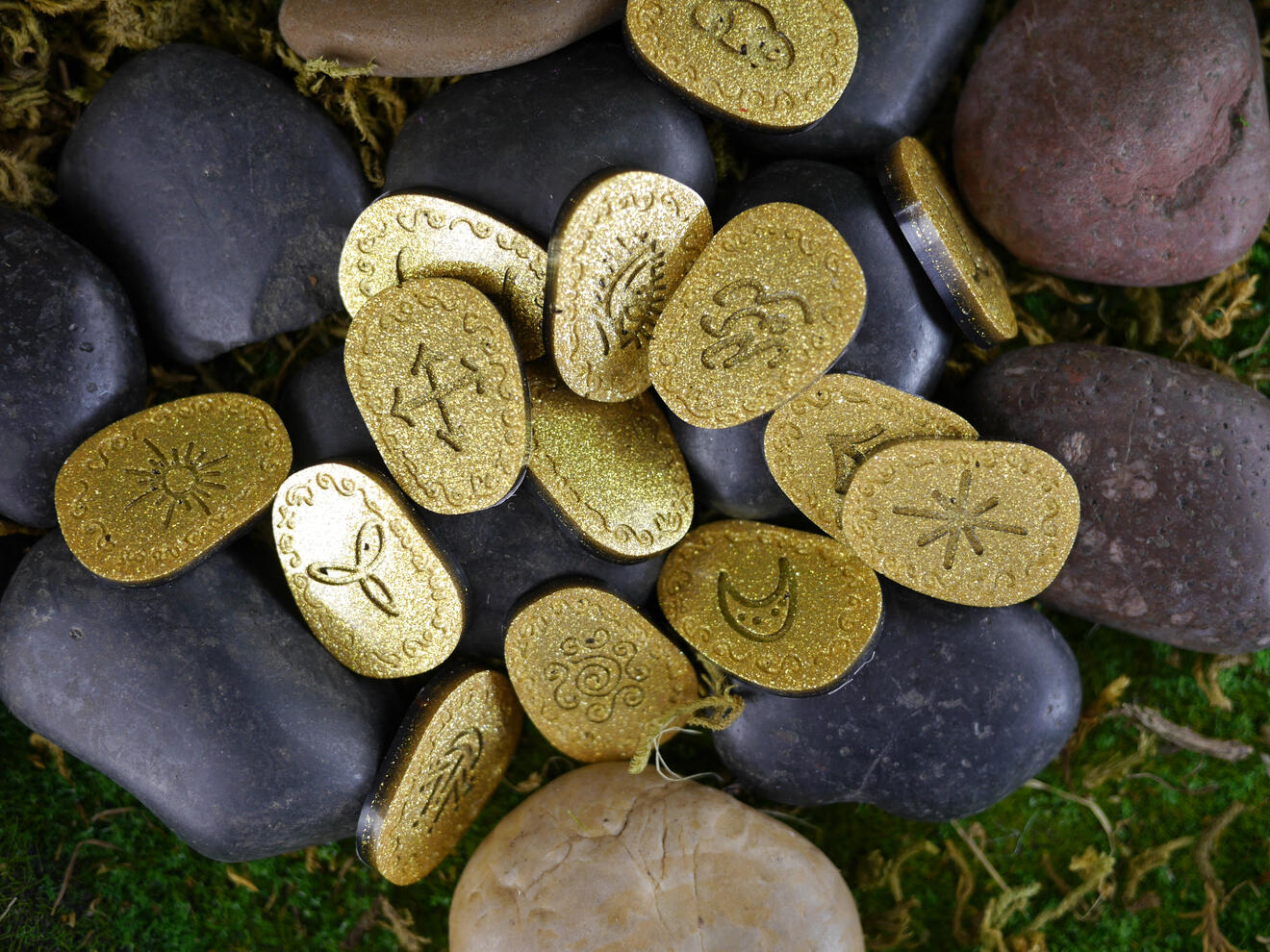 Witches Runes Gold
Runes
Length: approx. 3.5cm
Thickness: approx. 0.5cm
Material: Epoxy Resin
$30.00
---

---
---
Altar Broom/Besom
---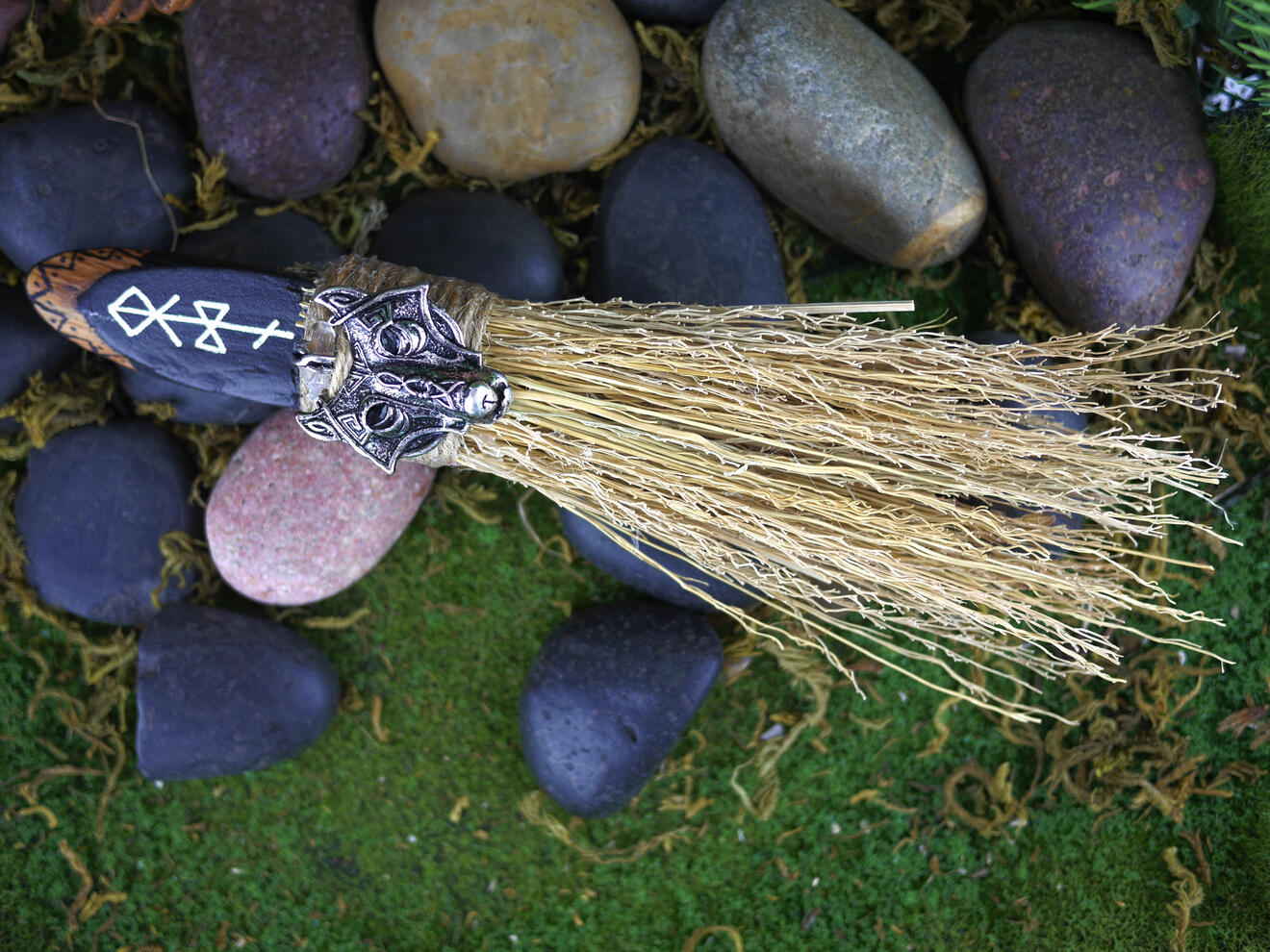 Altar Broom Odin Wolfs Head
Size: approx. 25cm
$35.00
---

---
---
---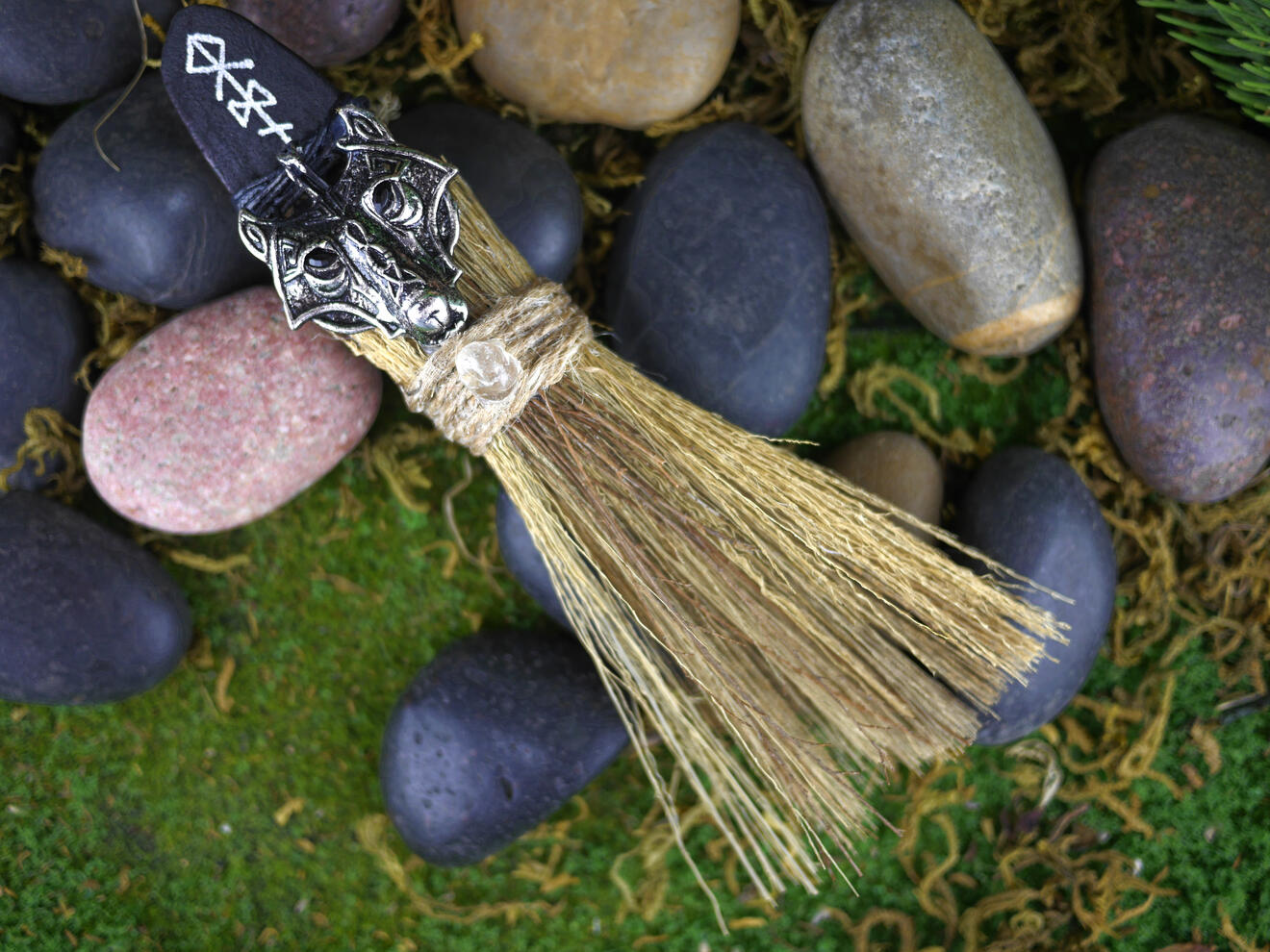 Odin Altar Broom Wolfs Head
Size: approx. 19cm
$25.00
---

---
---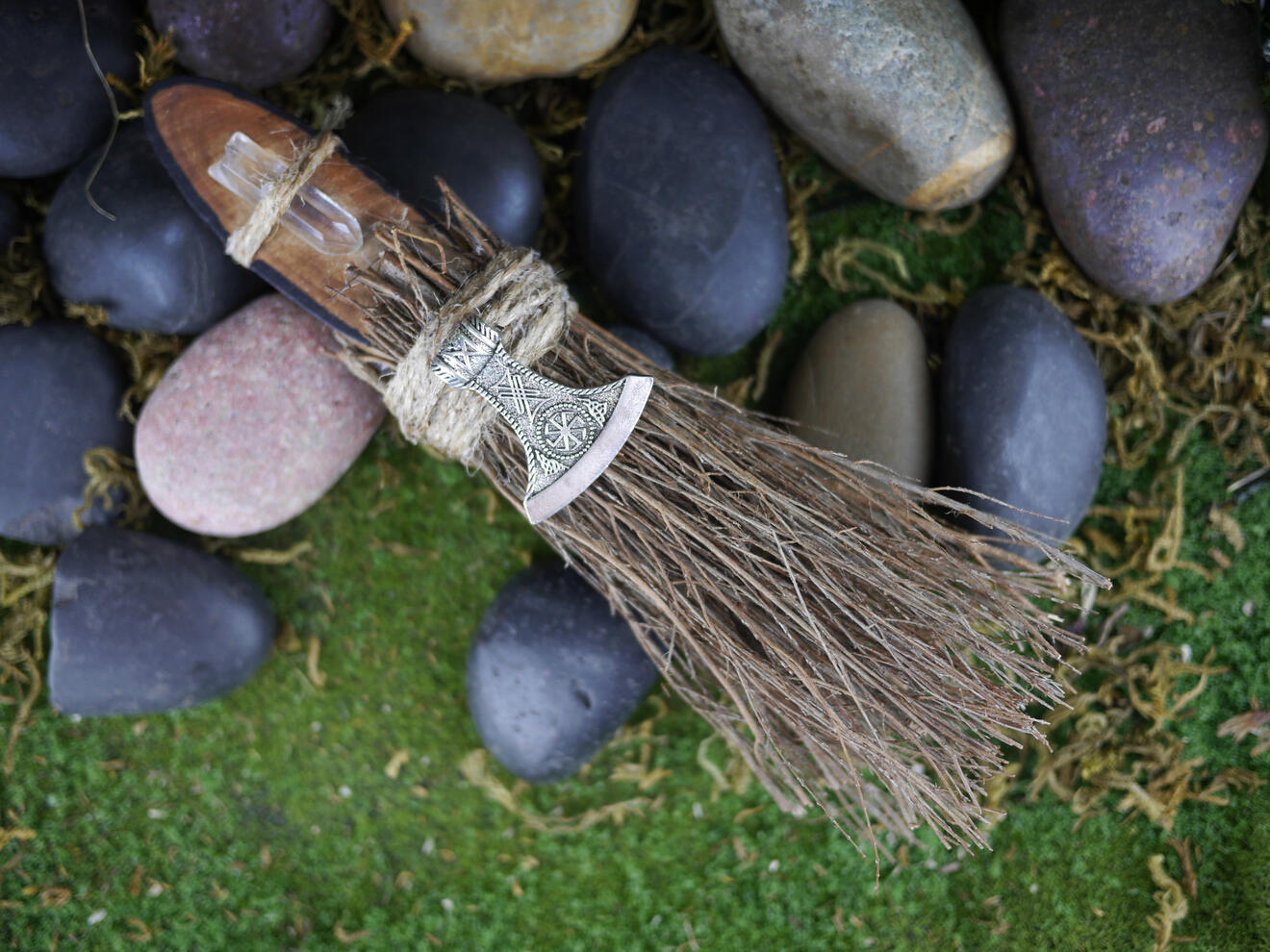 Altar Broom Dagaz Battle Axe quartz crystal
Size: approx. 21cm
$27.00
---

---
---
---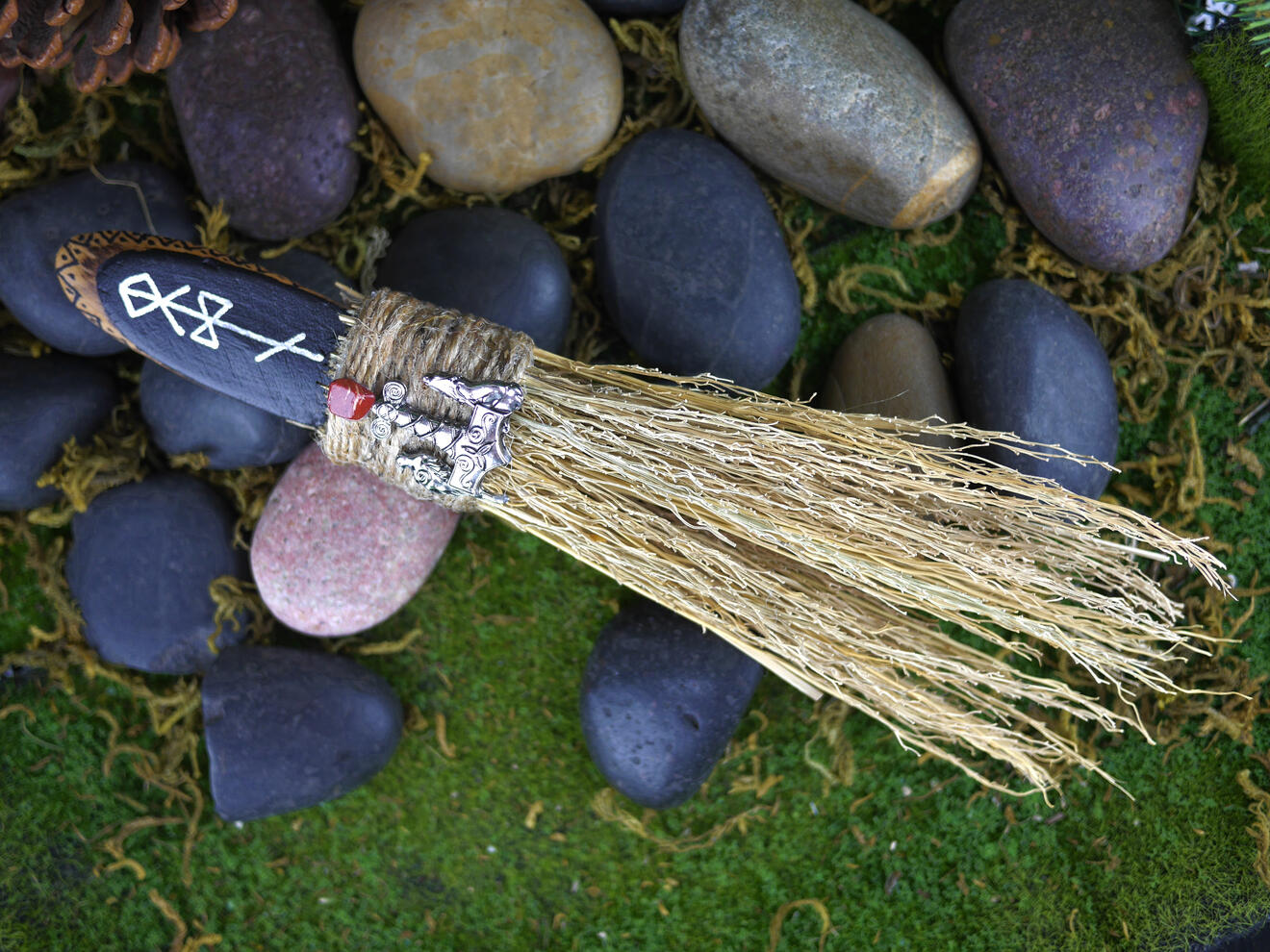 Odin Altar Broom Mjolnir
Size: approx. 26cm
$35.00
---

---
---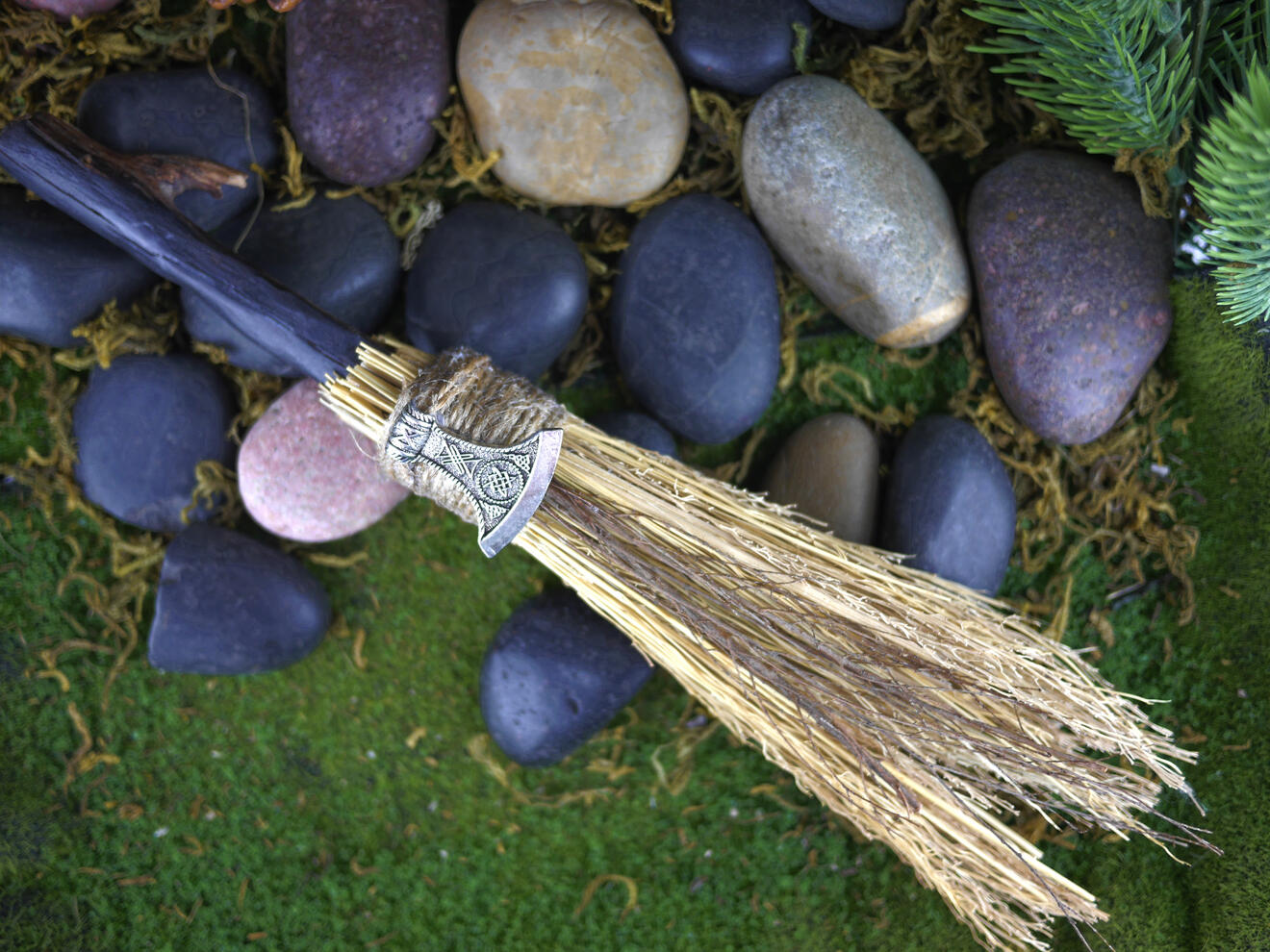 Altar Broom Dagaz Battle Axe
Size: approx. 31cm
$42.00
---

---
---
---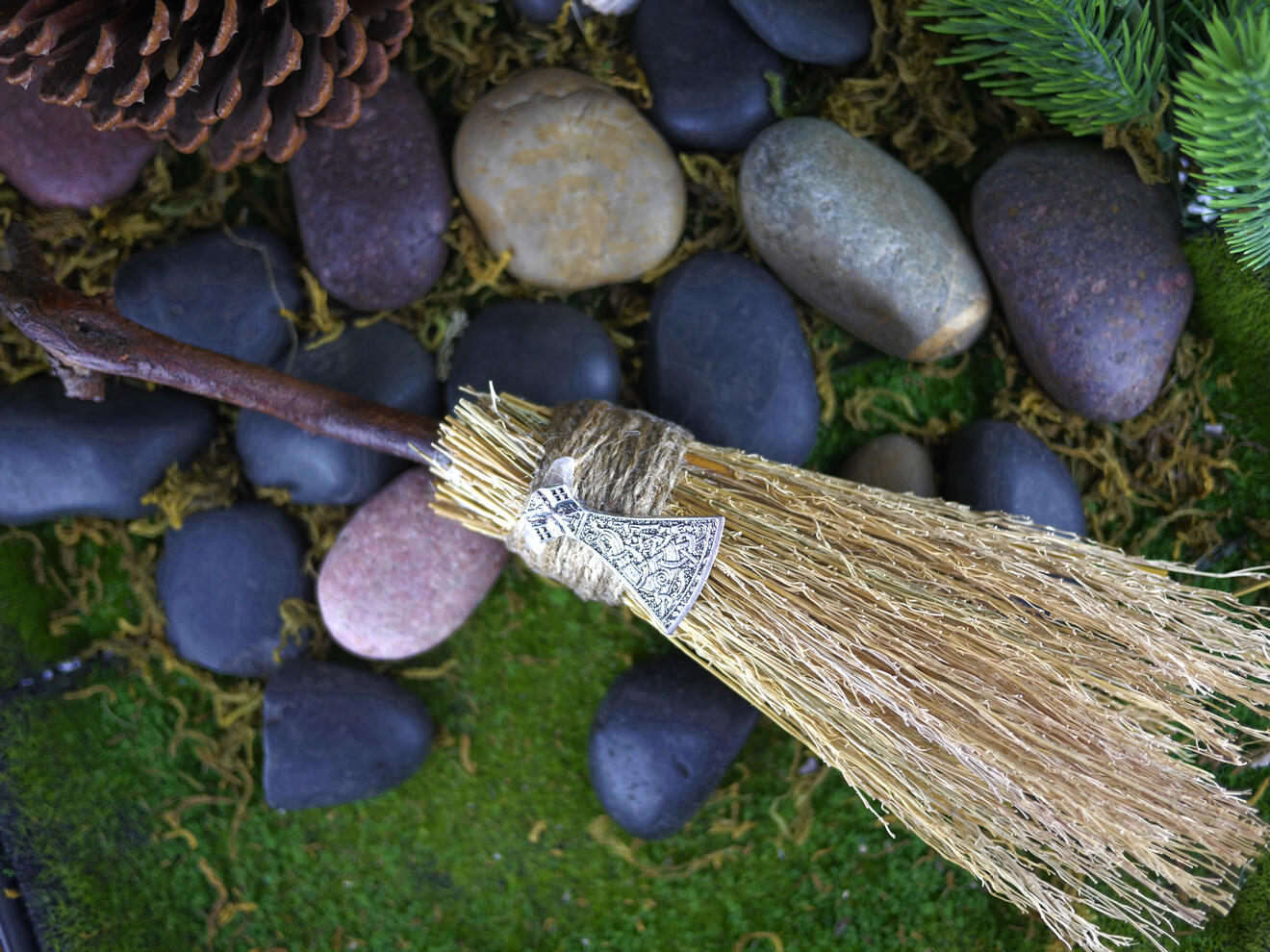 Altar Broom
Size: approx. 34cm
This altar broom a odd shaped top looks kind of like a chicken foot
$45.00
---

---
---
Necklaces/pendants
---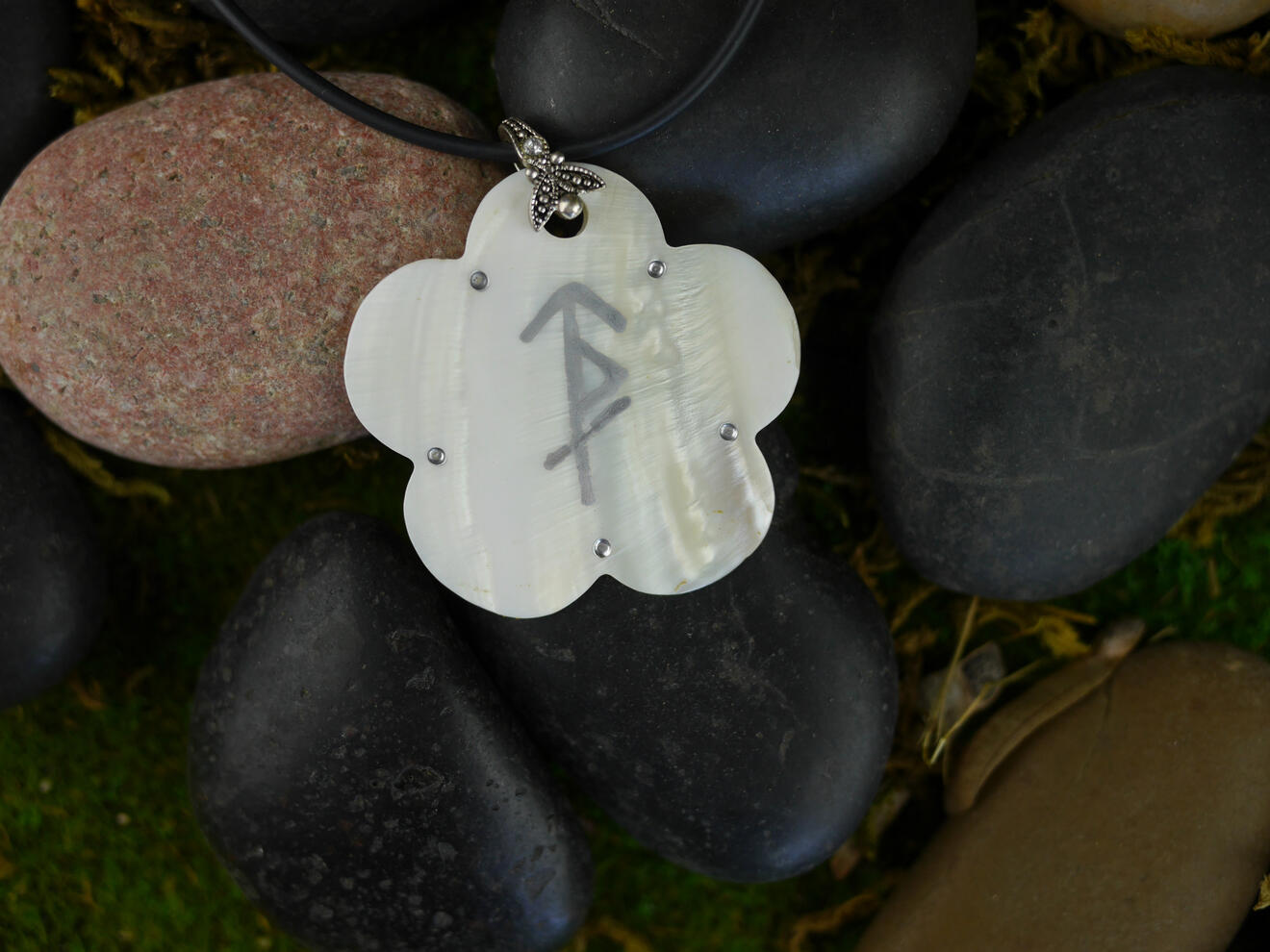 Shell,Strength Bind Rune Necklace
Pendant Size: approx. 4.5cm
Necklace Length: approx. 21.5cm
$45.00
---

---
---
---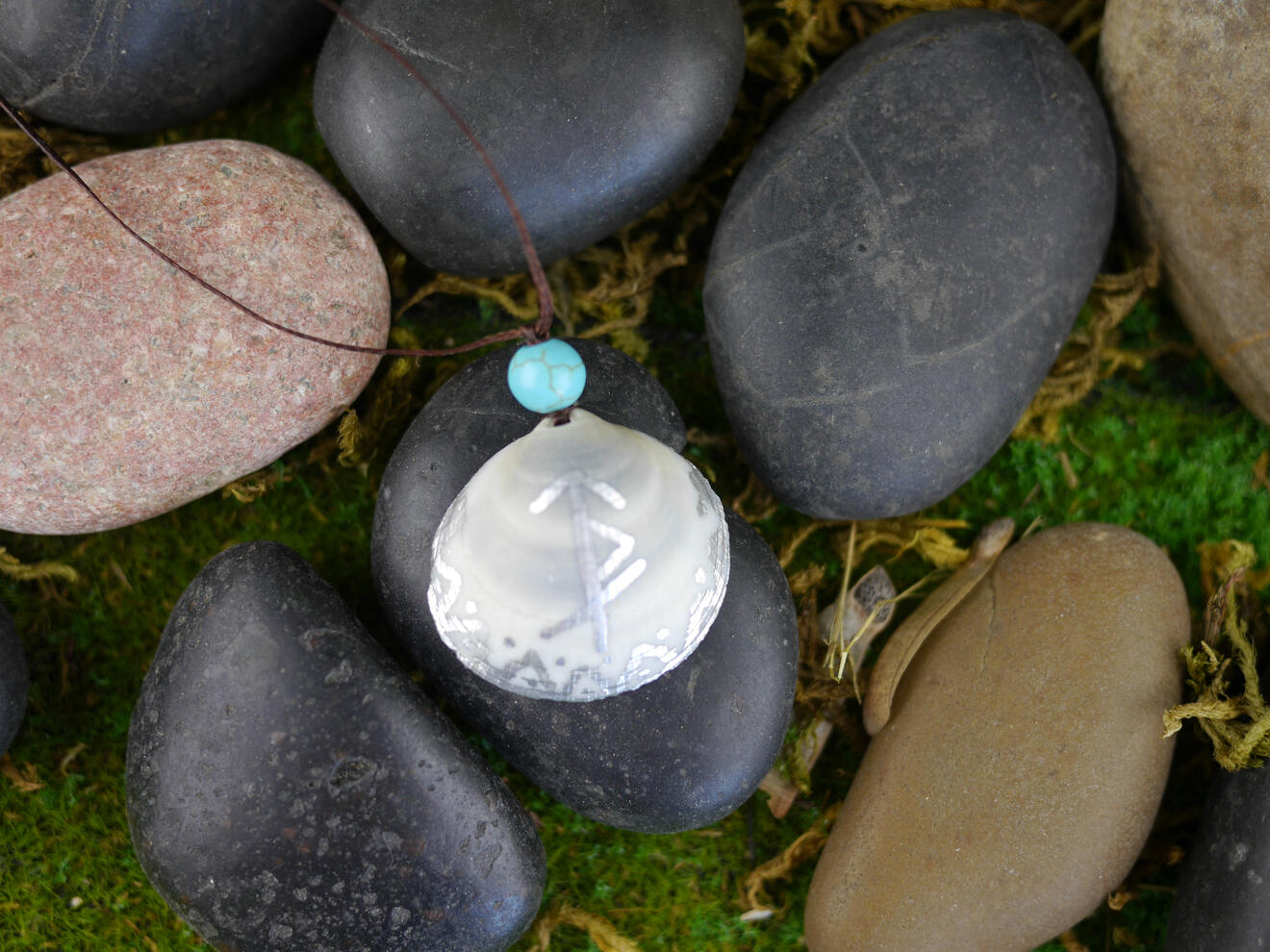 Sea Shell,Strength Bind Rune Necklace Silver
Pendant Size: approx. 3.5cm
Necklace Length: approx. 35cm
$25.00
---

---
---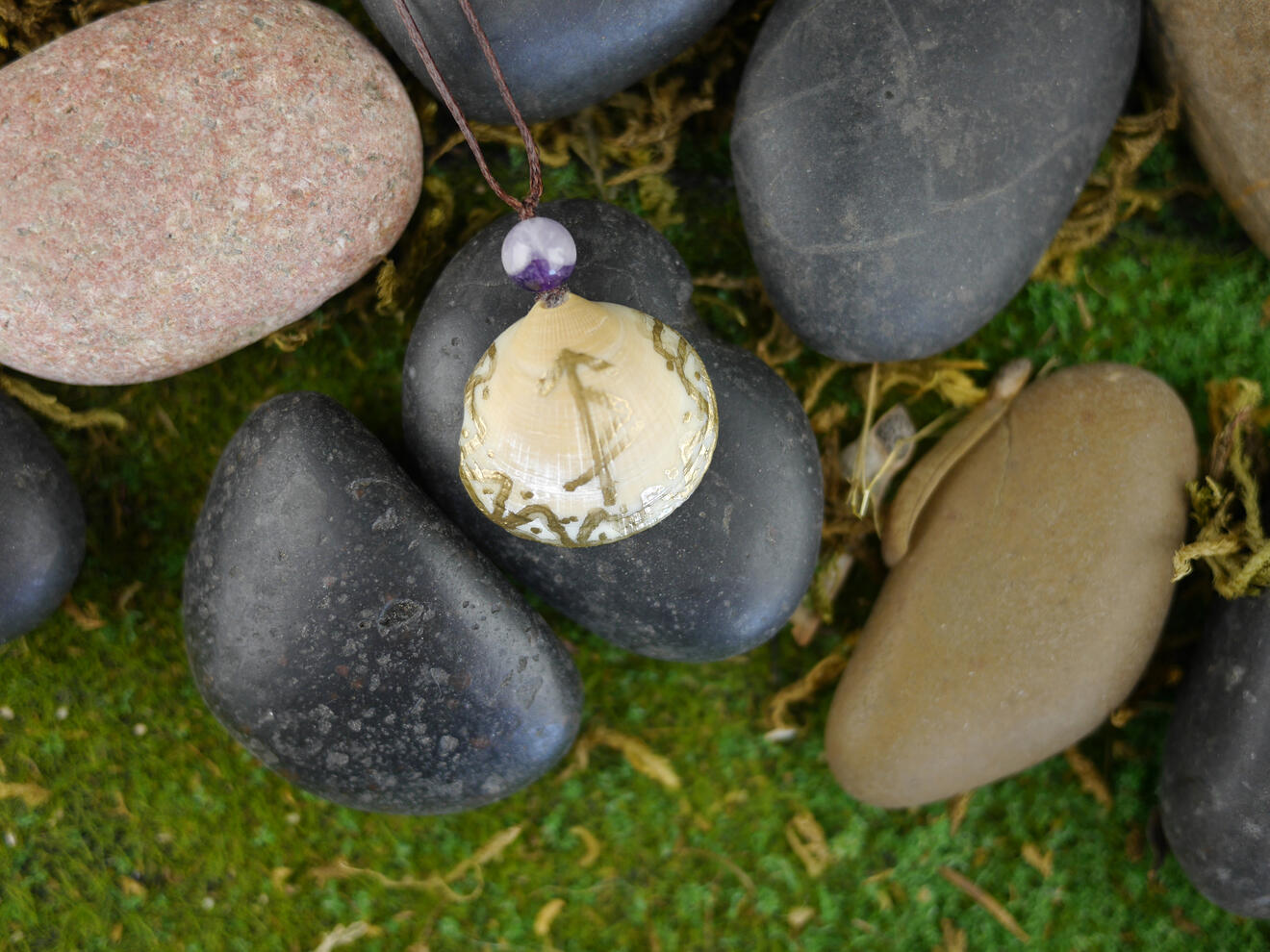 Sea Shell,Strength Bind Rune Necklace Gold
Pendant Size: approx. 3cm
Necklace Length: approx. 35cm
$25.00
---

---
---
---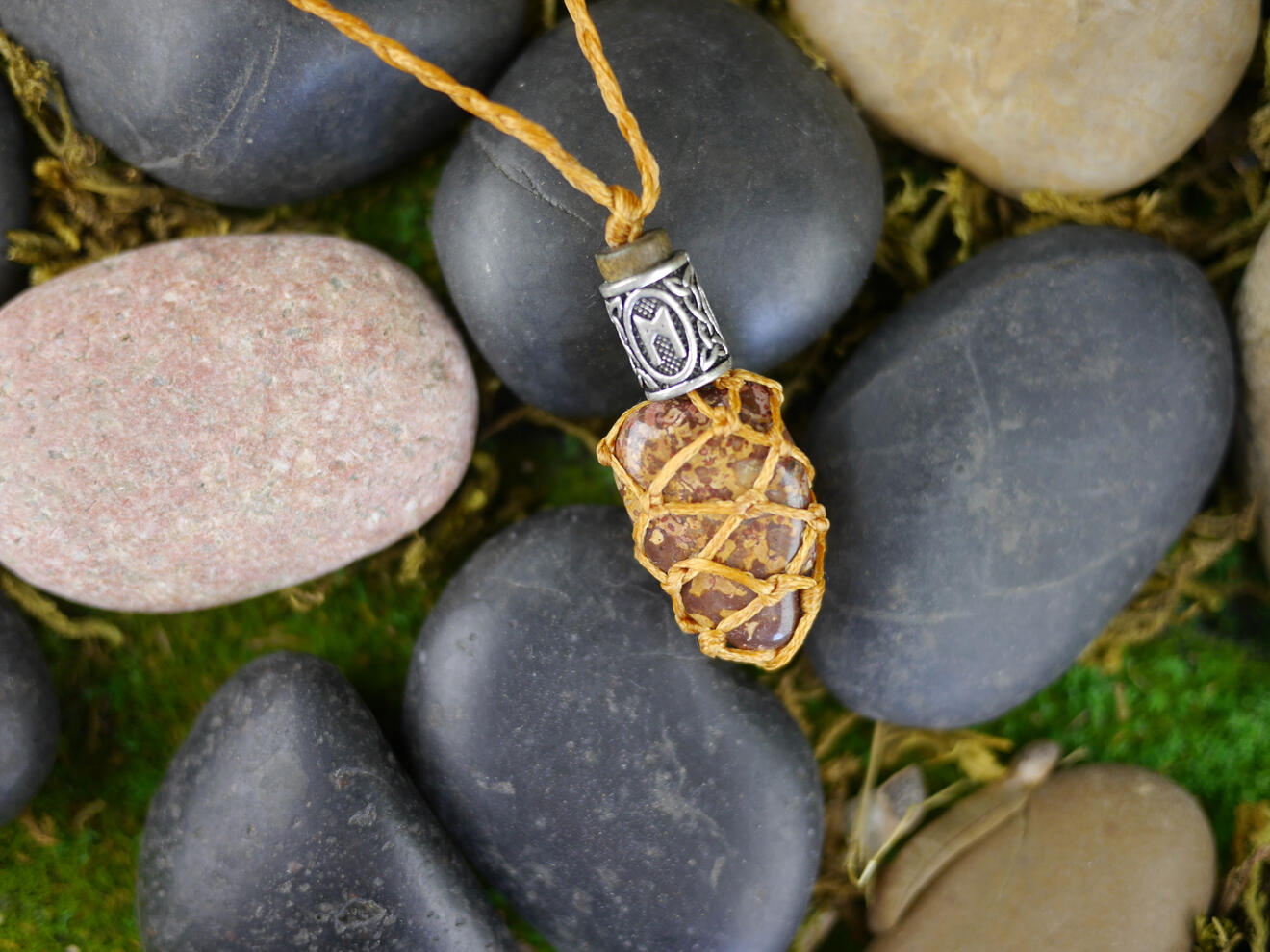 Mannaz Rune Necklace
Pendant Size: approx. 4.5cm
Cord Length: approx. 32cm
$35.00
---

---
---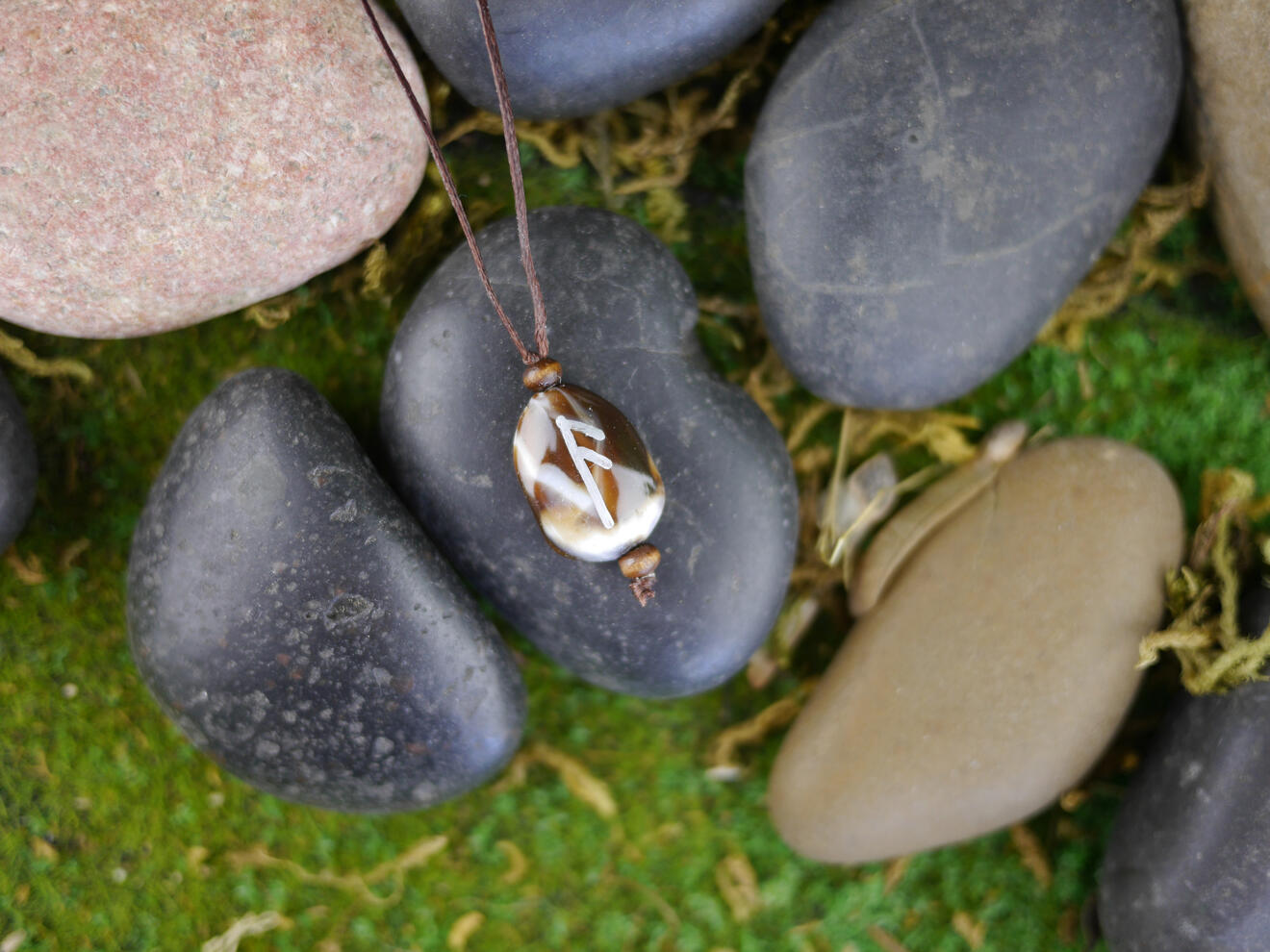 Ansuz Rune Necklace
Pendant Size: approx. 2.5cm
Necklace Length: approx. 37cm
$20.00
---

---
---
---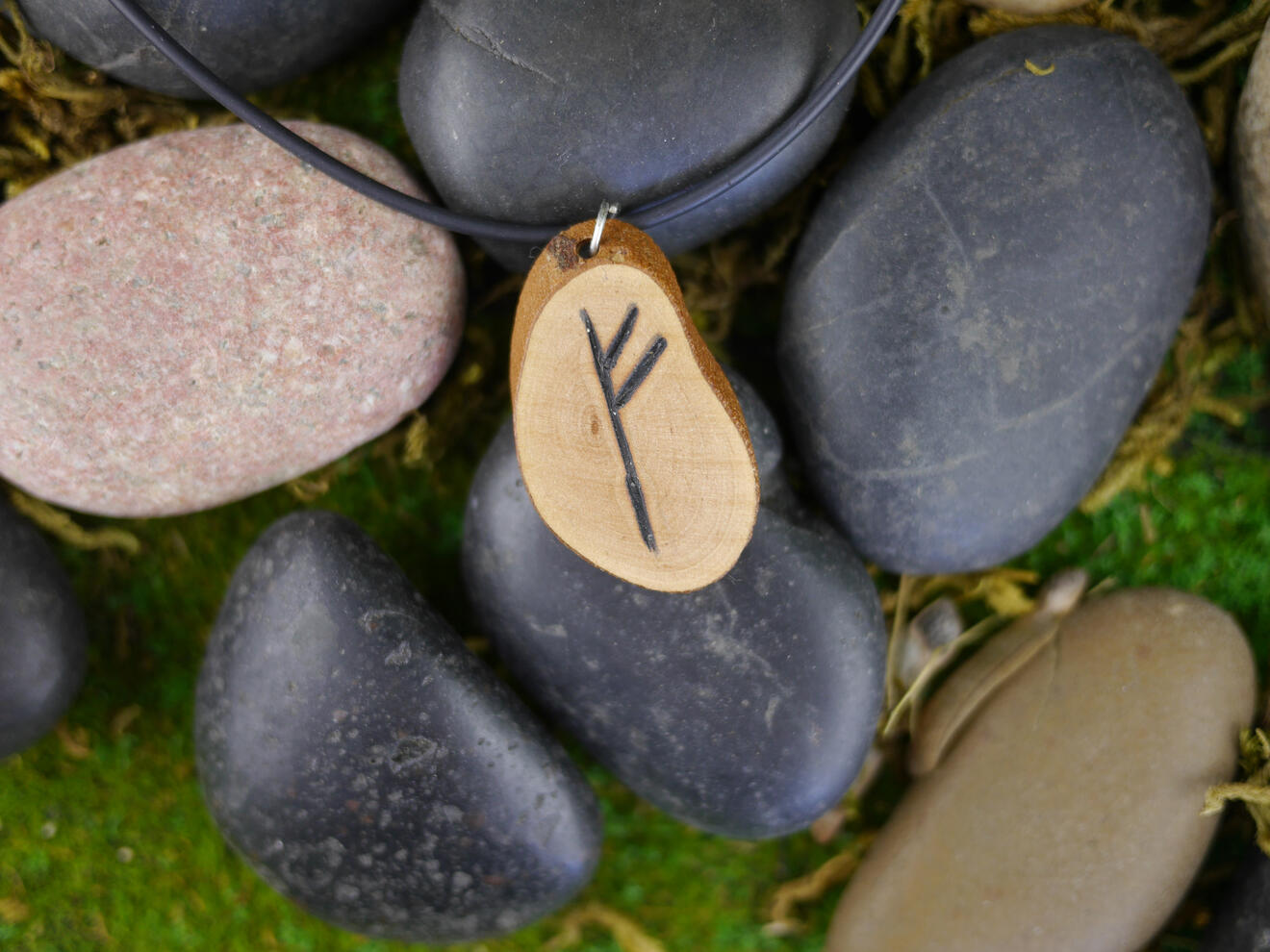 Wooden Fehu Rune Necklace
Pendant Size: approx. 4.5cm
Cord Length: approx. 22cm
$28.00
---

---
---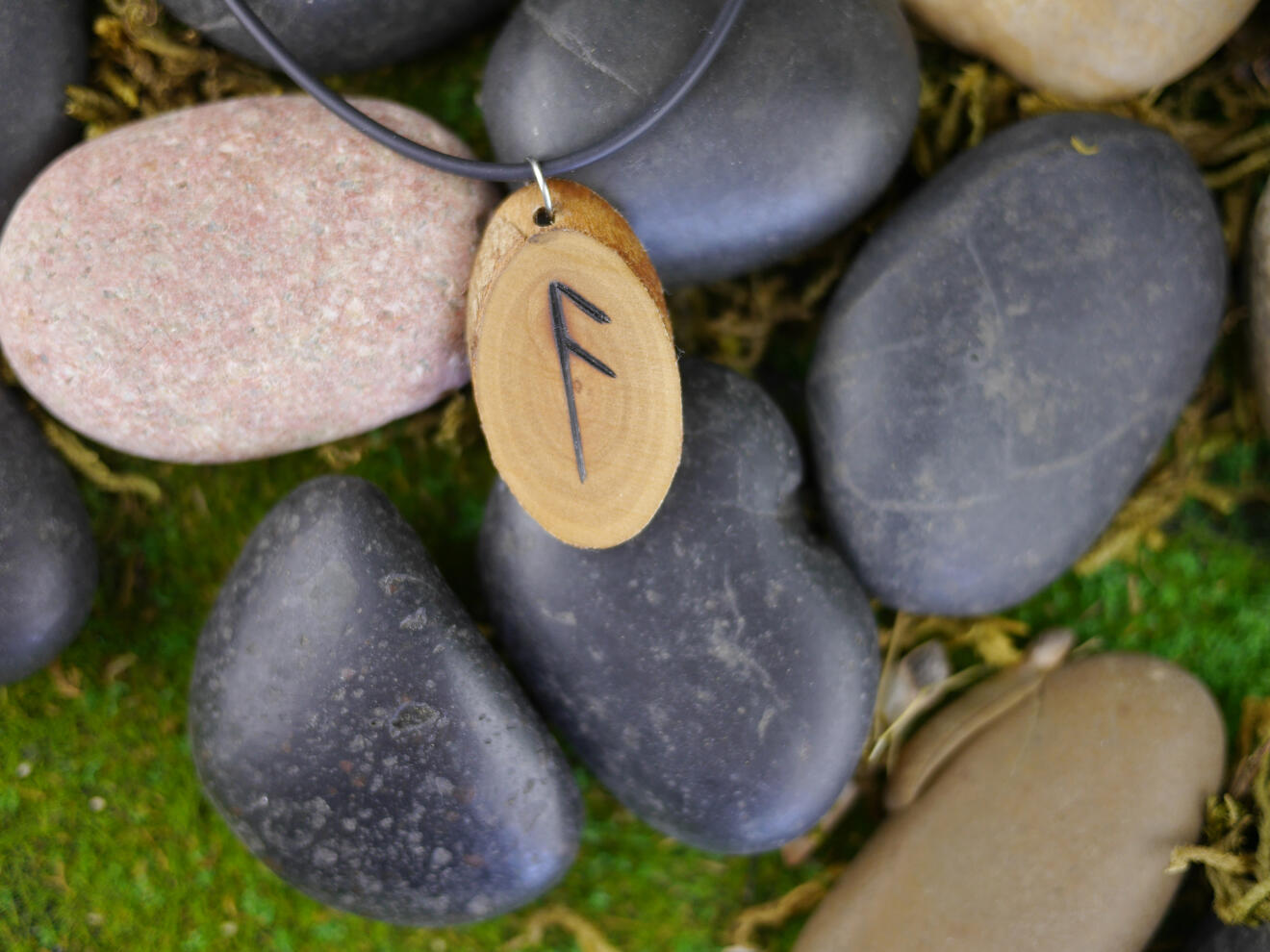 Wooden Ansuz Rune Necklace
Pendant Size: approx. 4cm
Necklace Length: approx. 22cm
$28.00
---

---
---
---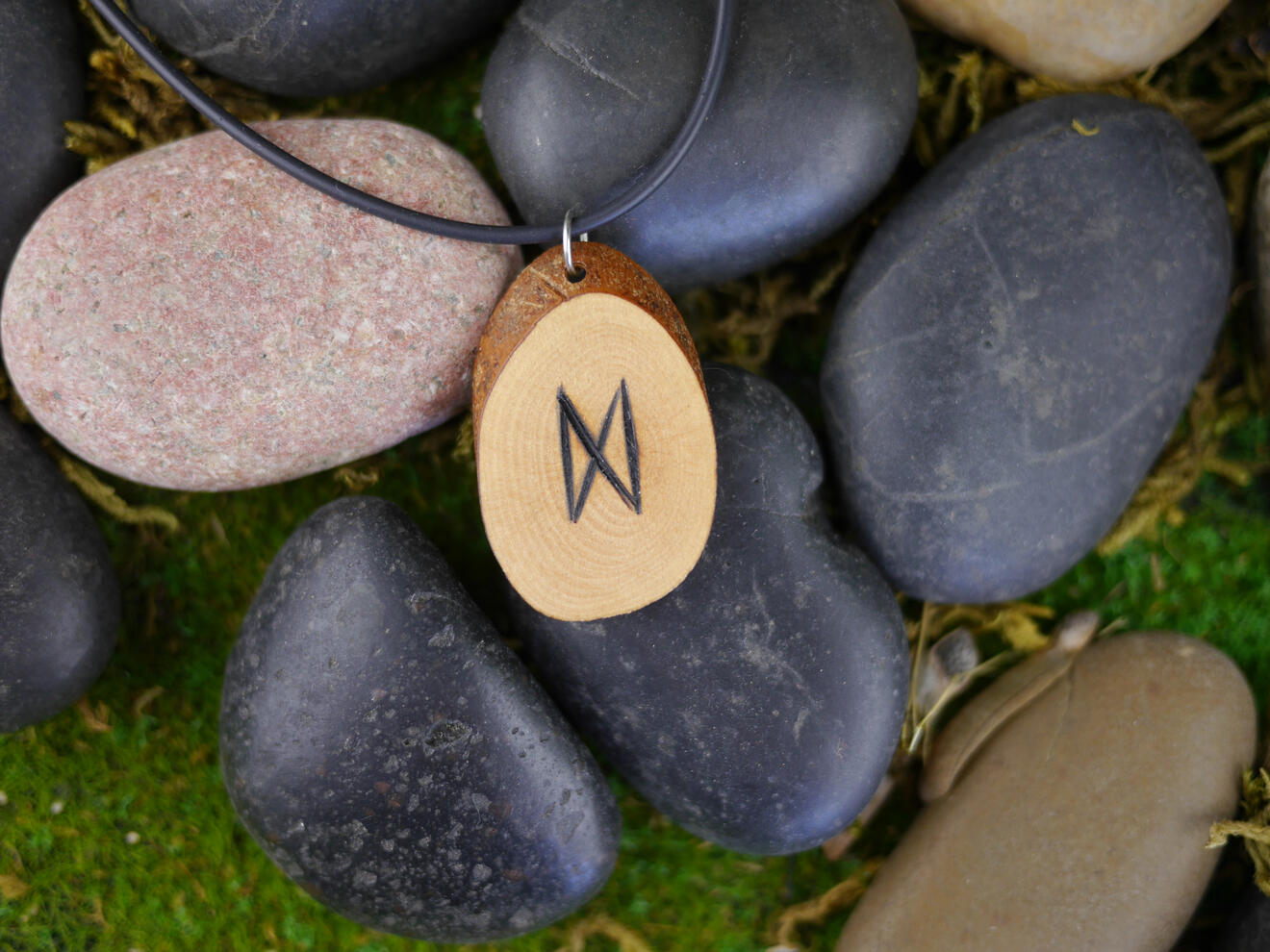 Wooden Dagaz Rune Necklace
Pendant Size: approx. 4.5cm
Cord Length: approx. 22cm
$28.00
---

---
---
---
Orgonite / Orgone Pyramids - Altar Plates
---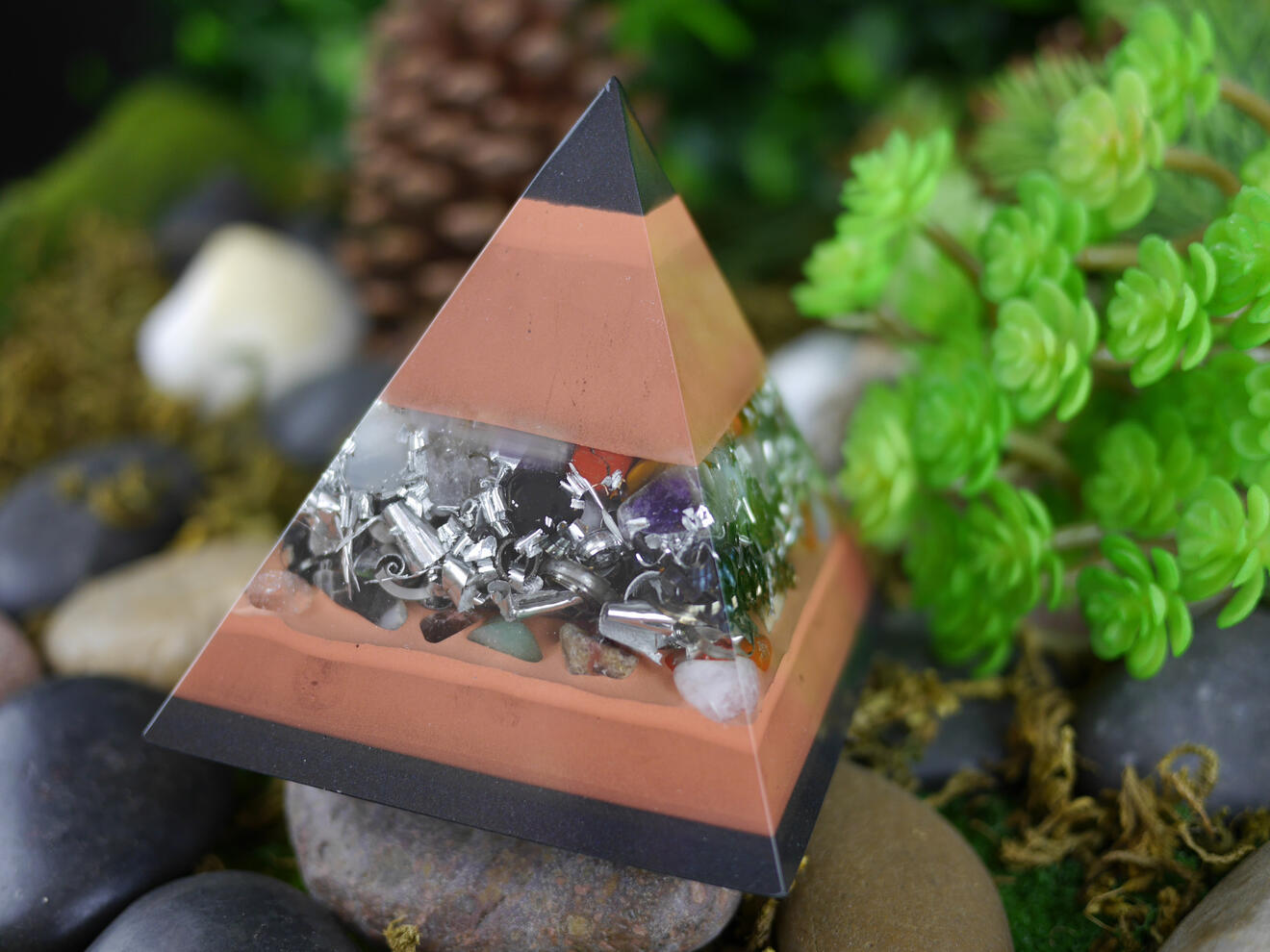 Orgonite Pyramid
Height: approx: 9.5cm
Width: approx: 8.5cm
Material: Epoxy, Metal, Crystal
Some of healing benefits of an Orgonite/Orgone
Pyramid
Clears negative energy
Aids in meditation
Supports restful sleep
Relieves stress
Give you more energy
Balances moods
Helps with spiritual and psychological growth
$45.00
---

---
---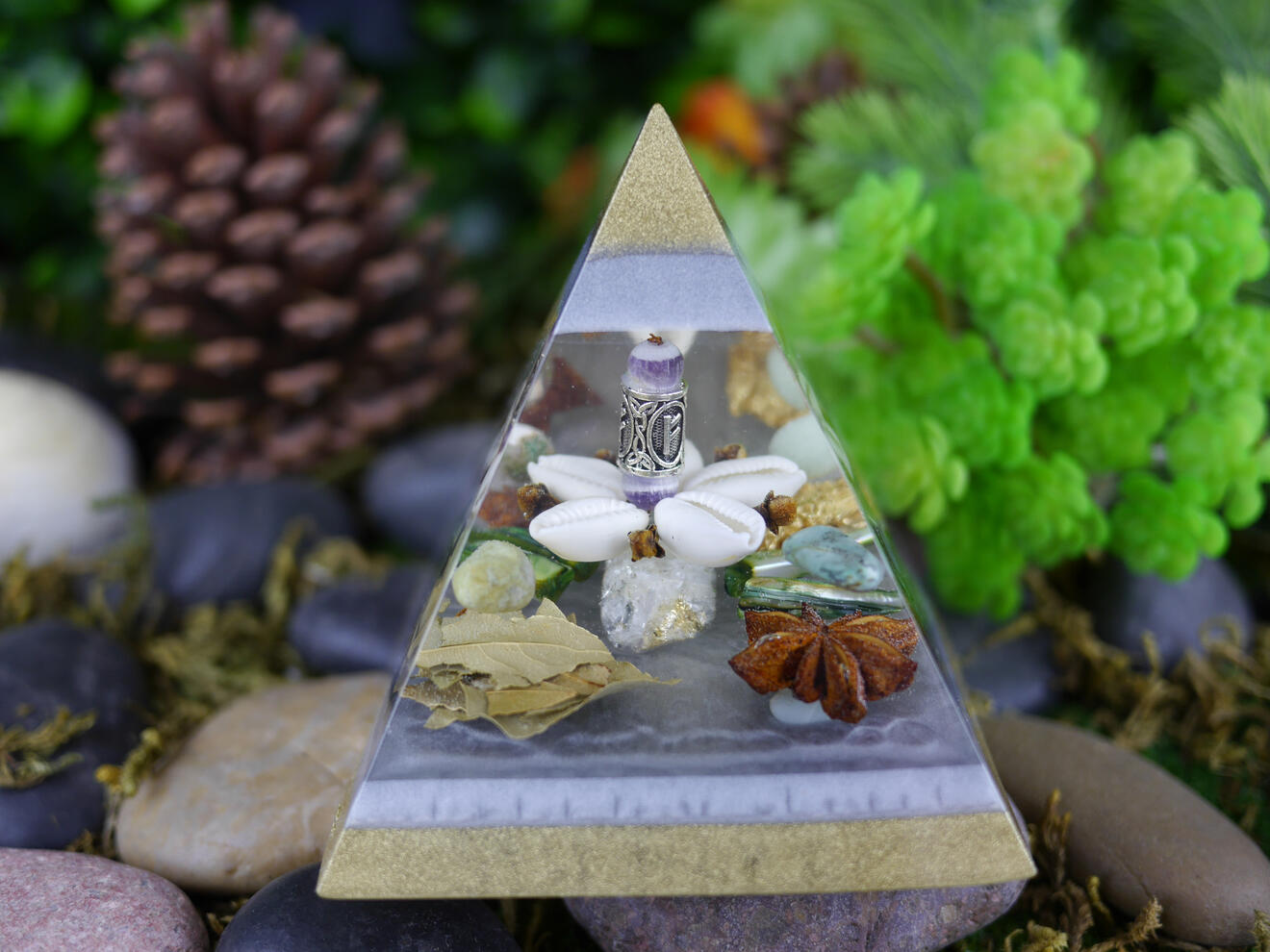 Money Drawing Orgone Pyramid
Height: approx: 10cm
Width: approx: 9cm
Material: Epoxy, Metal, Crystal, Herbs, Roots,
Rune
Meditate and Visualize your intentions
Fehu Rune Meaning
Fehu F: Domestic cattle, wealth
Other Name(s): Frey, Feoh
Domestic cattle, wealth.
Possessions won or earned, earned income, luck.
Abundance, financial strength in the present or near future. Sign of hope and plenty, success and happiness.
$55.00
---

---
---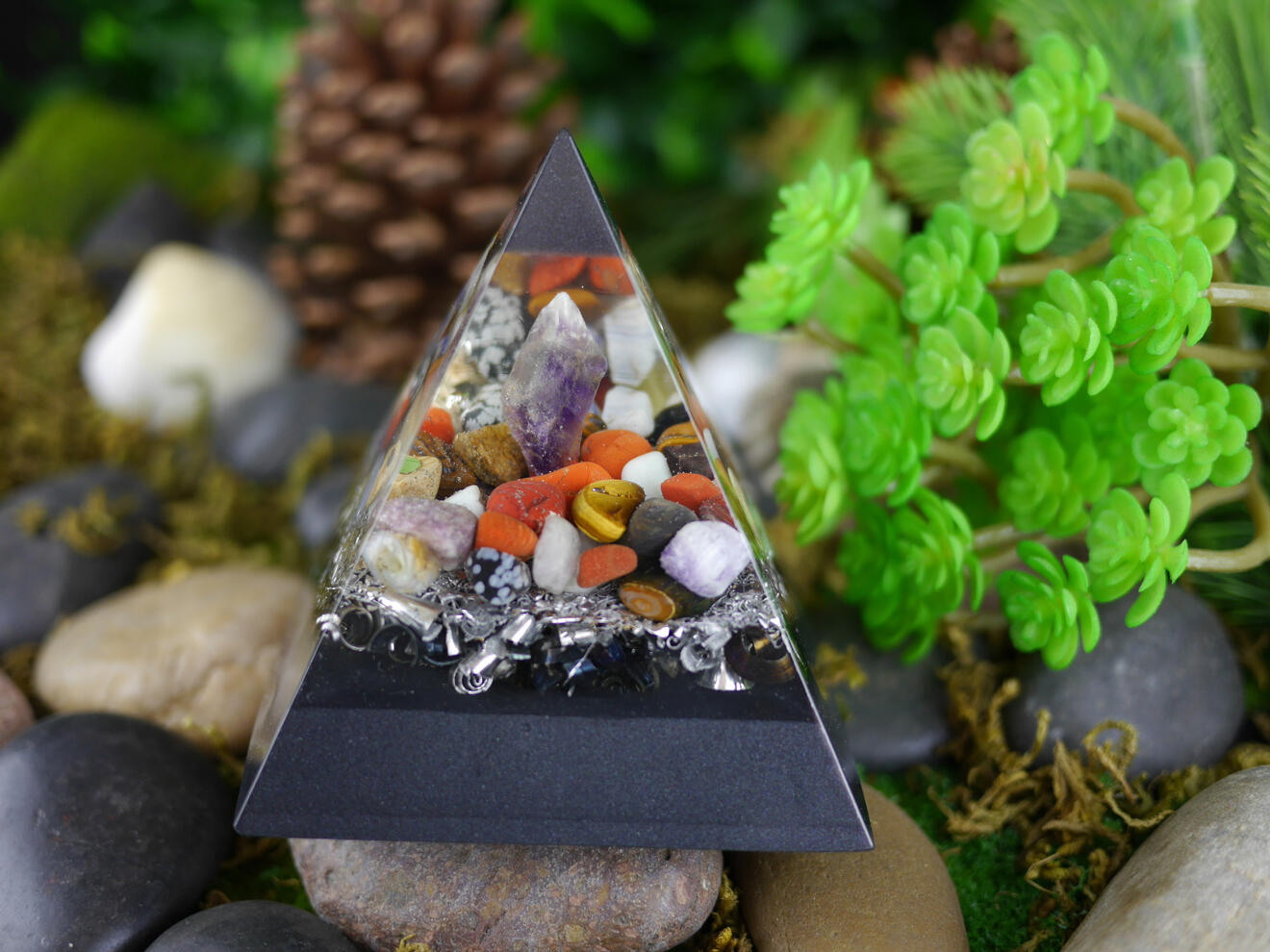 Orgonite Pyramid Black
Height: approx: 9.5cm
Width: approx: 8.5cm
Material: Epoxy, Metal, Crystal
Some of healing benefits of an Orgonite/Orgone
Pyramid
Clears negative energy
Aids in meditation
Supports restful sleep
Relieves stress
Give you more energy
Balances moods
Helps with spiritual and psychological growth
$45.00
---

---
---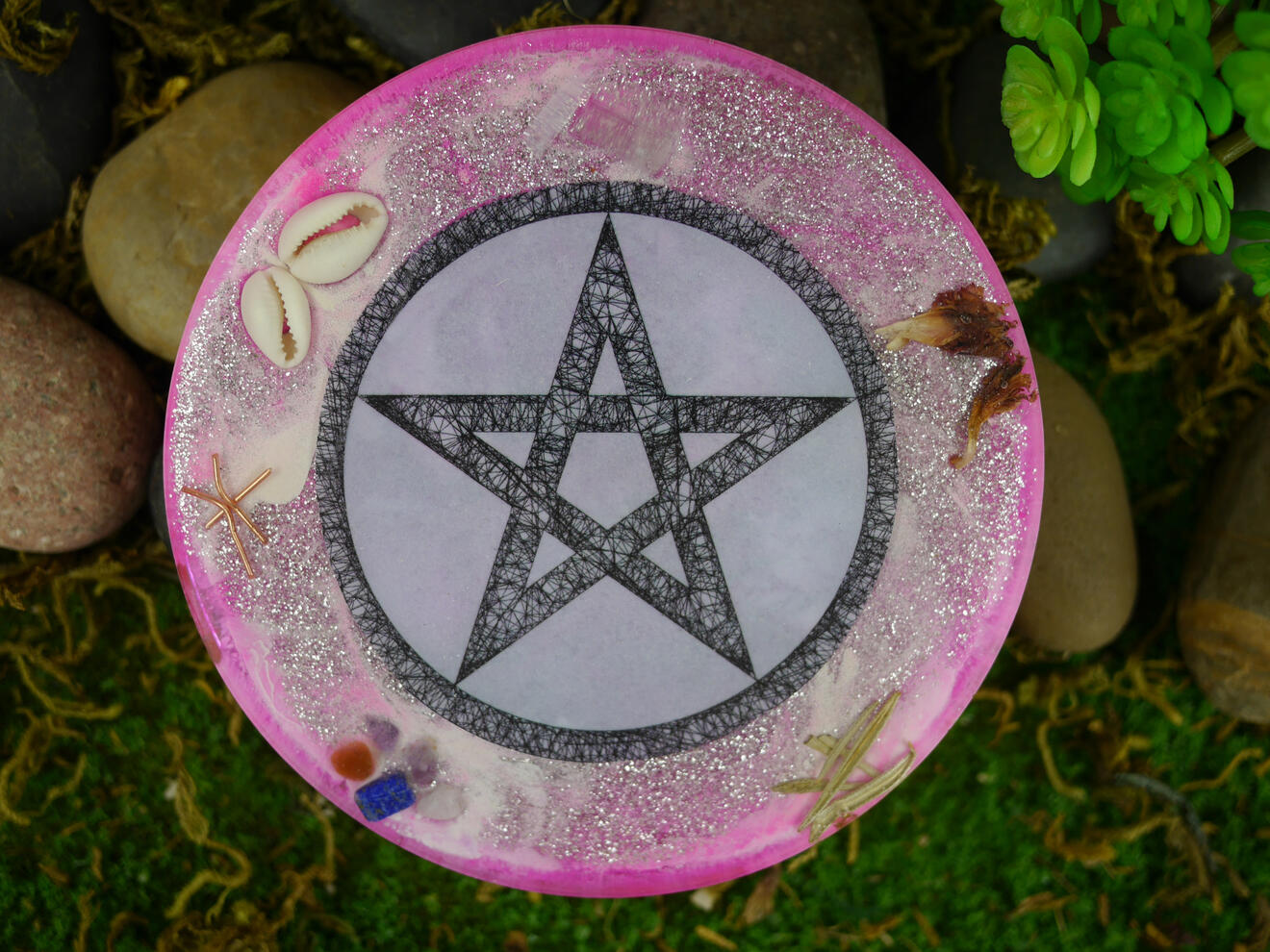 Pentacle Altar Plate/Tile
HeightSize: approx: 13cm
Material: Epoxy, Metal, Crystal, Herbs,Shells$29.00
---

---
---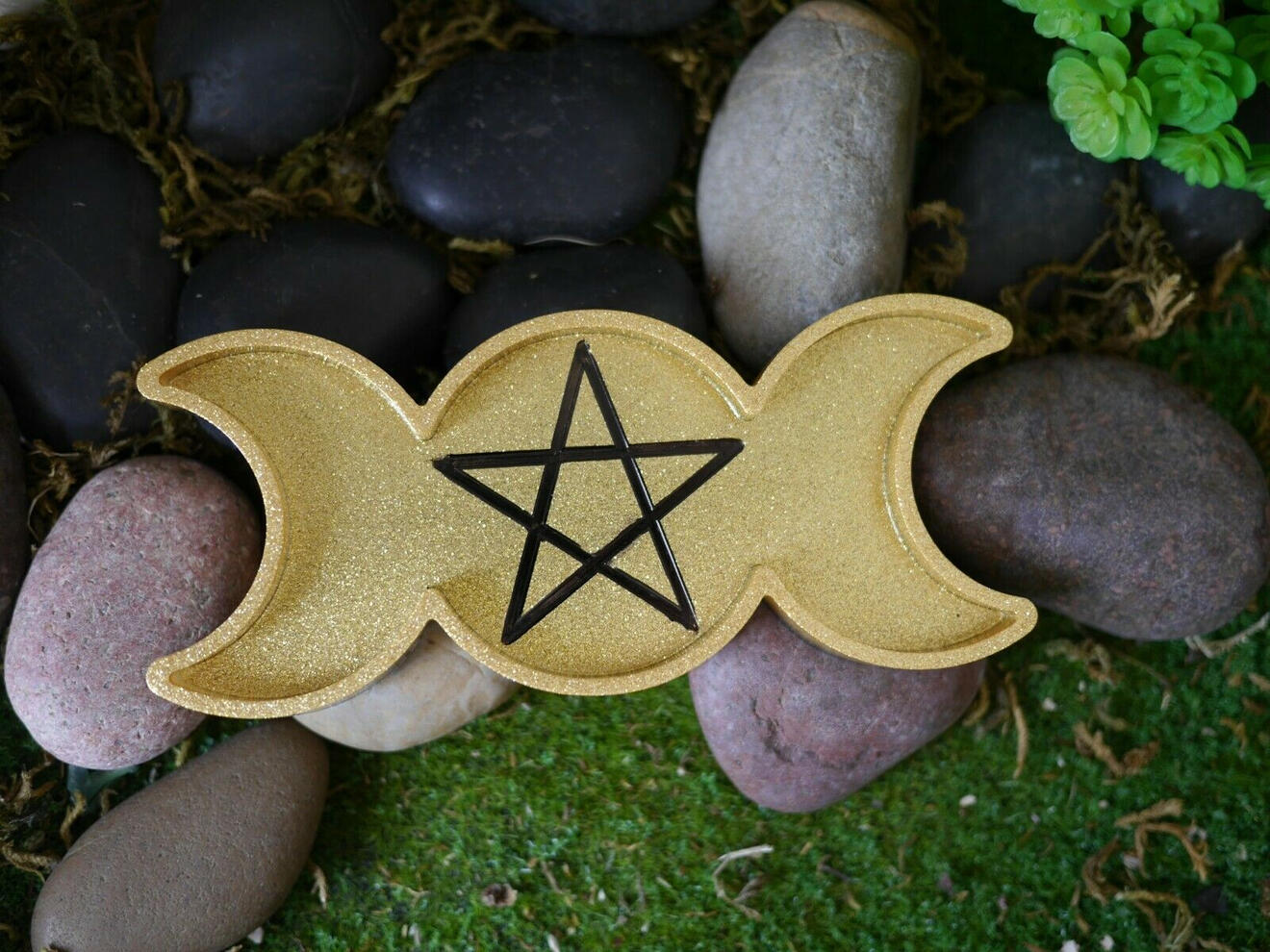 Pentacle Triple Moon Altar Plate/Tile Gold
Size: approx: 15.5cm
Epoxy Resin
$30.00
---

---
---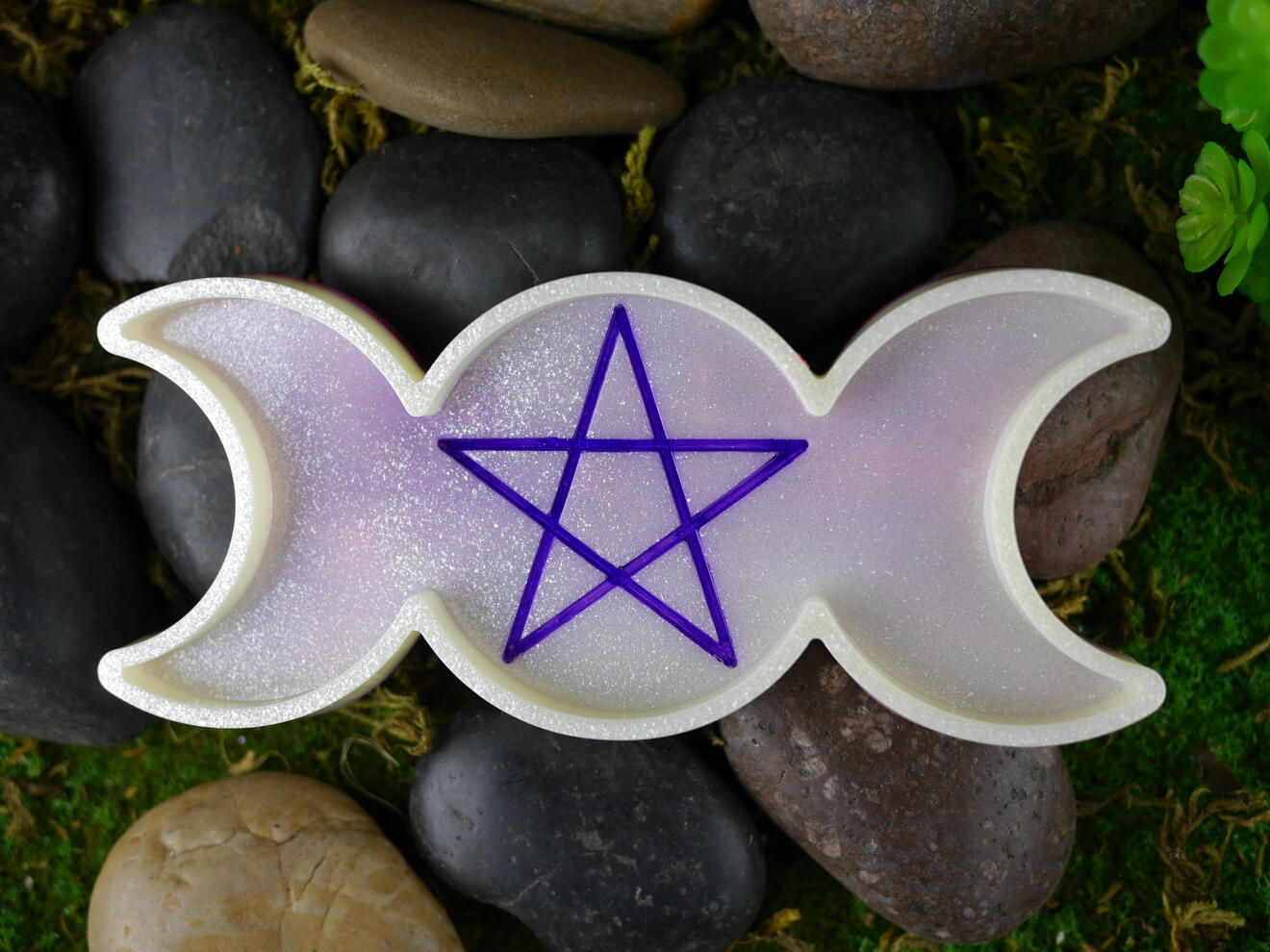 Pentacle Triple Moon Altar Plate/Tile White/Purple
Size: approx: 15.5cm
Epoxy Resin
$30.00
---

---
---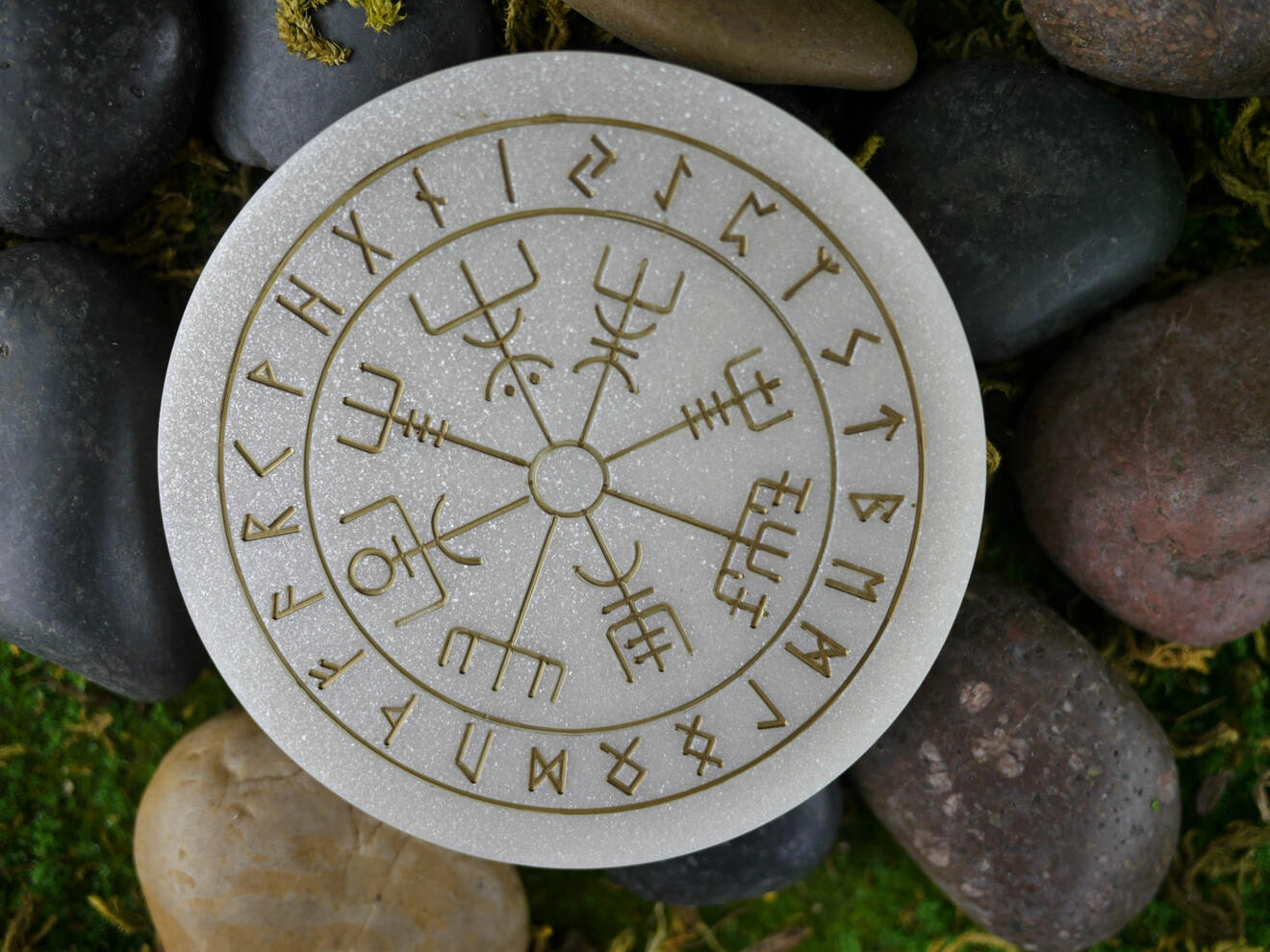 Vegvisir Runic Compass Altar Plate/Tile White
Size: approx: 11cm
Epoxy Resin
$30.00
---

---
---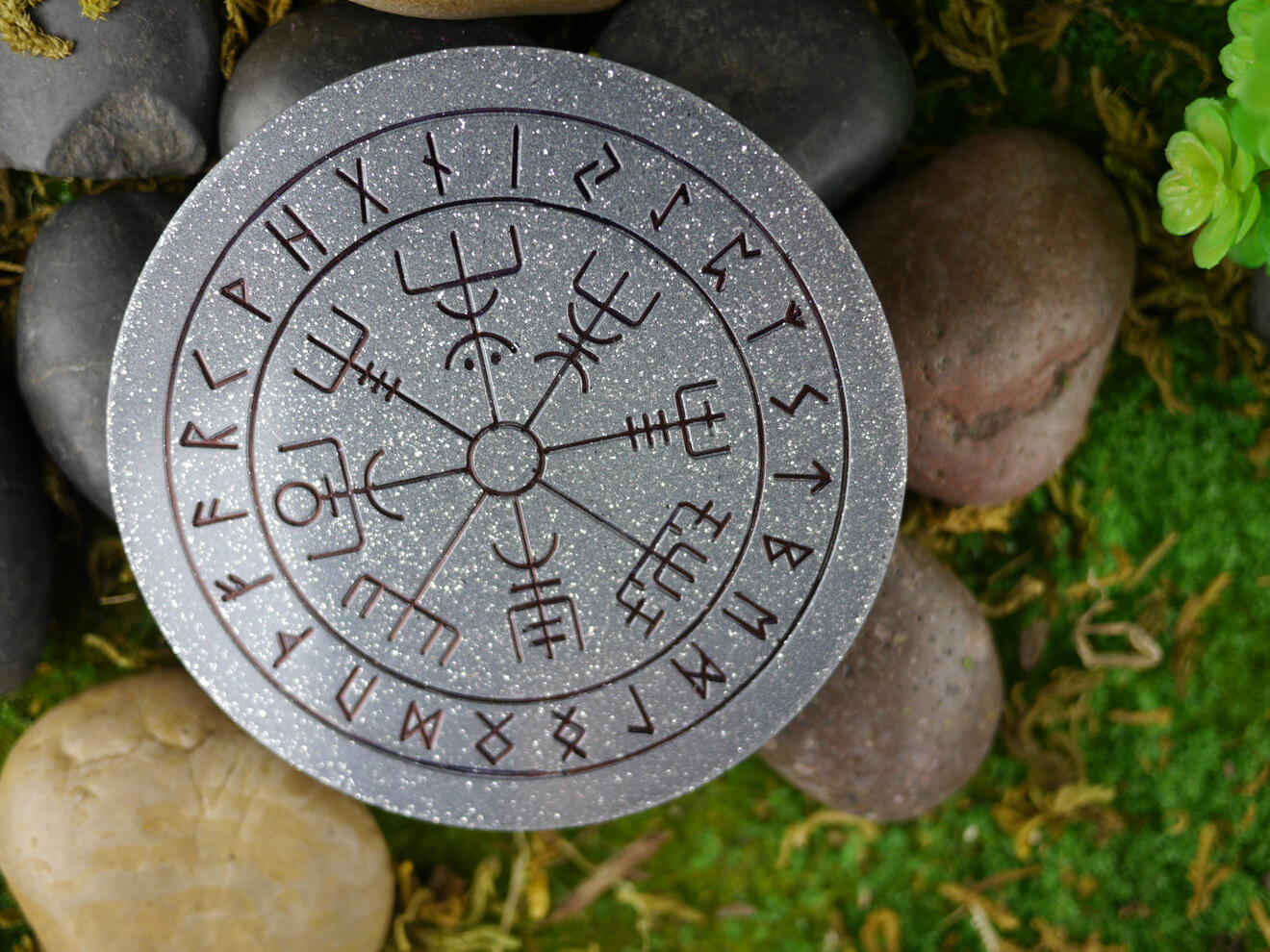 Vegvisir Runic Compass Altar Plate/Tile Grey
Size: approx: 11cm
Epoxy Resin
$30.00
---

---
---
---
Smudge Kits
---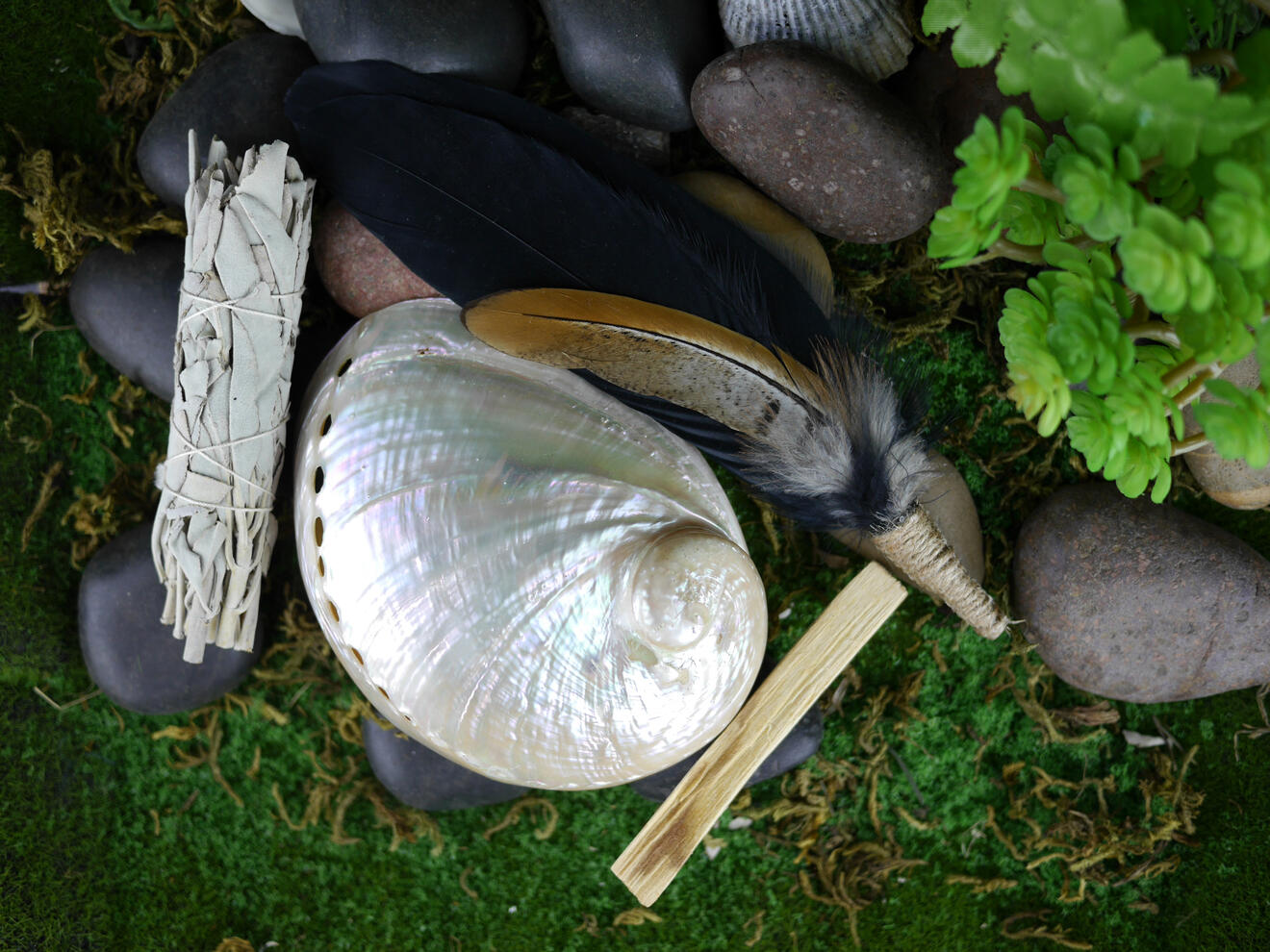 Smudging Kit #1
Kit Contains One Smudge Feather Wand,One Polished Abalone Shell,One White Sage Smudge Stick, And one Palo Santo Stick.
Feather
Length: approx: 22cm
Feather Width: approx: 5cm
Handle Thickness approx: 1cm
Abalone Shell
Length: approx: 13.5cm
White Sage
Length: approx: 10cm
Palo Santo Stick
Length: approx: 10cm
$50.00
---

---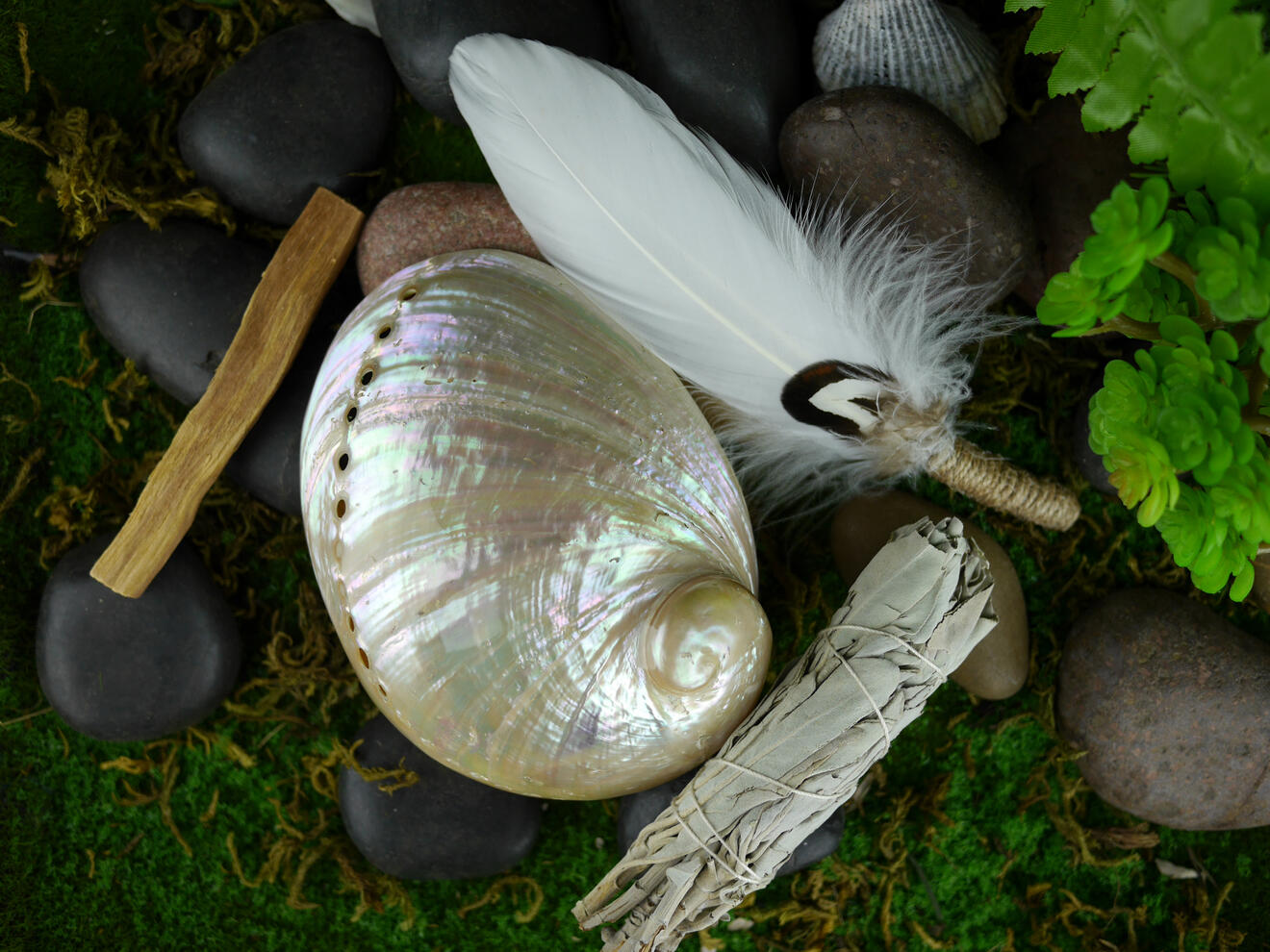 Smudging Kit #2
Kit Contains One Smudge Feather Wand,One Polished Abalone Shell,One White Sage Smudge Stick, And one Palo Santo Stick.
Feather
Length: approx: 19cm
Feather Width: approx: 4.5cm
Handle Thickness approx: 1cm
Abalone Shell
Length: approx: 13cm
White Sage
Length: approx: 10cm
Palo Santo Stick
Length: approx: 10cm
$50.00
---

---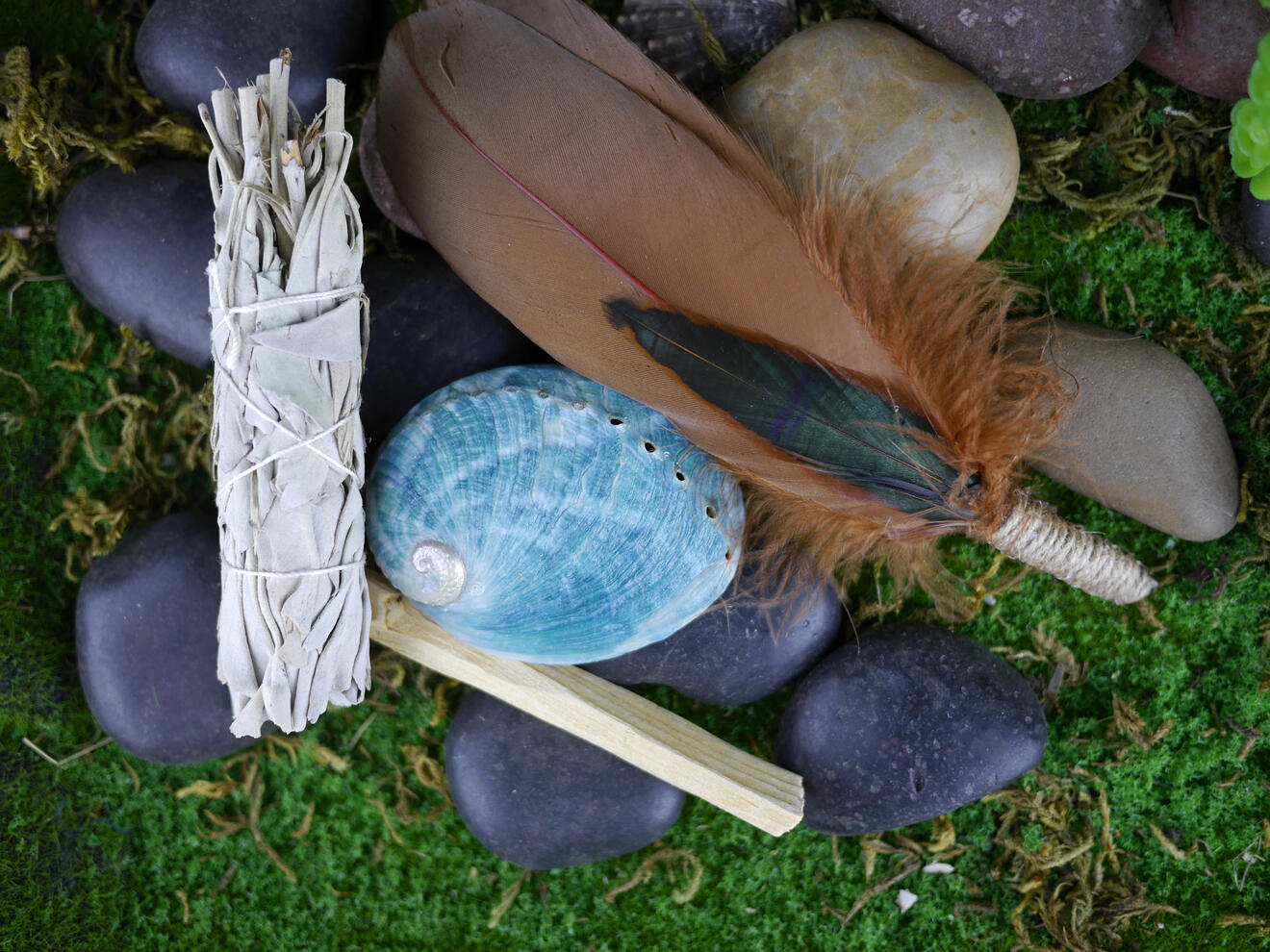 Smudging Kit #3
Kit Contains One Smudge Feather Wand,One Abalone Shell,One White Sage Smudge Stick And One Palo Santo Stick.
Feather
Length: approx: 19cm
Feather Width: approx: 5.5cm
Handle Thickness approx: 1cm
Abalone Shell
Length: approx: 7.5cm
Blue/Green Colour
White Sage
Length: approx: 10cm
Palo Santo Stick
Length: approx: 10cm
$37.00
---

---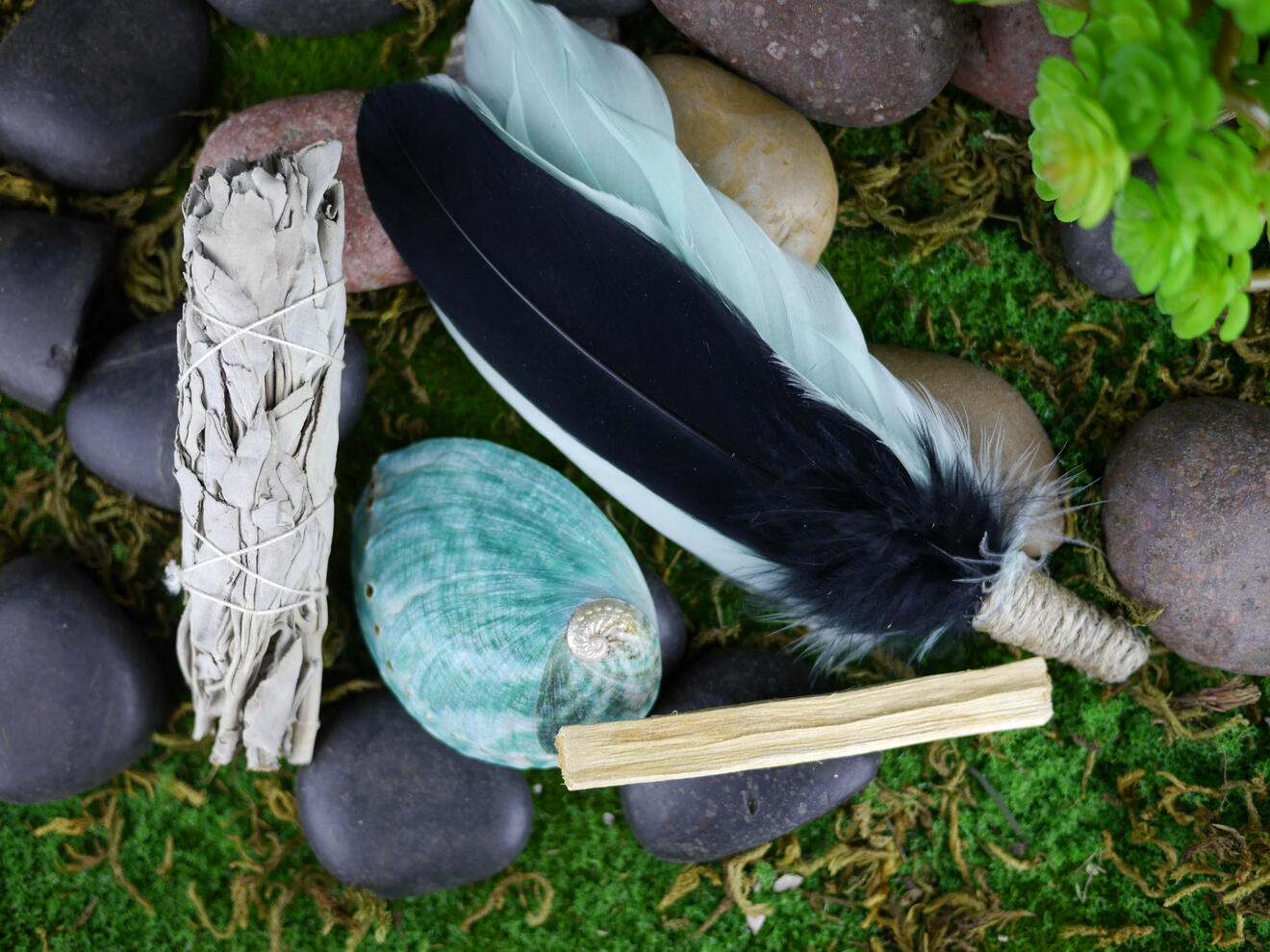 Smudging Kit #4
Kit Contains One Smudge Feather Wand,One Abalone Shell,One White Sage Smudge Stick And One Palo Santo Stick.
Feather
Length: approx: 19.5cm
Feather Width: approx: 6cm
Handle Thickness approx: 1cm
Abalone Shell
Length: approx: 7.5cm
Blue/Green Colour
White Sage
Length: approx: 10cm
Palo Santo Stick
Length: approx: 10cm
$37.00
---

---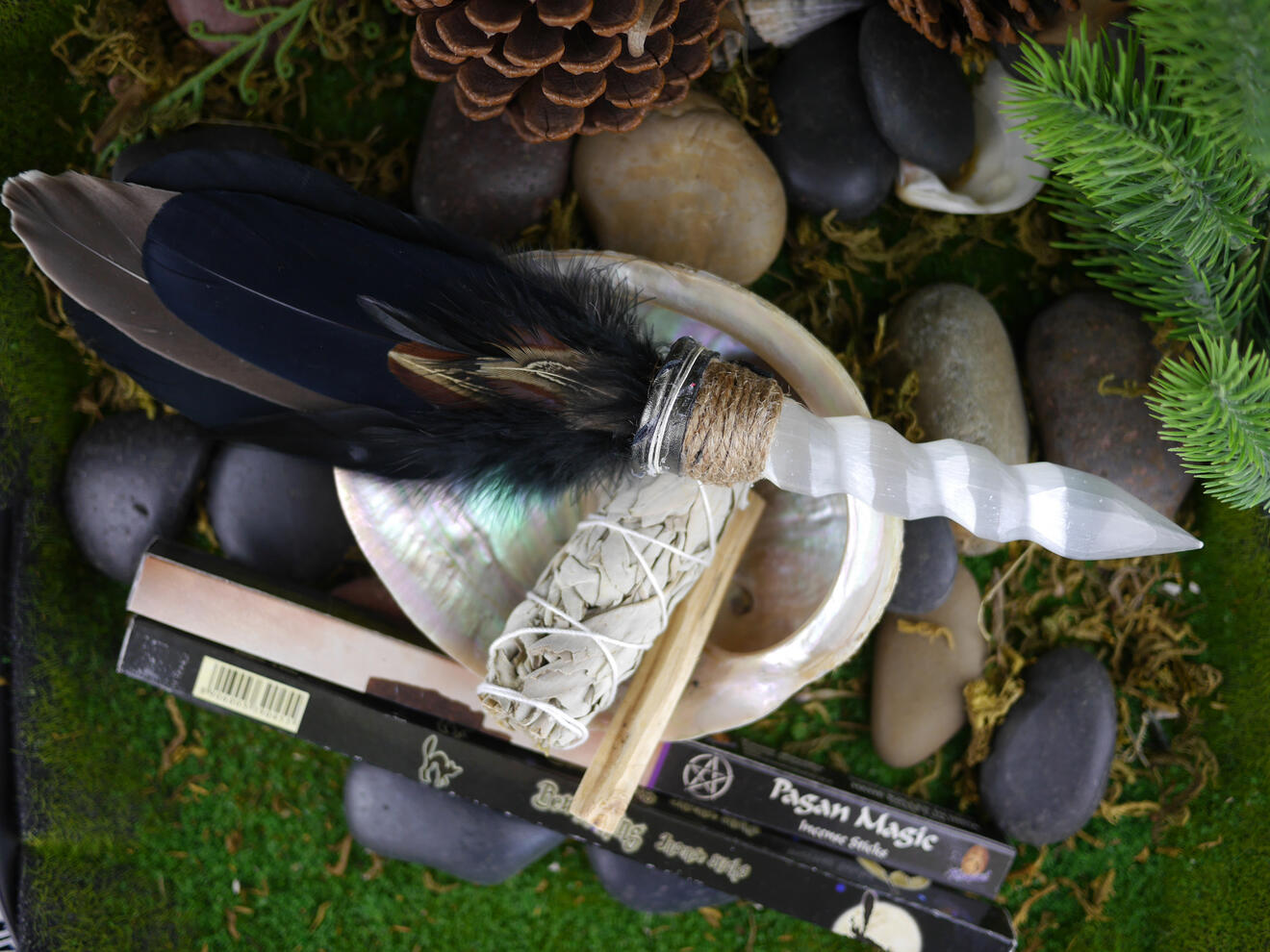 Smudging Kit Selenite Crystal
Kit Contains
One Selenite Crystal Feather wand ,One Large Abalone Shell 14cm,One White Sage Smudge Stick , Two Boxes of Incense Sticks, one Palo Santo Stick.
Feather
Length: approx: 30.5cm
Feather Width: approx: 7cm
Handle Thickness approx: 2cm
Abalone Shell
Length: approx: 14cm
White Sage
Length: approx: 10cm
Palo Santo Stick
Length: approx: 10cm
Incense Sticks
approx: 8 Sticks each box
$95.00
---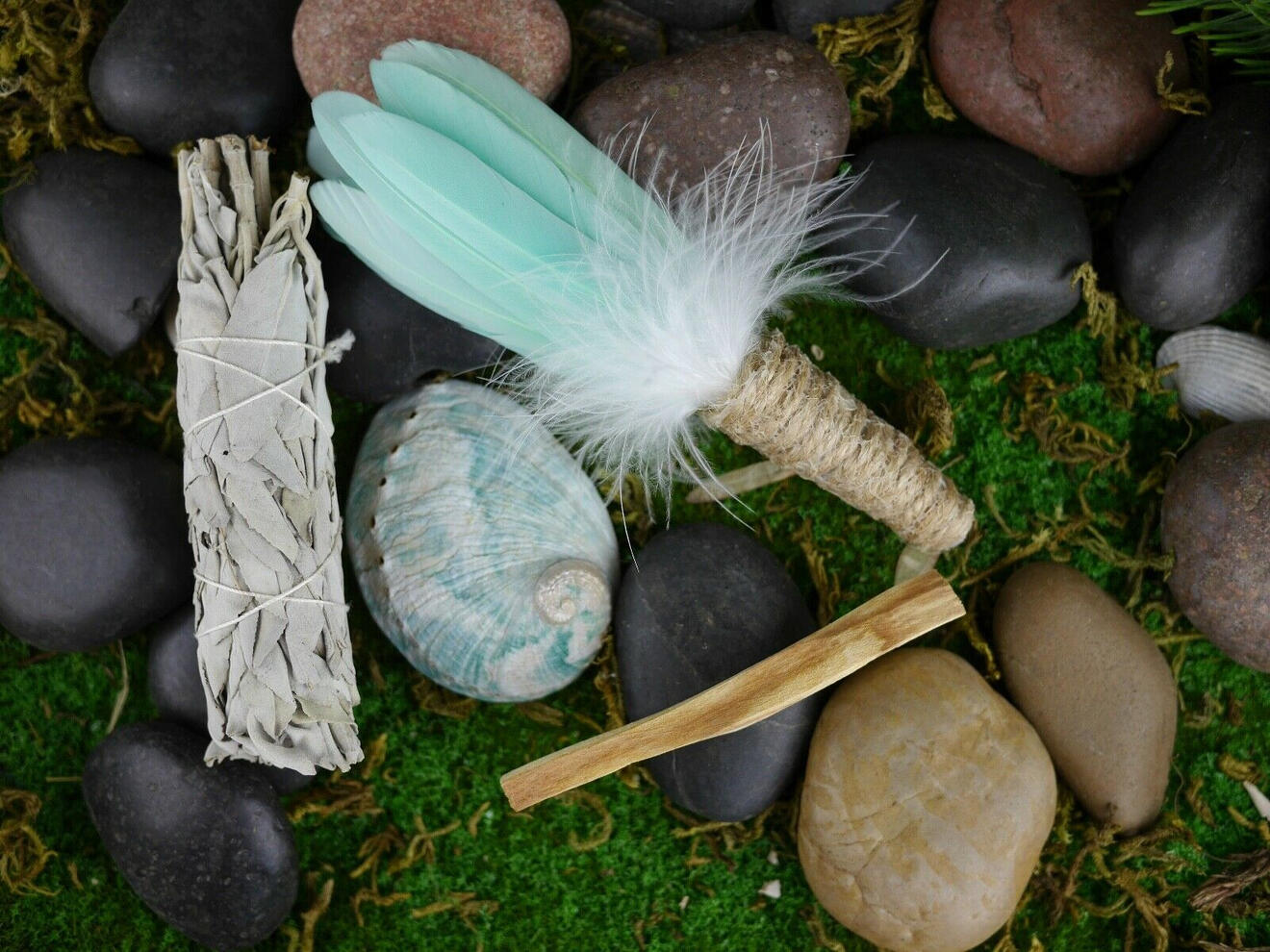 Smudging Kit #6
Kit Contains
One Mini Smudge Feather Wand,One Jade Tiger Abalone Shell,One White Sage Smudge Stick And One Palo Santo Stick.
Feather
Length: approx: 16cm
Feather Width: approx: 4.5cm
Handle Thickness approx: 1.5cmJade Tiger Abalone Shell
Length: approx: 7.5cmWhite Sage
Length: approx: 11cmPalo Santo Stick
Length: approx: 10cm
$35.00
---

---
Abalone Shells
---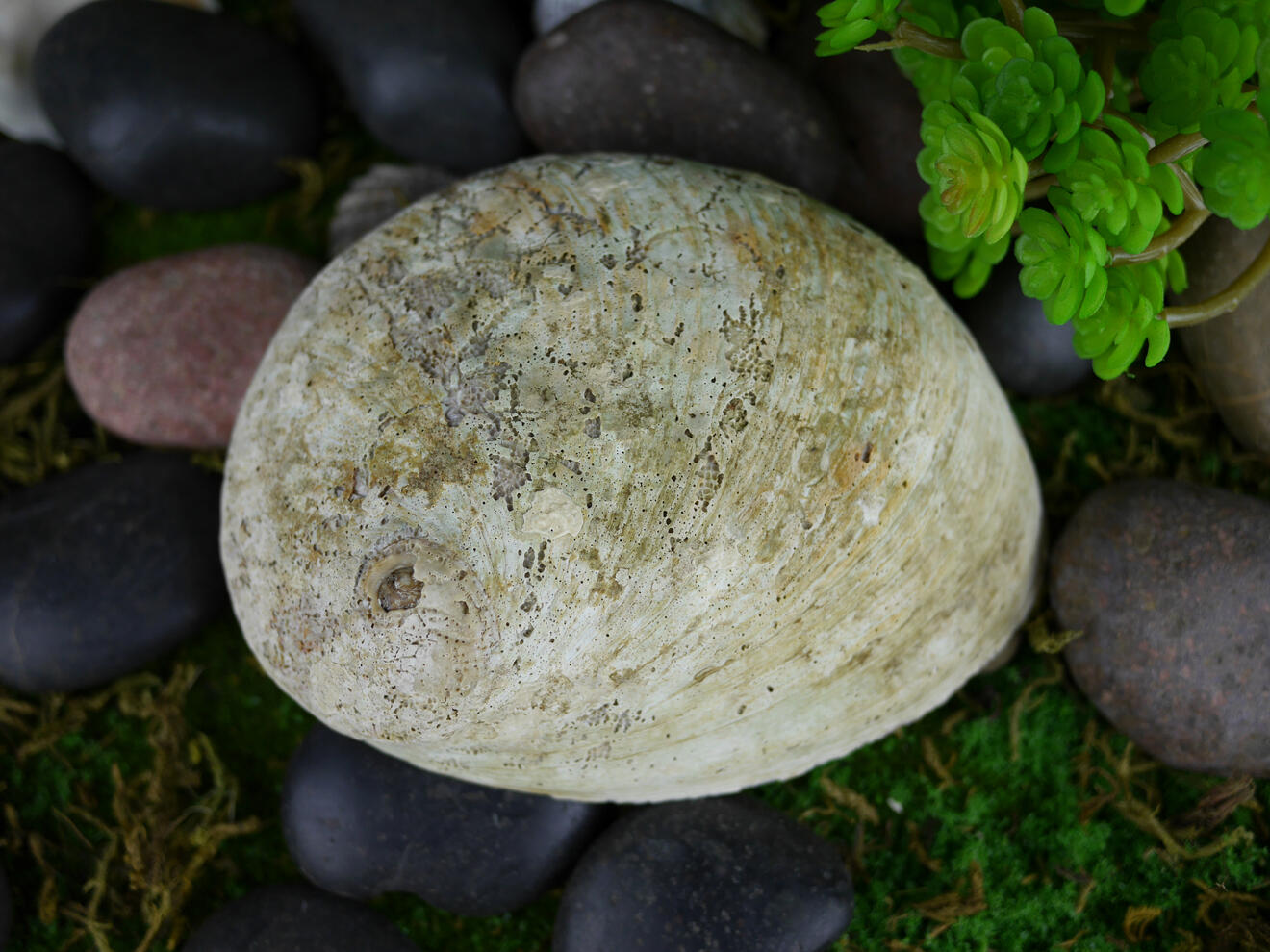 Green Lip Abalone Shell
Abalone Shell
cleaned and oiled using Premium Coconut Oil
abalone shells are natural and so they vary in how they look. No two shells are the same
Size: 14cm
$32.00
---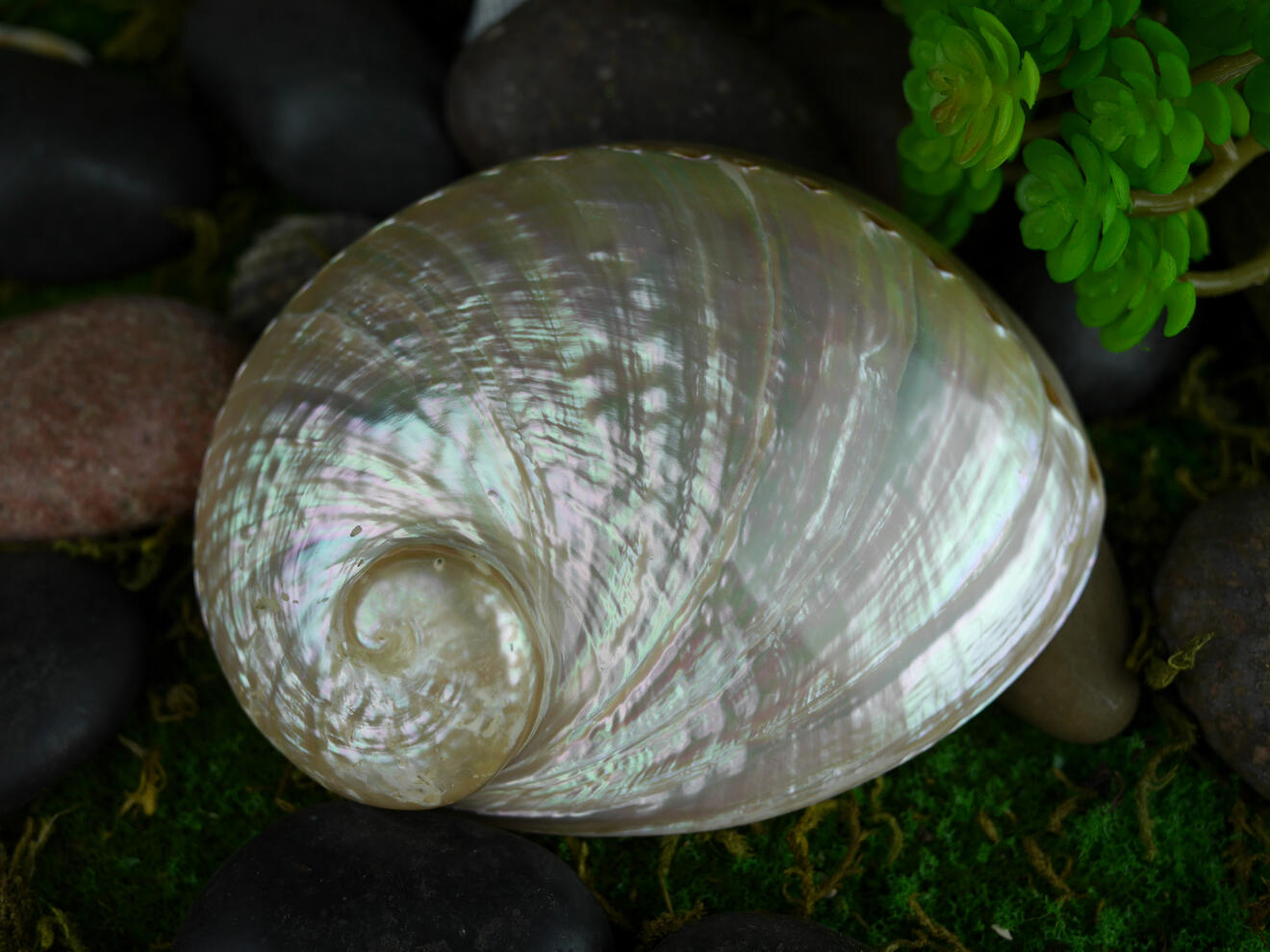 Polished Abalone Shell
Polished Abalone Shell
cleaned and oiled using Premium Coconut Oil
abalone shells are natural and so they vary in how they look. No two shells are the same
Size: 13 - 14cm
$37.00
---

---
---
---
Online Supply Shop - Orders Shipped from our warehouse on the Gold Coast, Qld Australia
---
---
---
---
---
---

---
---
---
Tarot / Oracle Cards
---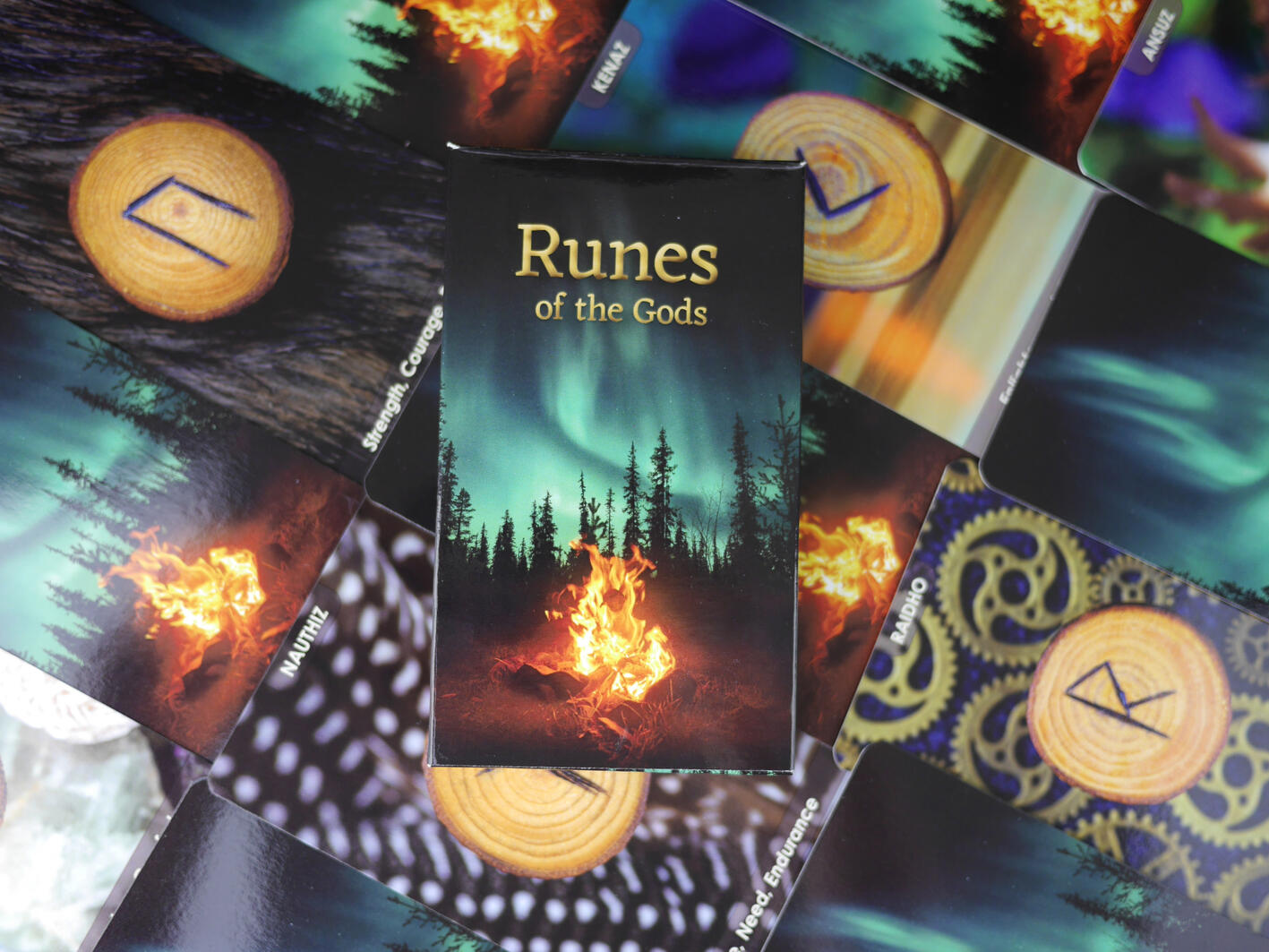 Runes of the gods oracle cards
Condition: New
Runes of the gods are sets of oracle cards based on Elder Futhark rune system
By: The Rune Workshop
Dimensions
24 cards
350gsm
Full gloss Card stock ( Not the yucky sticky gloss very smooth gloss easy shuffle)
120mm x 70mm
Full colour Gloss Tuck box
The runes are an ancient language of the Germaic people and are used for writing, divination, healing, spell work & guidance, The Runes are a direct line of communication to the Gods
Contains 24 rune cards with meanings.
Designed and printed in Australia
$34.00
---

---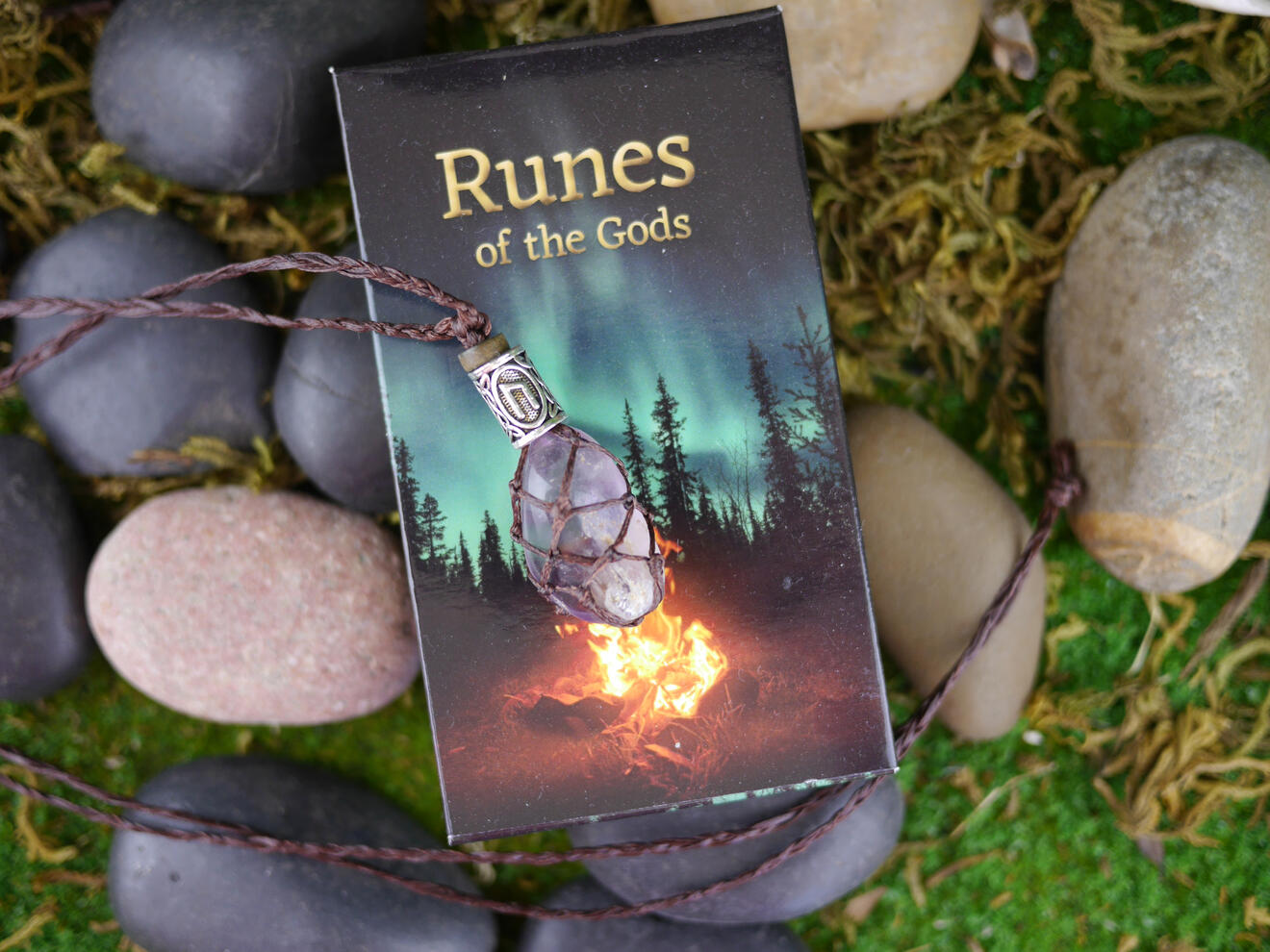 Runes of the gods oracle cards/Uruz Rune Pendant
Runes of the gods are sets of oracle cards based on Elder Futhark rune system, Cards with Rune pendant
By: The Rune Workshop
Dimensions
24 cards
350gsm
Full gloss Card stock ( Not the yucky sticky gloss very smooth gloss easy shuffle)
120mm x 70mm
Full colour Gloss Tuck box
$55.00
---

---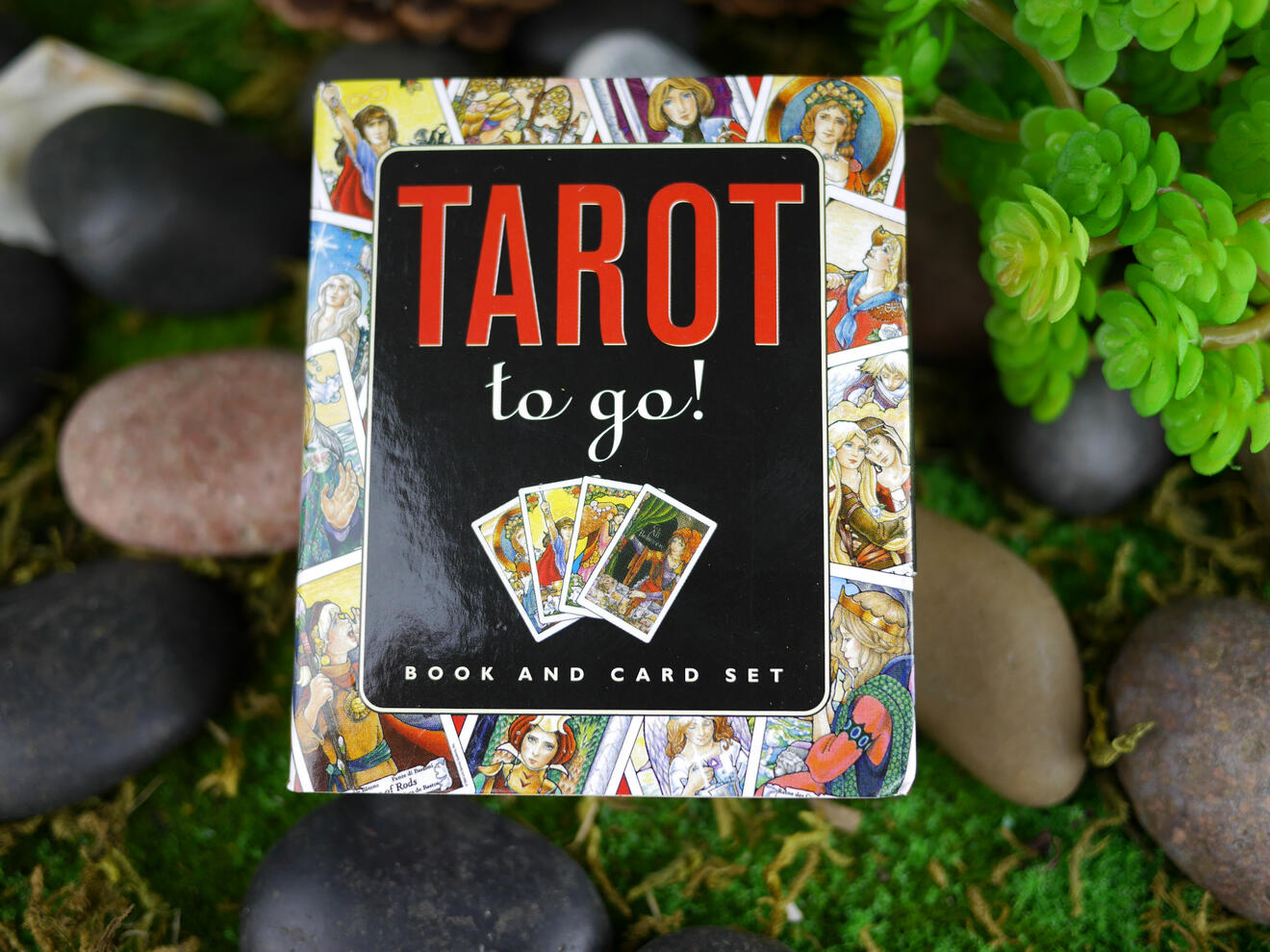 Tarot to Go!
Condition: New
Discern the meanings of the mysterious imagery of the Tarot cards, and learn how to conduct your own Tarot readings. Richly illustrated. 112-page book, full deck of Tarot cards
By (author) Rosalind Simmonsormat
Mixed media product | 80 pages
Dimensions 90 x 108 x 42.67mm | 204.12g
Publication date 01 Sep 2002
Publisher Peter Pauper Press Inc,US
Publication City/Country White Plains, United States
Language English
$36.00
---

---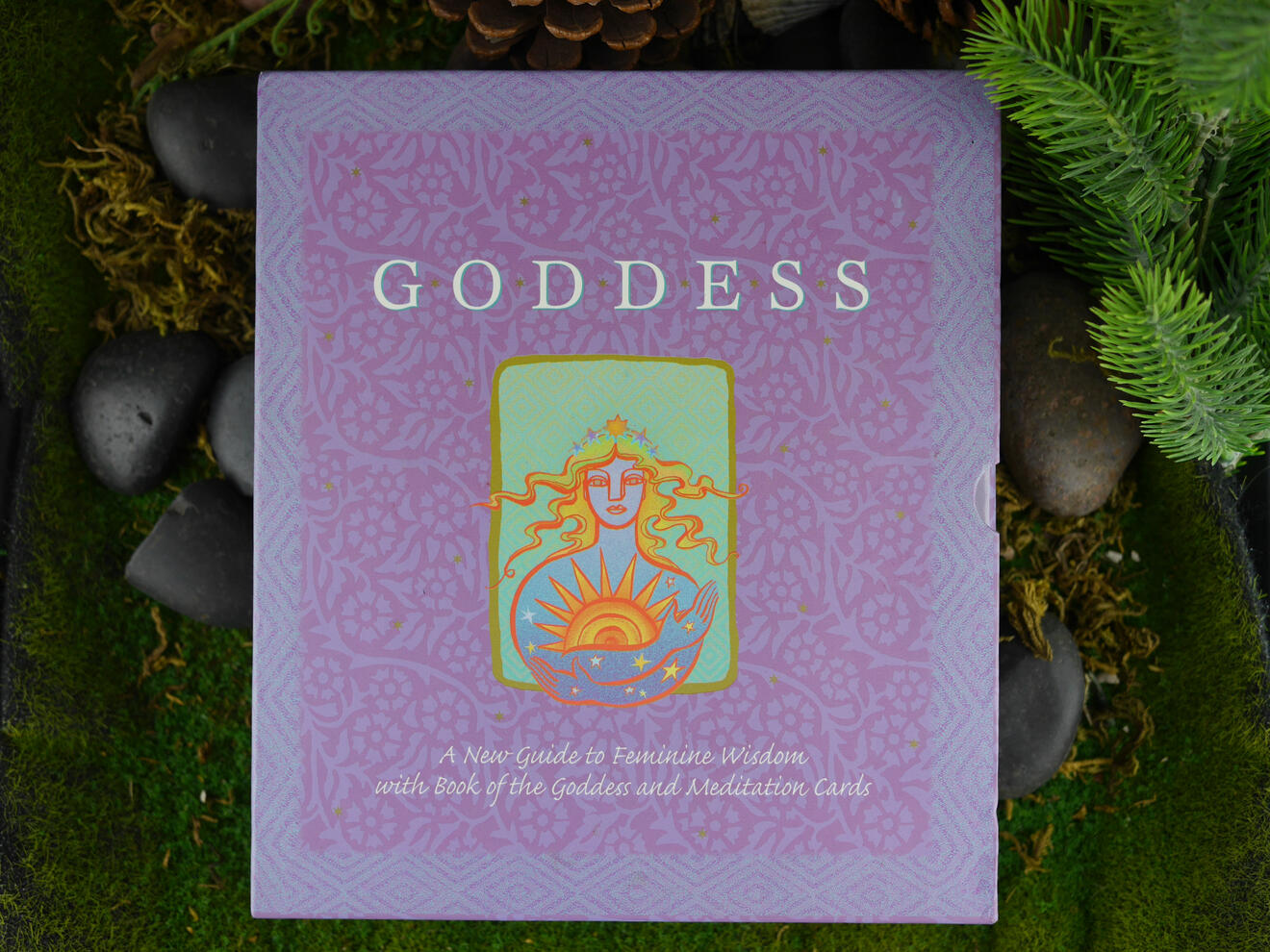 Goddess Kit: A New Guide To Feminine Wisdom Rare 1999
Condition: Used Like new
Rare Goddess: A New Guide to Feminine Wisdom with Book of the Goddess and Meditation Cards (Miniature Editions) 1999
This beautifully illustrated kit includes the Running Press Miniature Edition™ THE GODDESS WITHIN and a deck of 50 full-color goddess cards for meditation. The book features wisdom from such modern goddesses as Katharine Hepburn, Aretha Franklin, Bette Davis, Madonna, and many others. Learn how to use the unique collection of illustrated cards to provide insights on creativity, purpose, vision, and the power of the goddess as it exists within every woman.
$70.00
---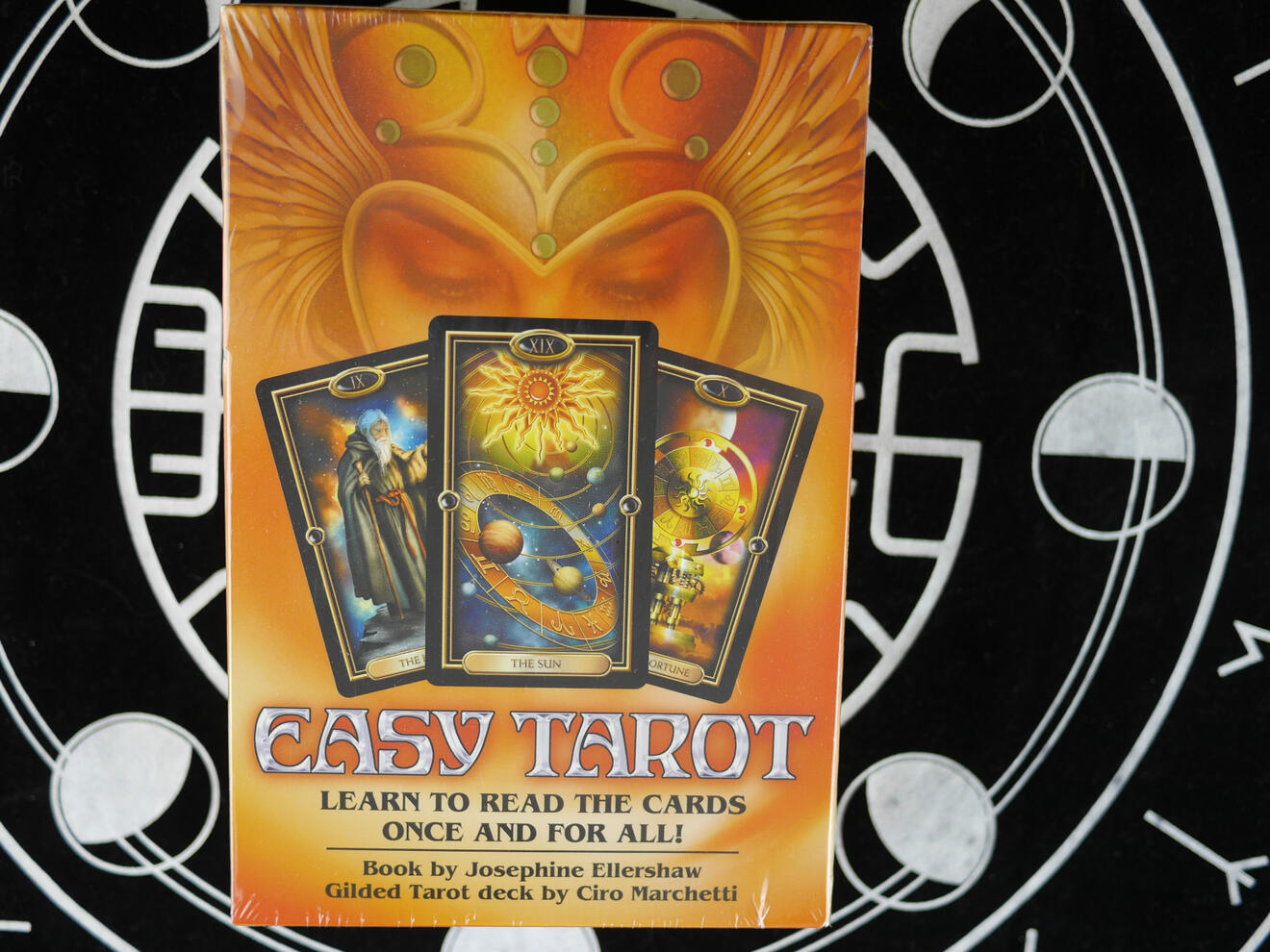 Easy Tarot Set
Condition: New
Learn to Read the Cards Once and for All!
By: Josephine Ellershaw
SBN: 9780738711508
ISBN-10: 0738711500
Audience: General
Format: Card or Card Deck
Language: English
Number Of Pages: 240
Published: 8th May 2007
Publisher: Llewellyn Worldwide
Country of Publication: US
Dimensions (cm): 19.6 x 14.5 x 5.08
Weight (kg): 0.54
Language English
$40.00
---

---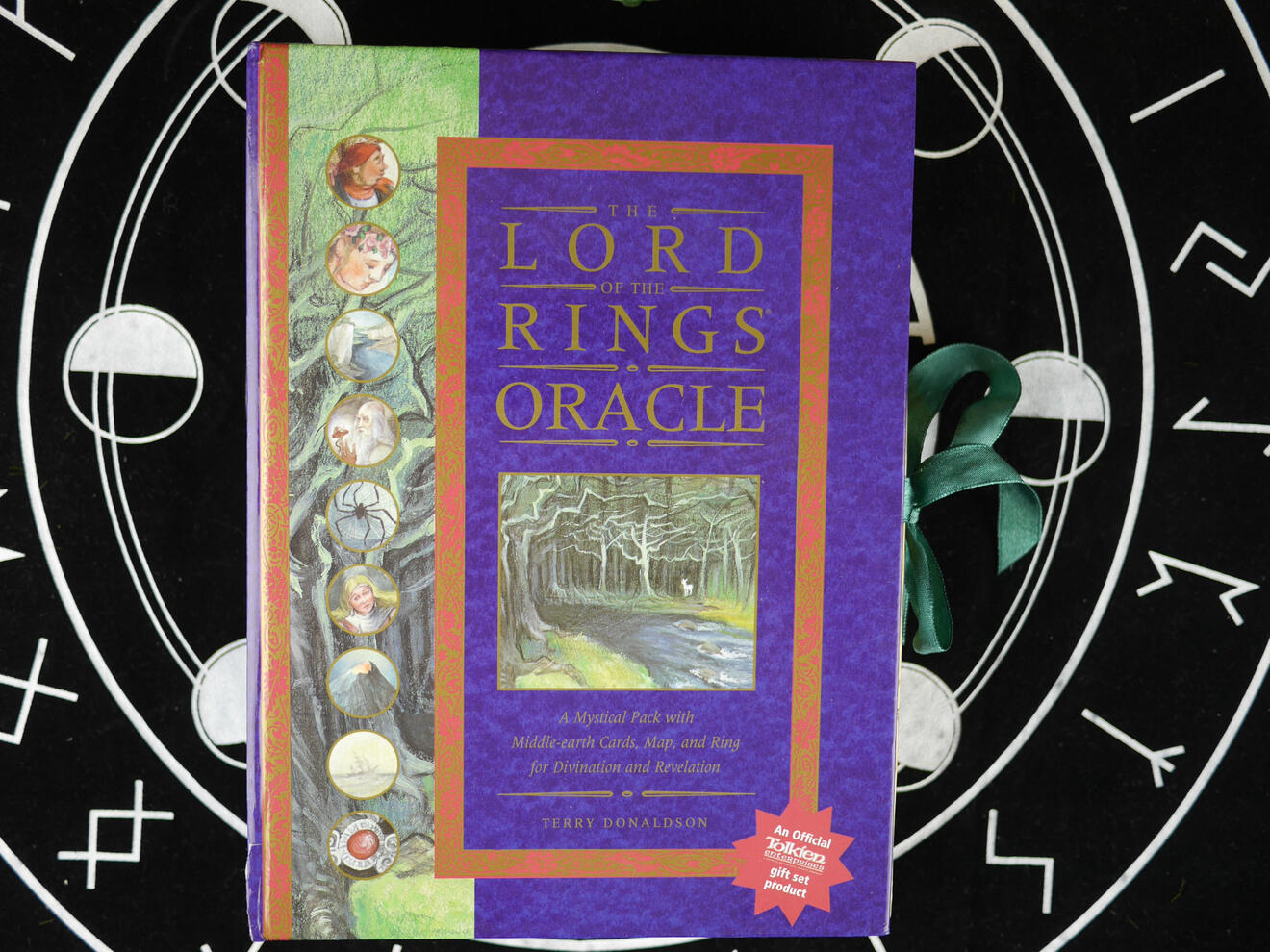 The Lord of the Rings Oracle OOP 1998
Condition: Used
The Box has a bit of damage
The Book is in great condition
The Cards are in great condition
The Ring is in great condition
The Map is in great condition
Officially licensed by Tolkien Enterprises, Inc! Middle Earth lives inside each of us--and it can help us access the future! Based on J.R.R. Tolkien's beloved trilogy of wizardry and enchantment, this entirely new divination system uses a runic ring just like the one Sauron forged. Cast it upon a map of Middle Earth, and use the richly illustrated guidebook and 40 tarot-like cards to interpret the answers to your questions. Packaged in a stunningly beautiful slipcase that looks like a book, it contains all the magical elements you need: the ring, map, book, and cards.
$130.00
---

---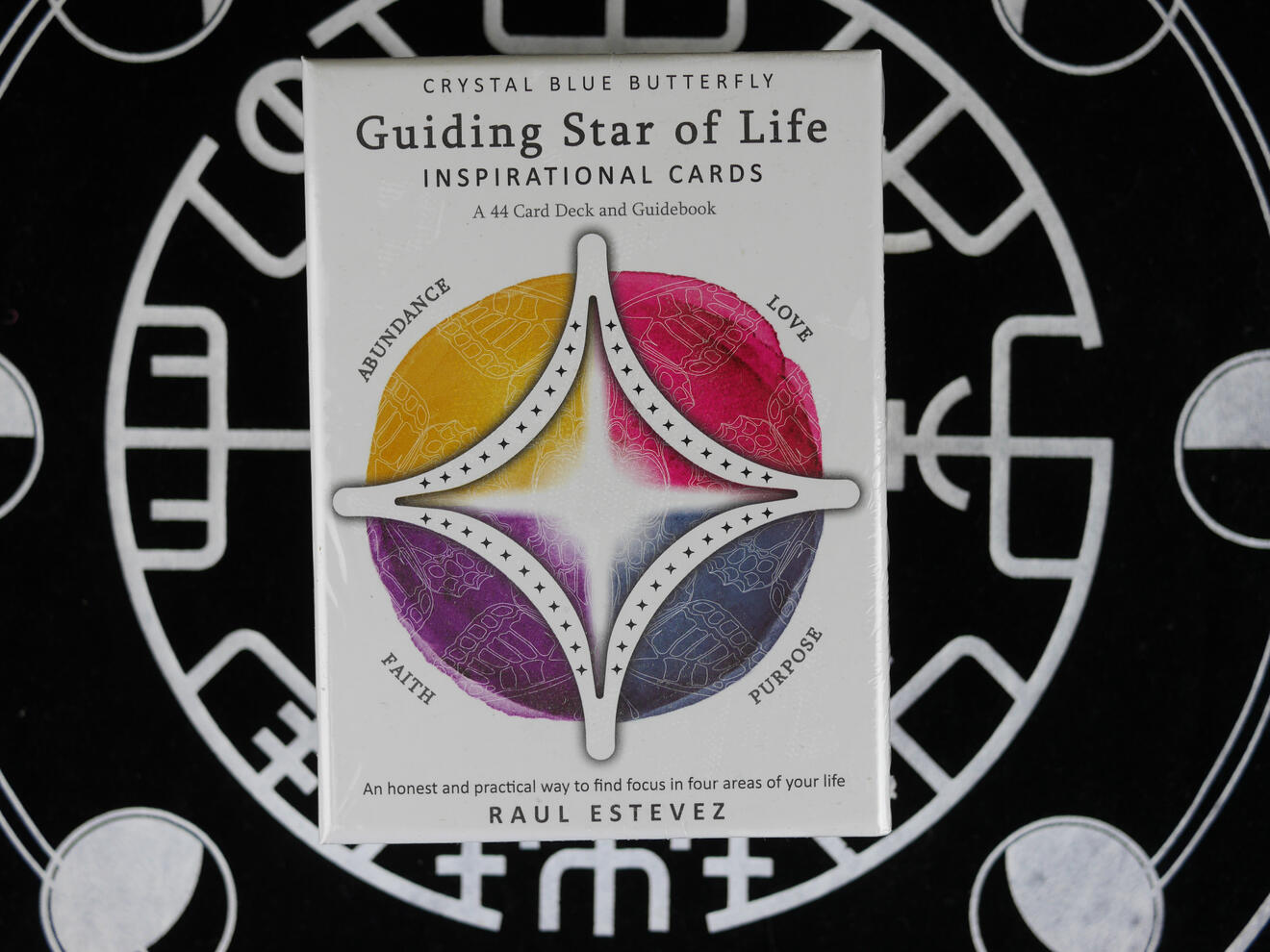 Guiding Star of Life – Inspirational Cards OOP
Condition: NEW OOP
Based on his daily Angel Card readings, Raúl Estevez's 44 card deck, guidance card and guidebook allows you to find inspiration using a uniquely designed four-point Guiding Star of Life.
The colour coded quadrant within the Star contains four leading cards of Love, Purpose, Faith and Abundance they are followed by ten individual cards within each quadrant allowing you to use the whole deck or subdivide it into the quadrants to concentrate on those areas!! Giving you 5 decks in 1.
$80.00
---

---
---
---
---
---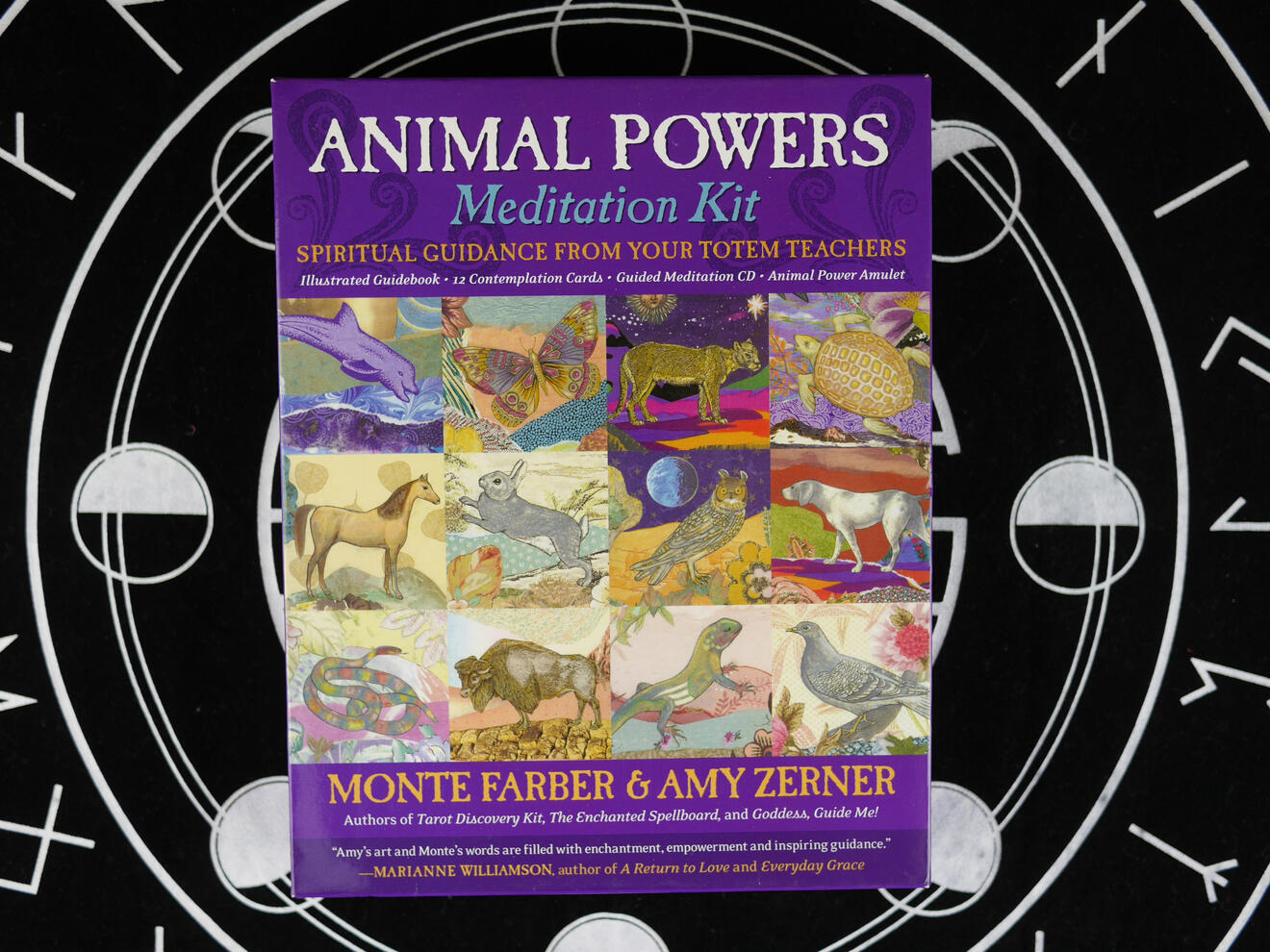 Animal Powers Meditation Kit
Animal Powers Meditation Kit
Condition: Opened but not used
Box has a bit of damage on the back
Cards/Book Like New
CD Unopened
The art of meditation - the relaxed concentration technique that can energize and renew your mind, body and spirit - is one of the most powerful lessons ever learned from the pure, natural ways of our animal teachers. Combining both of these ancient practices,
THIS KIT CONTAINS:
48 page full-color Guidebook with instructions
CD of 12 Animal Power Meditations with original music
12 Animal Contemplation Cards with easel stand
$55.00
---

---
---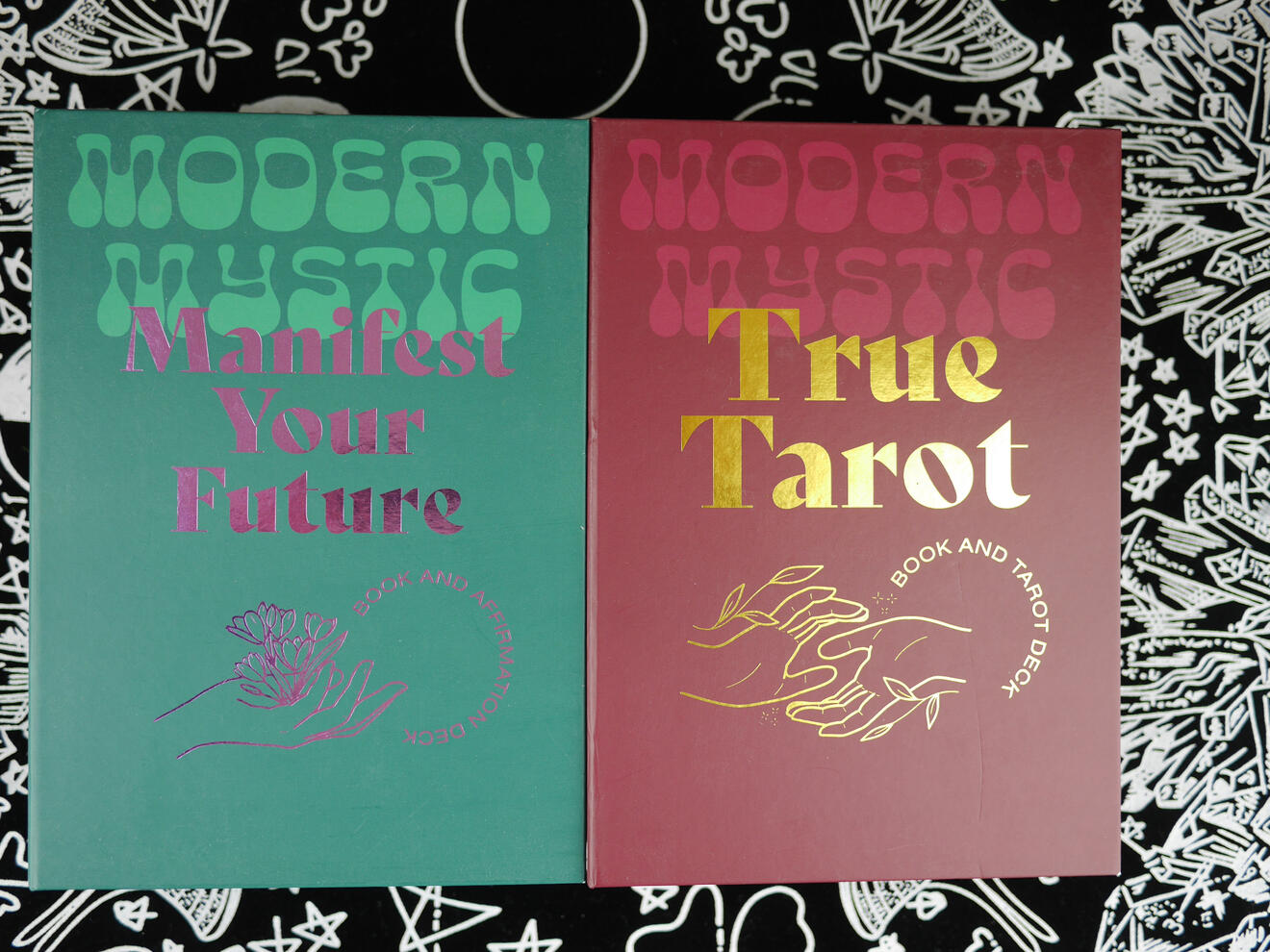 Modern Mystic: True Tarot & Affirmation Cards
Condition: New
Modern Mystic: True Tarot Book and Tarot Deck,Modern Mystic: Manifest Your Future: Book and Affirmation Cards
$50.00
---

Magical Unicorns Oracle Cards OOP Doreen Virtue Genuine
Genuine Set of Magical Unicorns Oracle Cards By Doreen Virtue
Condition: Gently used Very Good
With the 'Magical Unicorn Oracle Cards', you can receive messages and guidance related to your present life, your future, and your spiritual path. Suitable for adults and children of all ages, each card features a beautiful unicorn painting and a life-affirming message. The enclosed guidebook allows you to instantly give accurate readings to yourself and others.
$195.00
---

---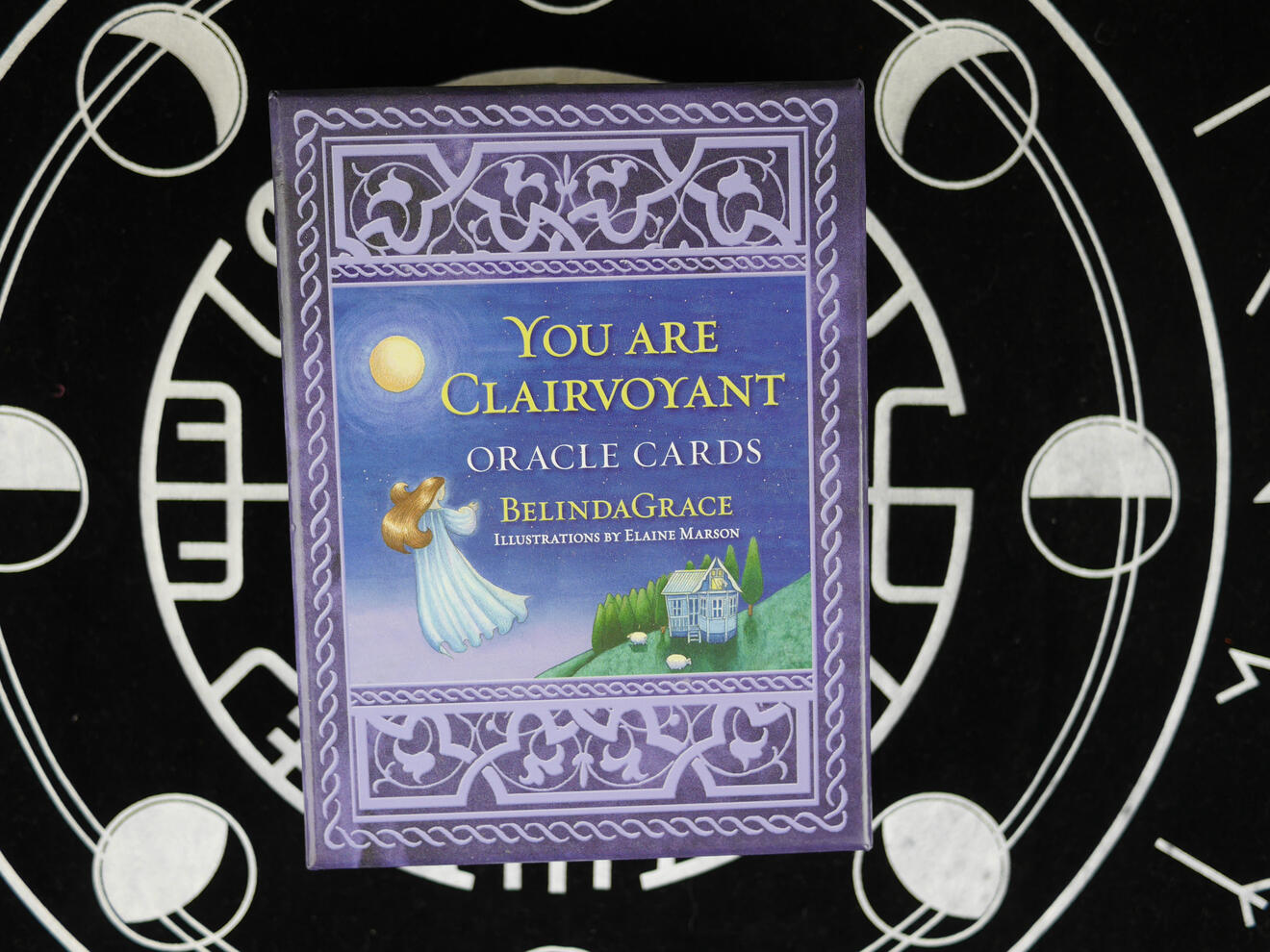 You are Clairvoyant Oracle Cards
This version of You are Clairvoyant Oracle Cards is OOP
Condition: Used Very Good
BelindaGrace, has created a beautiful Oracle card set based upon the "You are Clairvoyant" book. All 44 oracle cards are beautifully illustrated to be uplifting and helpful, assisted by a booklet with card layouts
Publish Date:
2009
$95.00
---

---
---
---
---
---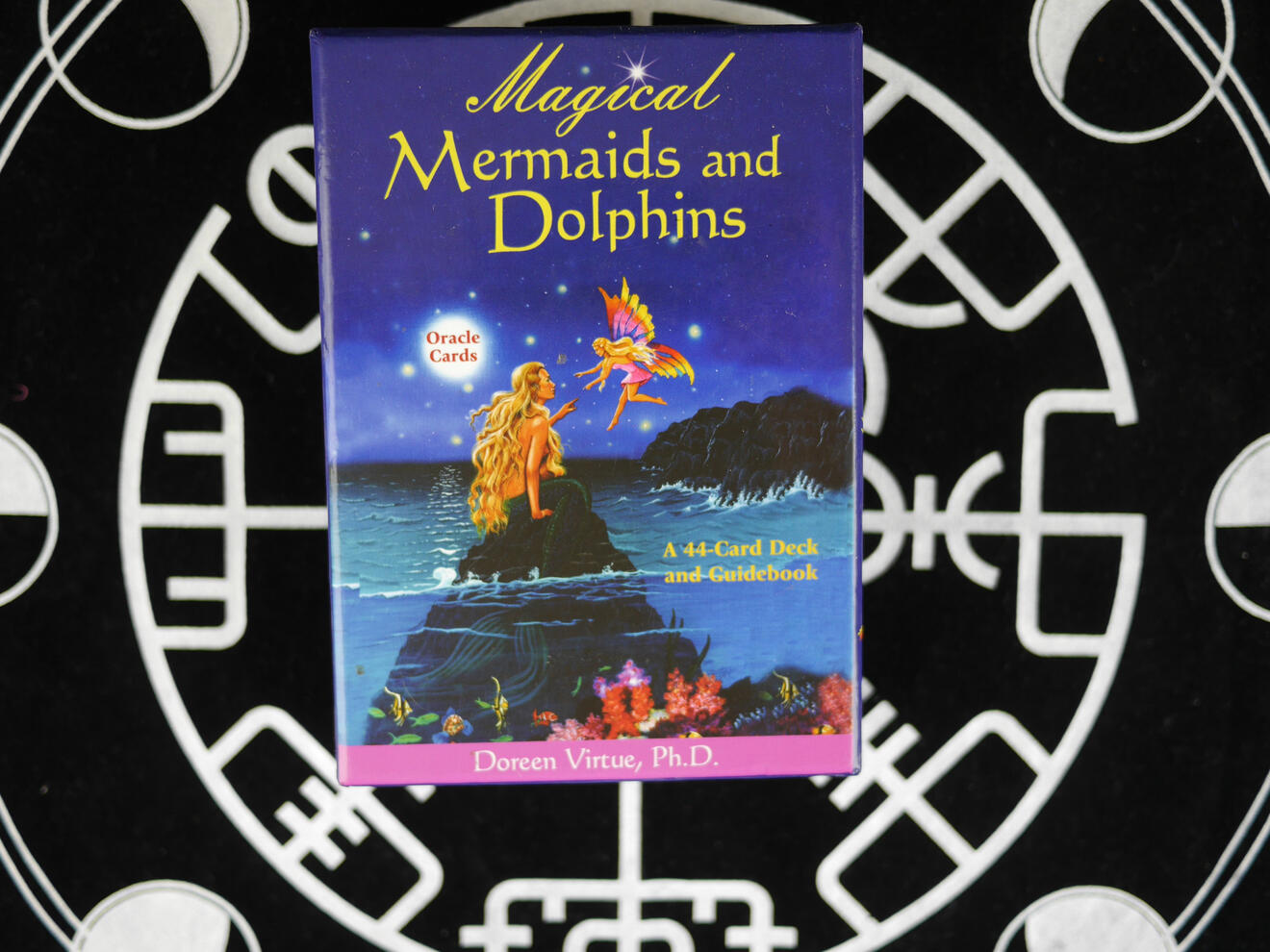 Magical Mermaid and Dolphin Cards OOP Doreen Virtue Genuine
Genuine Set of Magical Mermaid and Dolphin Oracle Cards
By Doreen Virtue
Condition: Gently used Very Good
The Magical Mermaids and Dolphins Oracle Cards are specifically designed to help you manifest your goals, life purpose, and Divinely inspired dreams. These 44 beautifully illustrated cards can help you swim into the ocean of your unconscious mind, where profound thoughts and feelings can create-or block-your heart's desire. The cards are easy to use, and the enclosed guidebook will help you perform amazingly accurate readings for yourself or others.
$150.00
---

---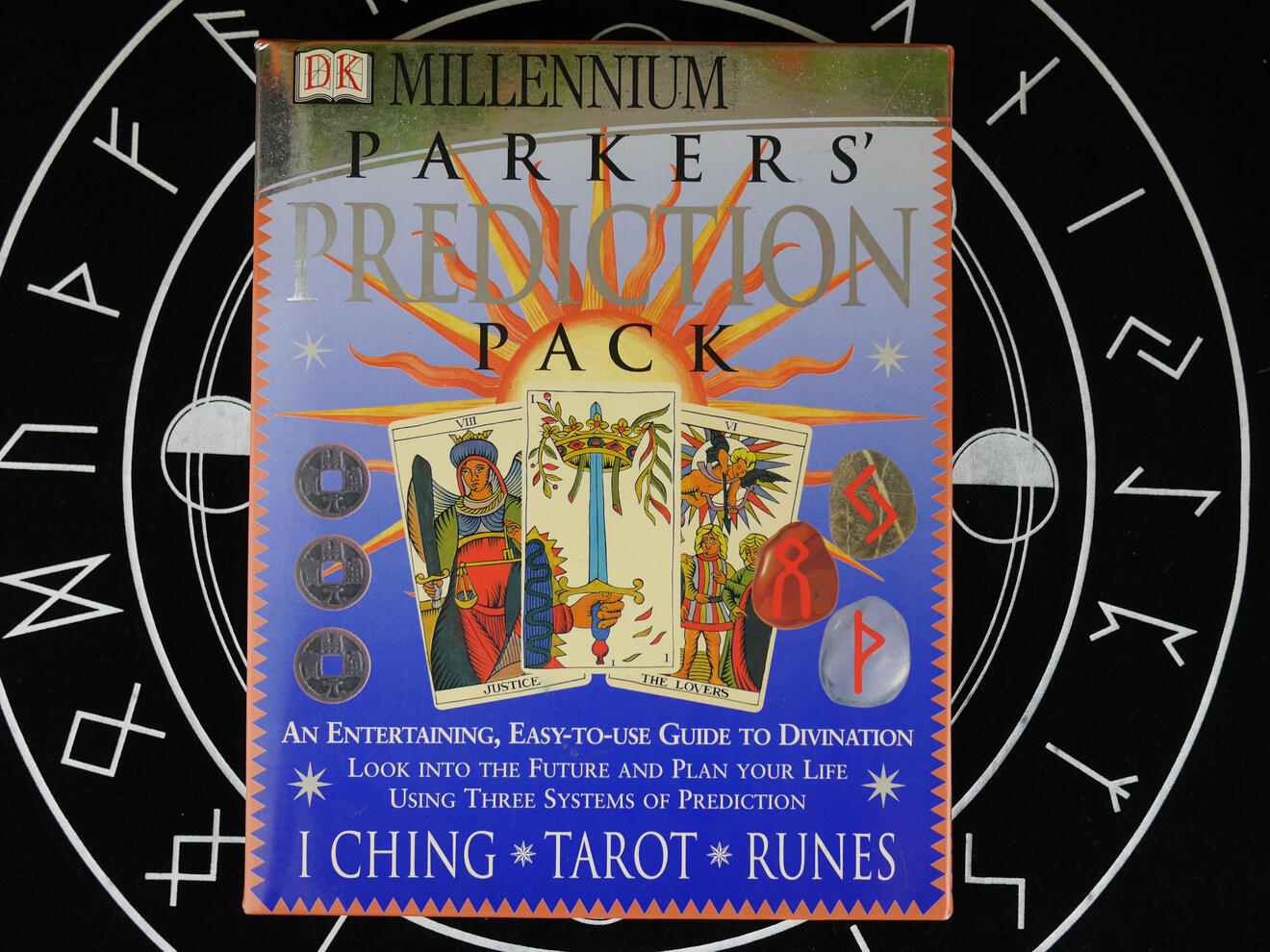 Dk Millennium: Parker's Prediction Pack OOP
Dk Millennium: Parker's Prediction Pack 1999
Condition: Used Very Good
DK's Millennium Parkers' Prediction Pack is a user-friendly pack that concentrates on the three most accessible divinatory disciplines: Tarot, Runes, and I Ching.
It provides a rich source of profound wisdom, enabling you to discover revealin
$85.00
---

---
---
---
---
---
---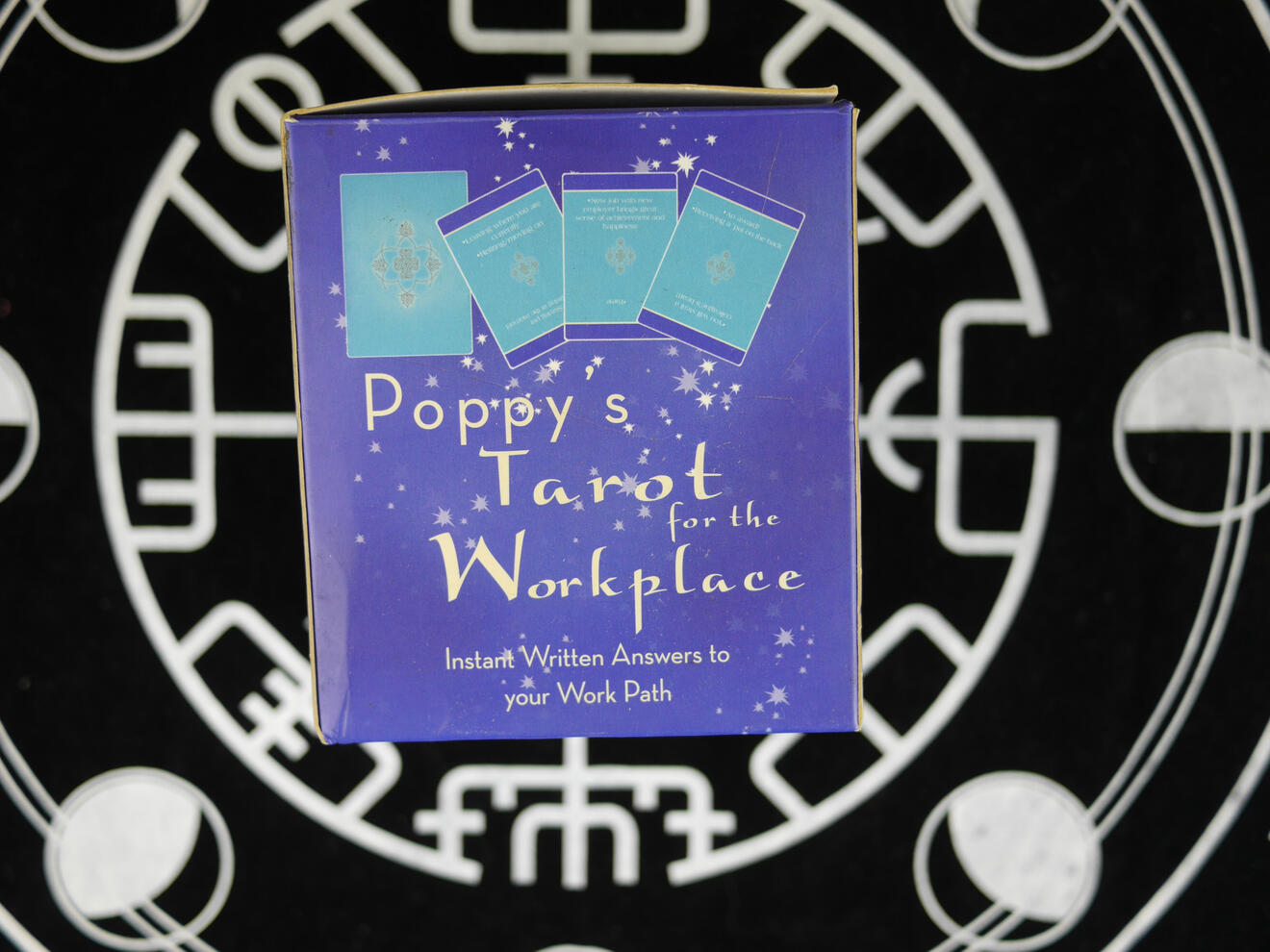 Poppy's Tarot For The Workplace OOP
Rare Poppy's Tarot For The Workplace OOP
Condition: used Good
Box has some wear & scuffed a bit
Cards very good
The future direction of your work life can be instantly revealed. Poppy has clear written messages on each card relating to various issues of the workplace. All you have to do is choose the cards and lay out as shown. Your subsconscious mind will guide you to the right cards to choose, and your work future will appear before your eyes.
This deck contains 215 cards
box measures 9.5 cm x 9.5 cm x 6.5 cm.
$70.00
---

---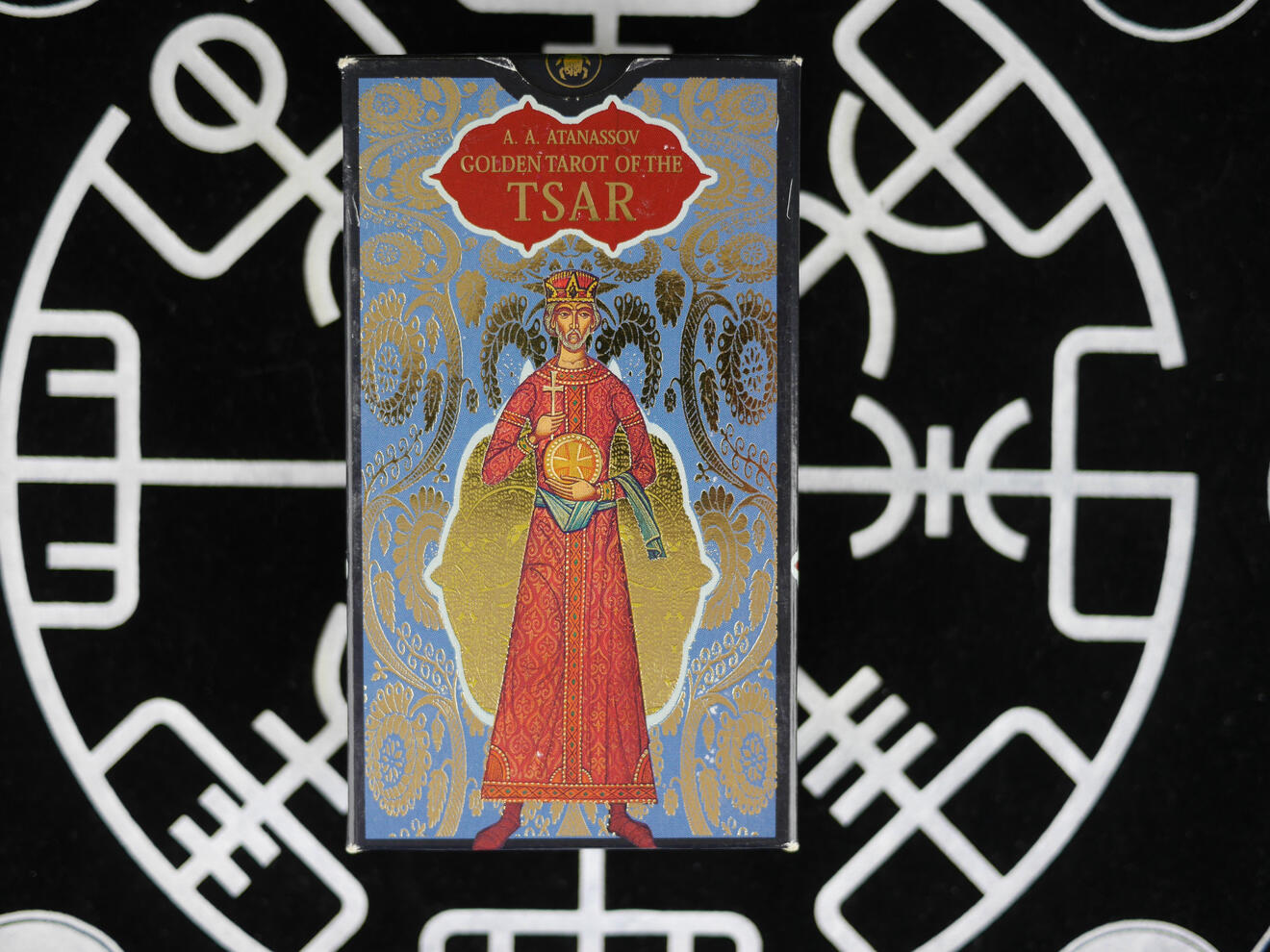 Golden Tarot of the Tsar
Golden Tarot of the Tsar 2003
Condition: Very Good
Box has some wear
Cards Like New
The Golden Tarot of Tsar is printed with shining gold foil, evocative of the richness of the art of the Tsars. Atanassov meticulously captures the intricate art of the Russian miniaturists who exemplified the art of this time. He also brilliantly merges the archetypes of the Tarot with the histories of Christian saints. Just as the saints achieved spiritual enlightenment and expressed their precepts in their daily actions, so the Tarot helps us access the spiritual and manifest it in our everyday lives.
The companion booklets for most Lo Scarabeo decks are in five languages: English, Spanish, French, Italian, and German.
$85.00
---

---
---
---
---
---
---
---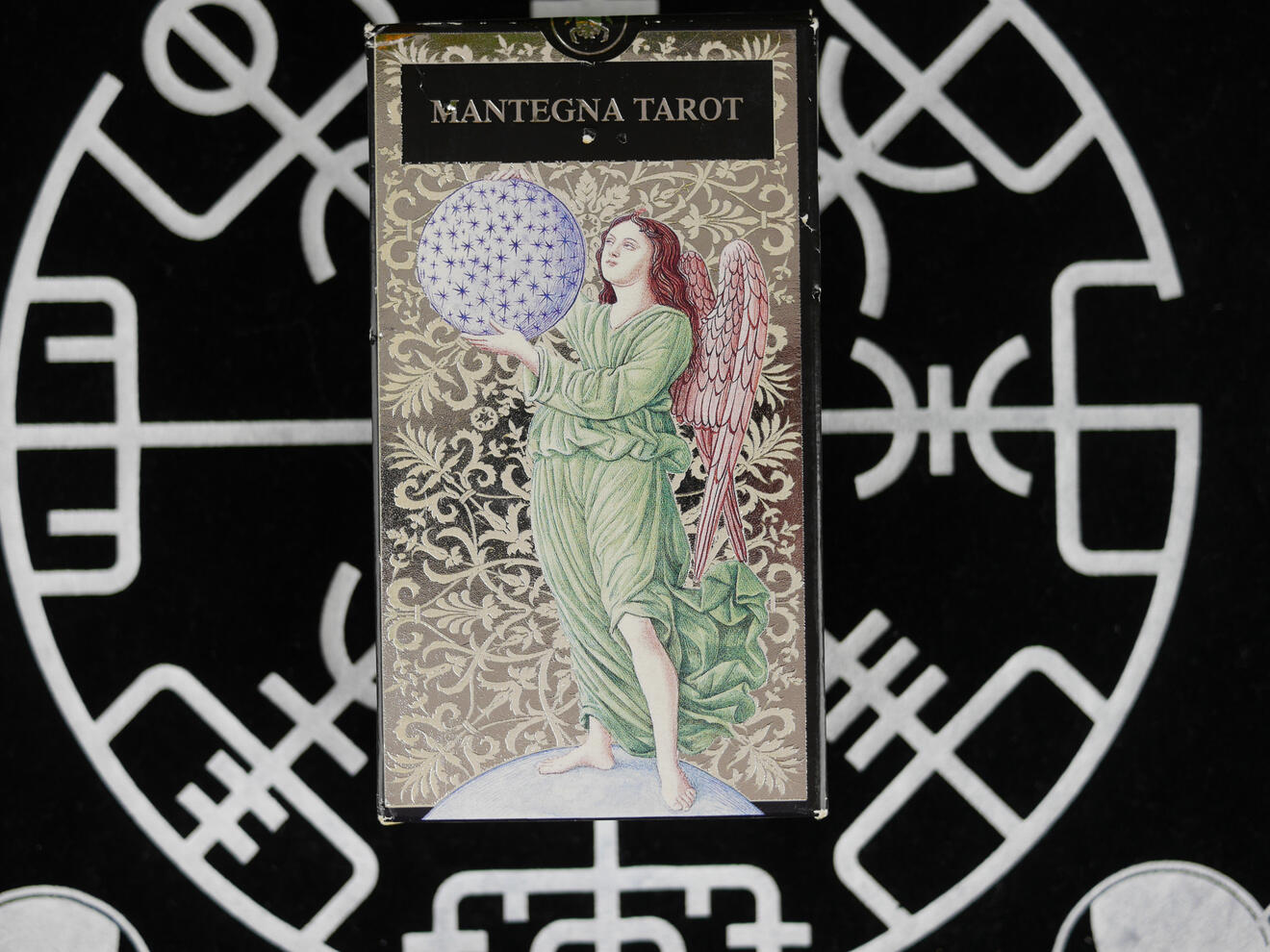 Mantegna Tarot Lo Scarabeo 2000
Mantegna Tarot 2000
Condition: Very Good
Box has some marks
Cards Like New
50 Areana And 25 Didactical Cards
Although this breathtakingly beautiful deck is not a standard tarot deck, there is no doubt of its ability to inspire and guide. These silver-gilded cards reflect all the delicacy and intricate beauty of the medieval cosmology that it depicts. Departing from the traditional division into Major and Minor Arcana, these cards are divided in five groups of ten cards each. Paralleling the medieval world view, the groupings represent: social stations of mankind, the nine Muses plus Apollo, the Liberal Arts and Sciences, the Cardinal Virtues, and the Heavenly Spheres. Because this view of life may be unfamiliar to those of us in the 21st century, the twenty-five teaching cards provide interpretations to the perhaps unknown Terpsichore, Polymnia, and Melpomene. As the light dances on the silver foil, let the Virtues direct you, the Liberal Guides guide you, and the Muses inspire you.
$85.00
---

---
---
---
---
---
---
Online Supply Shop - Orders Shipped from our warehouse on the Gold Coast, Qld Australia

---
---
Elder Futhark Meanings
---
The Elder Futhark consists of 24 runes divided into three groups of eight, known as an ætt (singular of ættir), which are said to be ruled over by both a god and goddess. The first ætt is ruled over by Frey and Freyja, the deities of fertility.
The second ætt is ruled over by Heimdall and Mordgud, and the third and final ætt is ruled over by Tîwaz and Zisa.
---
---
Freyr and Freya's Aett
---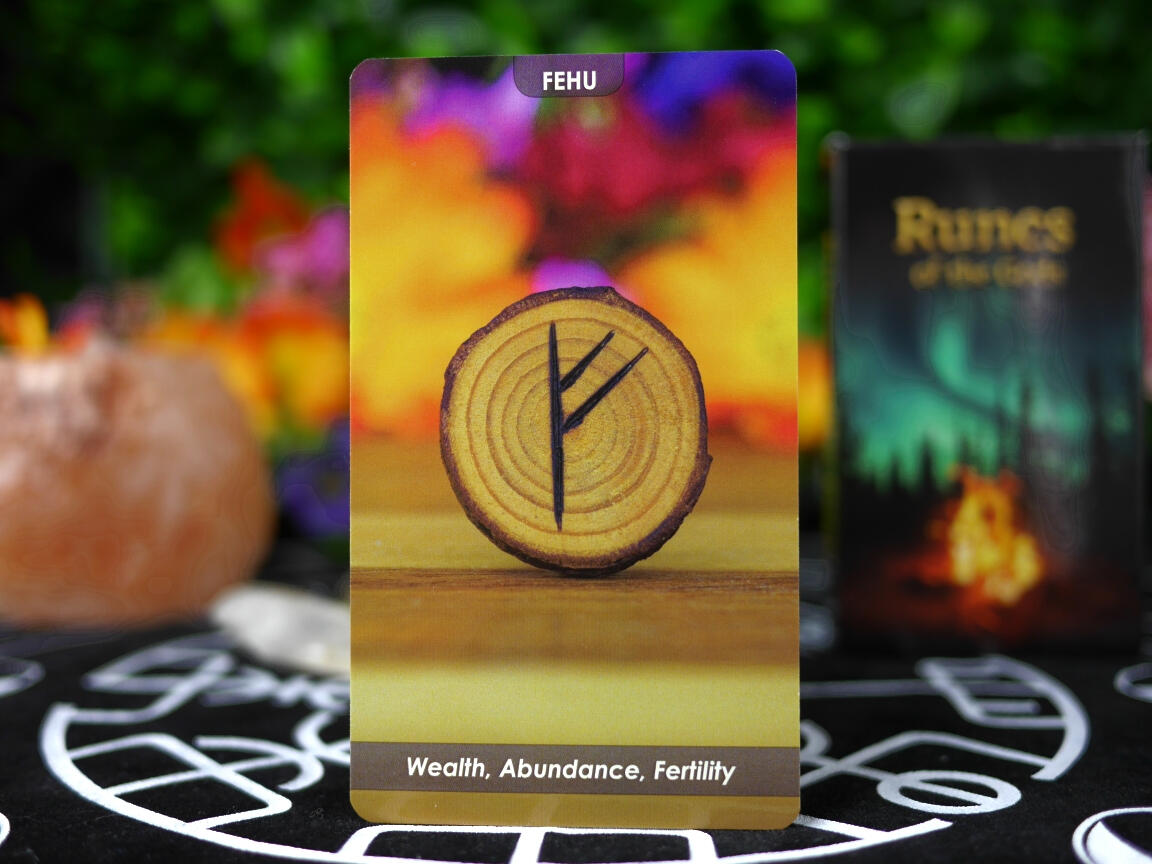 Fehu F: Domestic cattle, wealth
---
Other Name(s): Frey, Feoh
Domestic cattle, wealth.
Possessions won or earned, earned income, luck.
Abundance, financial strength in the present or near future. Sign of hope and plenty, success and happiness. Social success. Energy, foresight, fertility, creation.
Reversal indicates a loss in fortune and riches, or failure on the emotional front.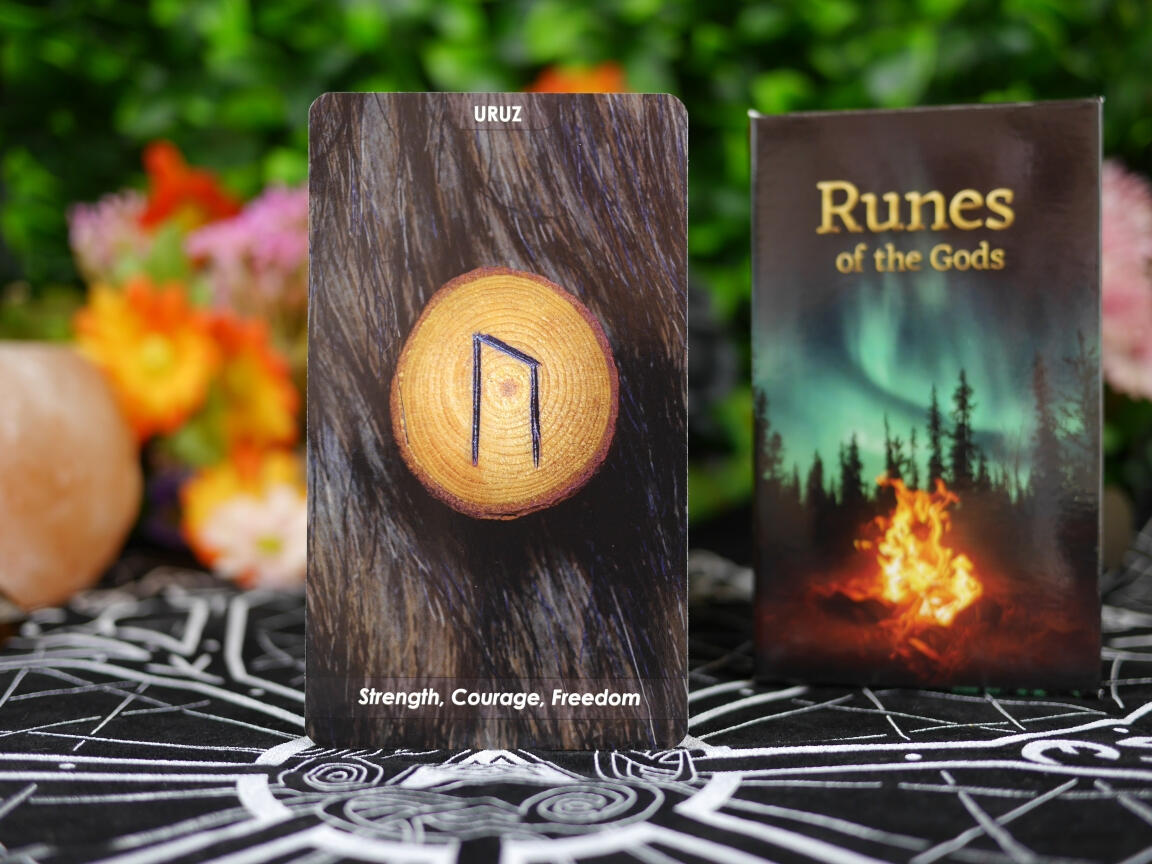 Uruz U: Power Strength Auroch, a wild ox
---
Other Name(s): Urz, U
Physical strength and speed, untamed potential. A time of great energy and health. Freedom, energy, action, courage, strength, tenacity, understanding, wisdom. Sudden or unexpected changes.
When inverted, this symbol indicates weakness or lack of power.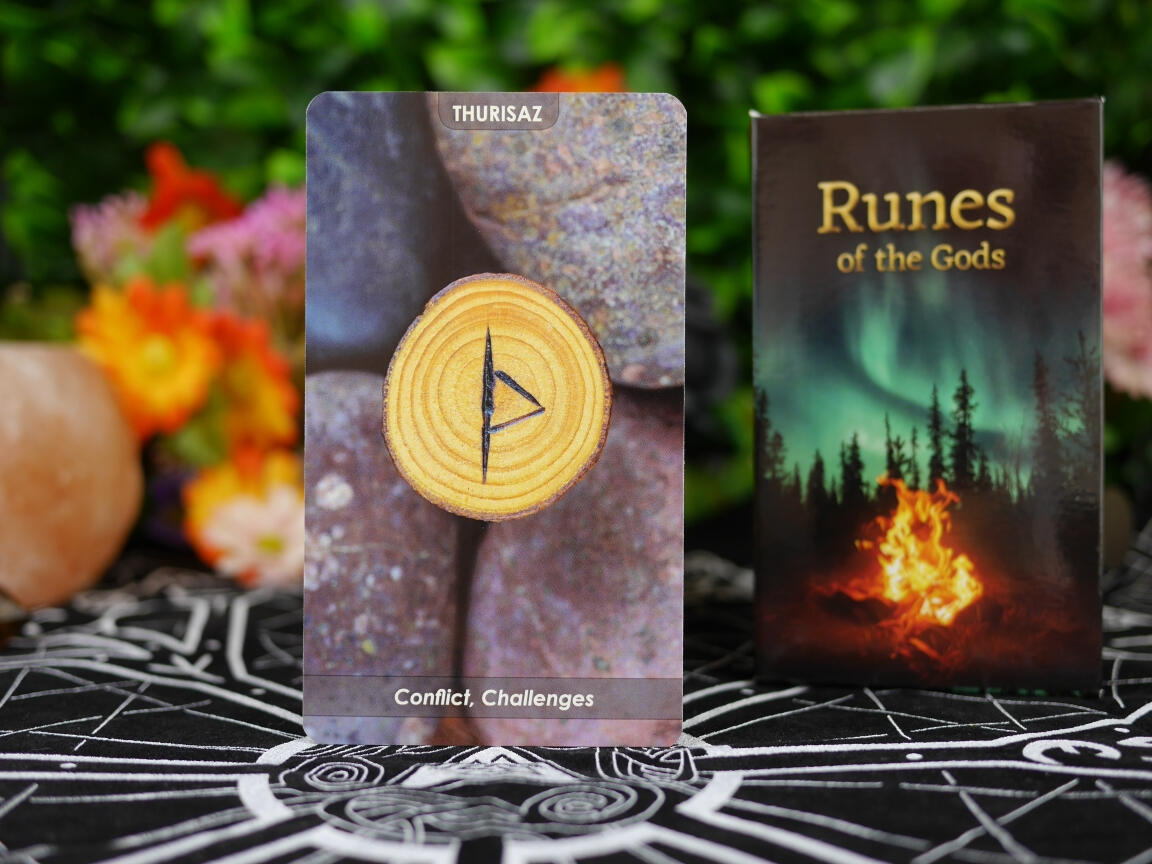 Thurisaz: TH: Thorn or a Giant
---
This represents a force or tower of strength needed to take up challenges. Emotional forces like anger and hate can be controlled and used, but your own strengths can end up destroying you. This rune has a very ambiguous meaning; it can be viewed both, as a positive and negative symbol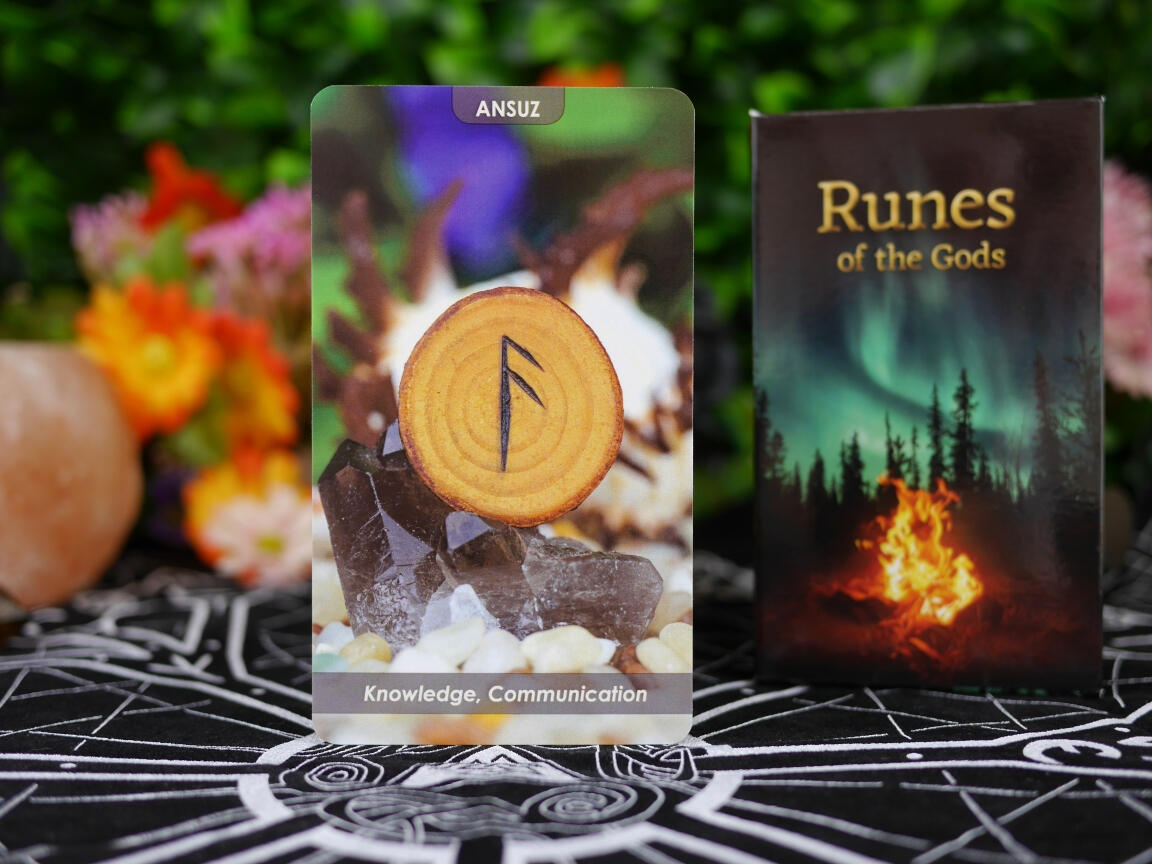 Ansuz: A: Ancestral god (Odin)
---
Other Name(s): As(s), Os, Aesir
This rune represents Odin (Norse god of magic ) and stands for communication, revelation, and divine prophecies. It essentially represents words or messages conveyed through speech.
Its reverse
represents the god of mischief, Loki, and hence, warns against tricks and deceit.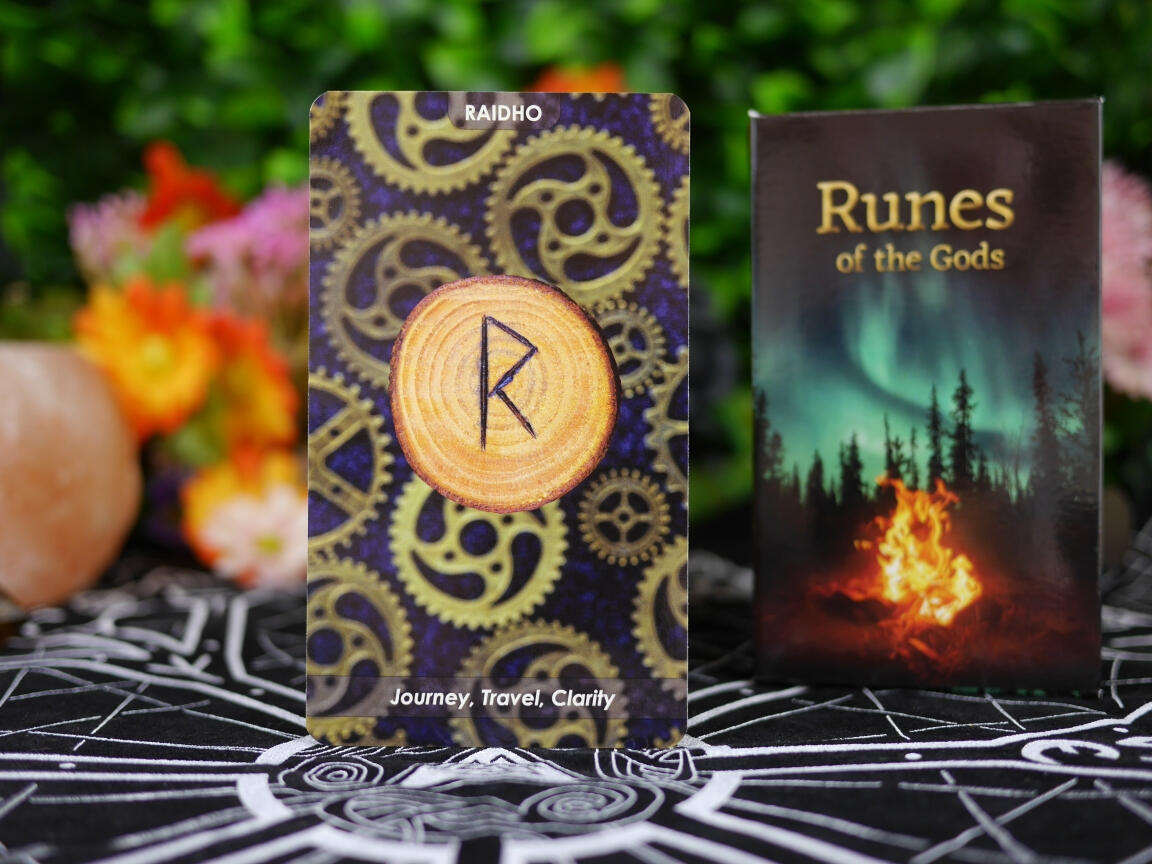 Raidho: R: Chariot
---
Other Name(s): Raidho, Rad, Reidh
Travel, both in physical terms and those of lifestyle direction. A journey, vacation, relocation, evolution, change of place or setting. Seeing a larger perspective. Seeing the right move for you to make and deciding upon it.
Its reverse can mean stagnation or lack of change.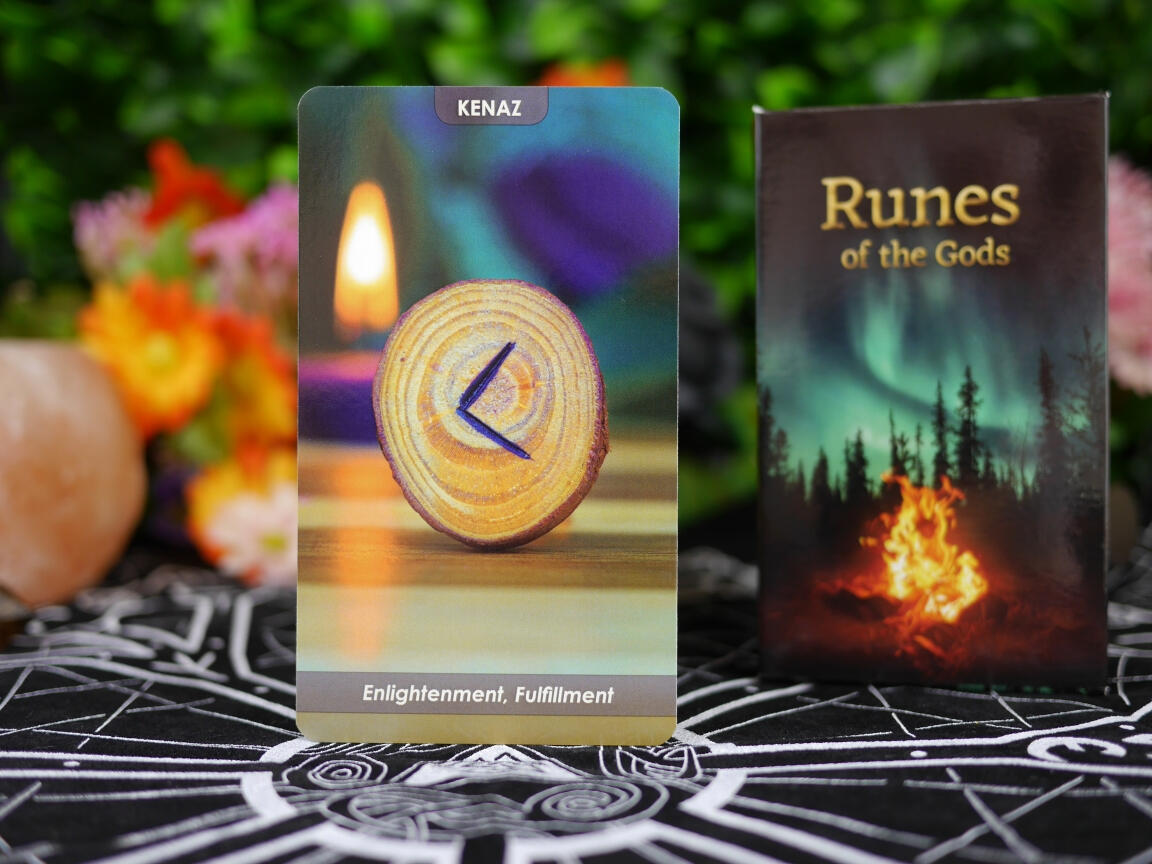 Kenaz: K: Beacon or torch
---
Other Name(s): Kaunaz, Ken, Kano
This is a rune of burning light, heat, and warmth (physical and mental), and stands for an awakened and enlightened mind. It represents mind, opening itself to new ideas, revisioning of old thoughts, creativity, and exploration. Its reversal signifies a loss of awakened knowledge and loss of one's path.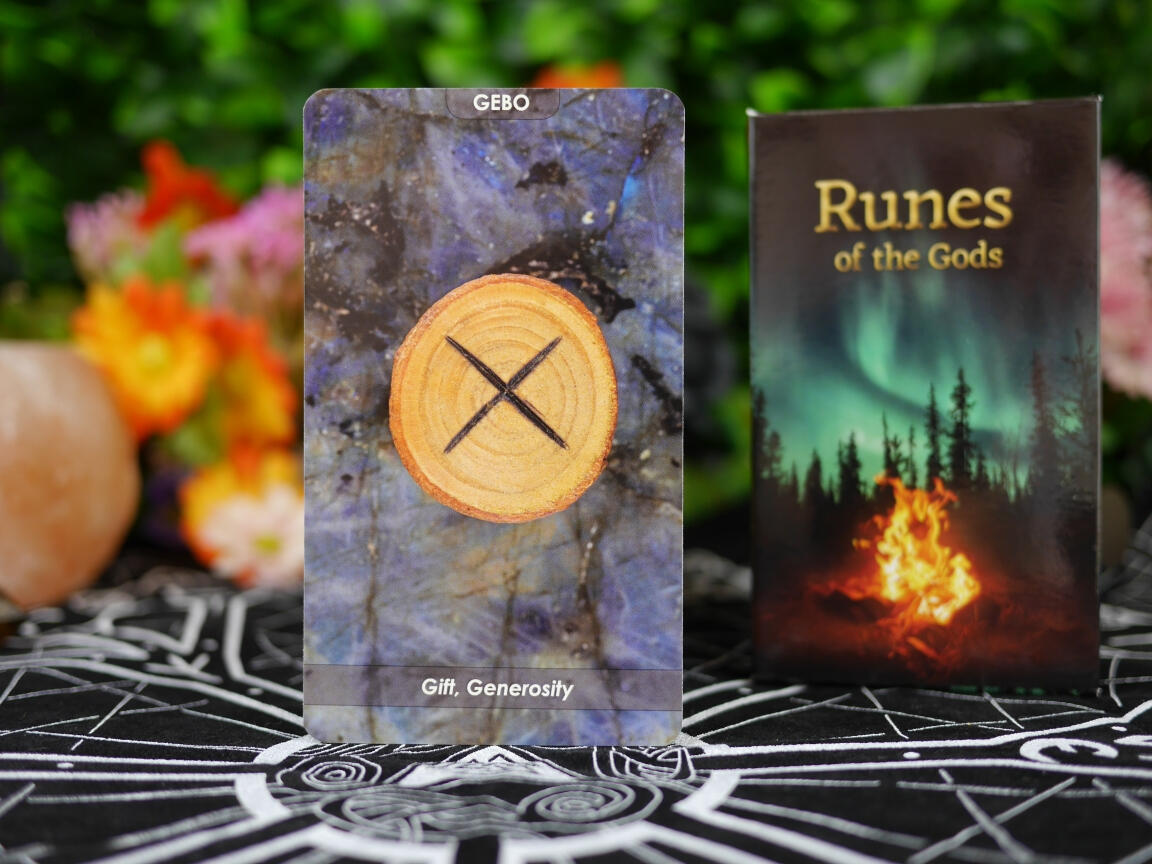 Gebo: G: Gift
---
Other Name(s): Gyfu, Geofu
Gifts, both in the sense of sacrifice and of generosity, indicating balance. All matters in relation to exchanges, including contracts, personal relationships and partnerships.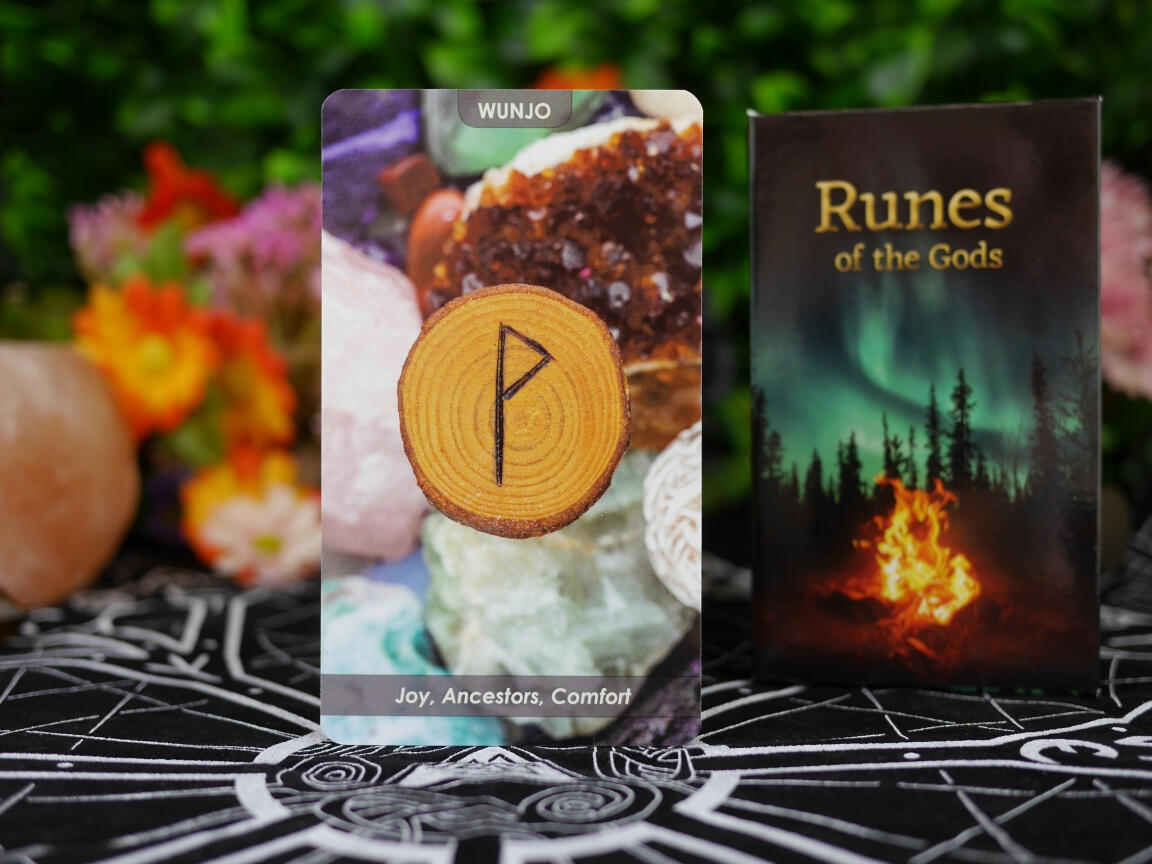 Wunjo: W or V: Joy
---
Other Name(s): Wyn
Joy, comfort, pleasure.
Fellowship, harmony, prosperity. Ecstasy, glory, spiritual reward, but also the possibility of going "over the top". If restrained, the meaning is general success and recognition of worth.
If reversed, it symbolizes difficulties and obstacles in the path of happiness.
---
Heimdall's Aett
---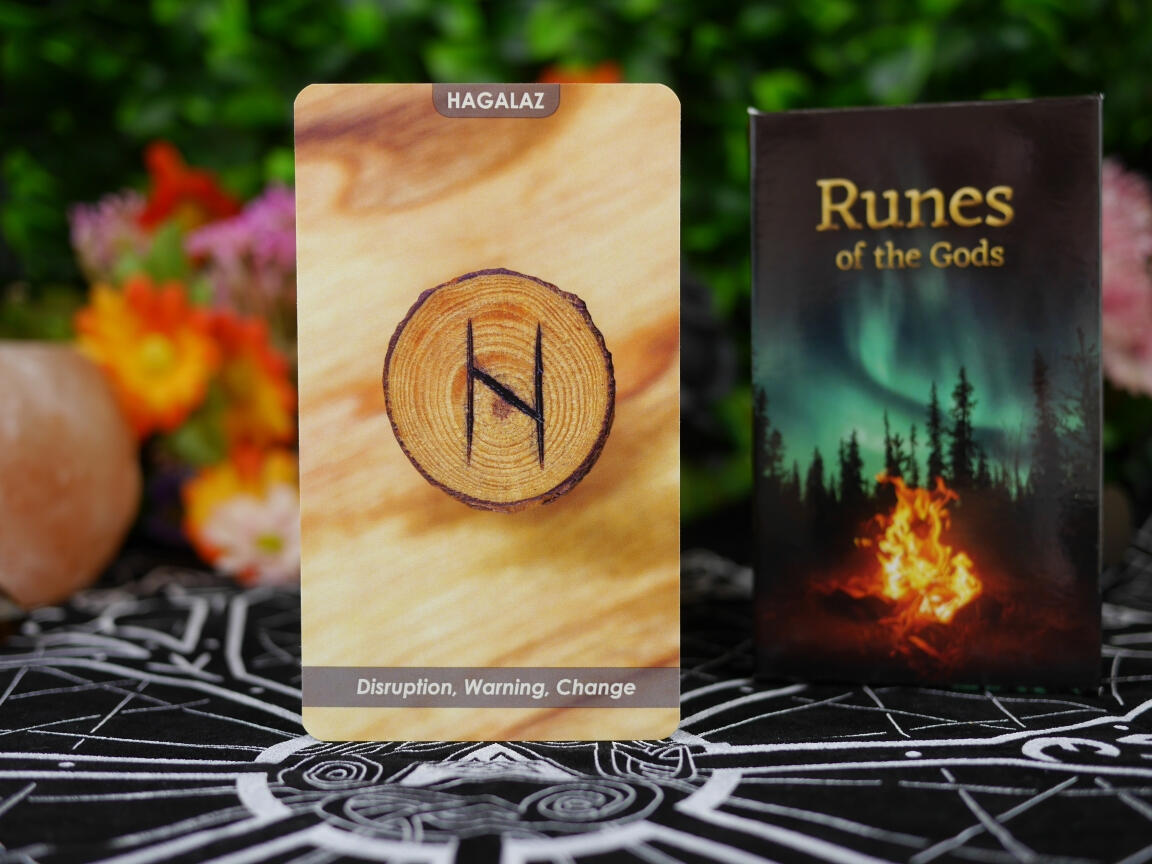 Hagalaz: H: Hail,Ice
---
Other Name(s): Haegl, Hagal, Haal
This rune symbol represents one of the harsher forms of weather, and suggests that the things are going to change. It symbolizes a disruptive force that may affect your life.
Reversal suggests that the storm will fade away, and peace and calm will prevail.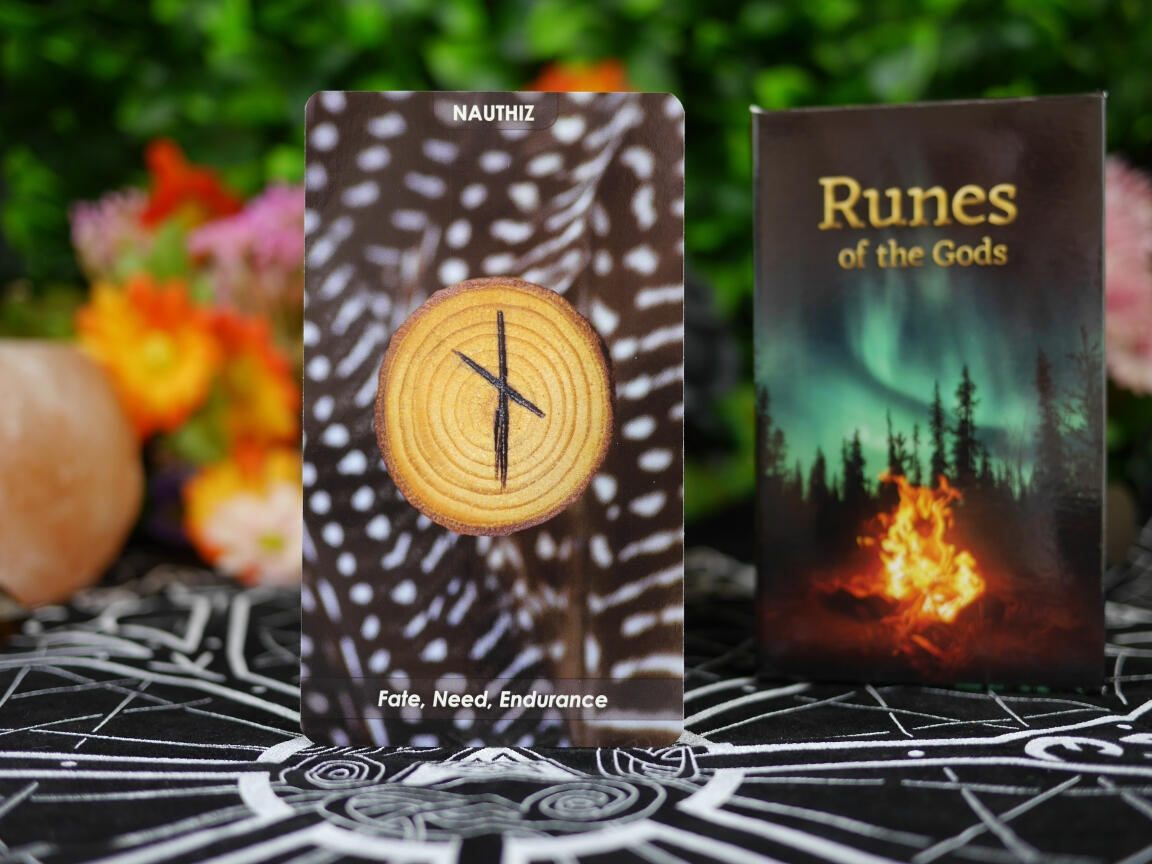 Nauthiz: N: Need
---
Other Name(s): Nyo, Nyd
Delays, restriction. Resistance leading to strength, innovation, need-fire (self-reliance). Distress, confusion, conflict, and the power of will to overcome them. Endurance, survival, determination. A time to exercise patience. Recognition of one's fate. Major self-initiated change. Face your fears.
Reversed Constraint of freedom, distress, toil, drudgery, laxity. Necessity, extremity, want, deprivation, starvation, need, poverty, emotional hunger.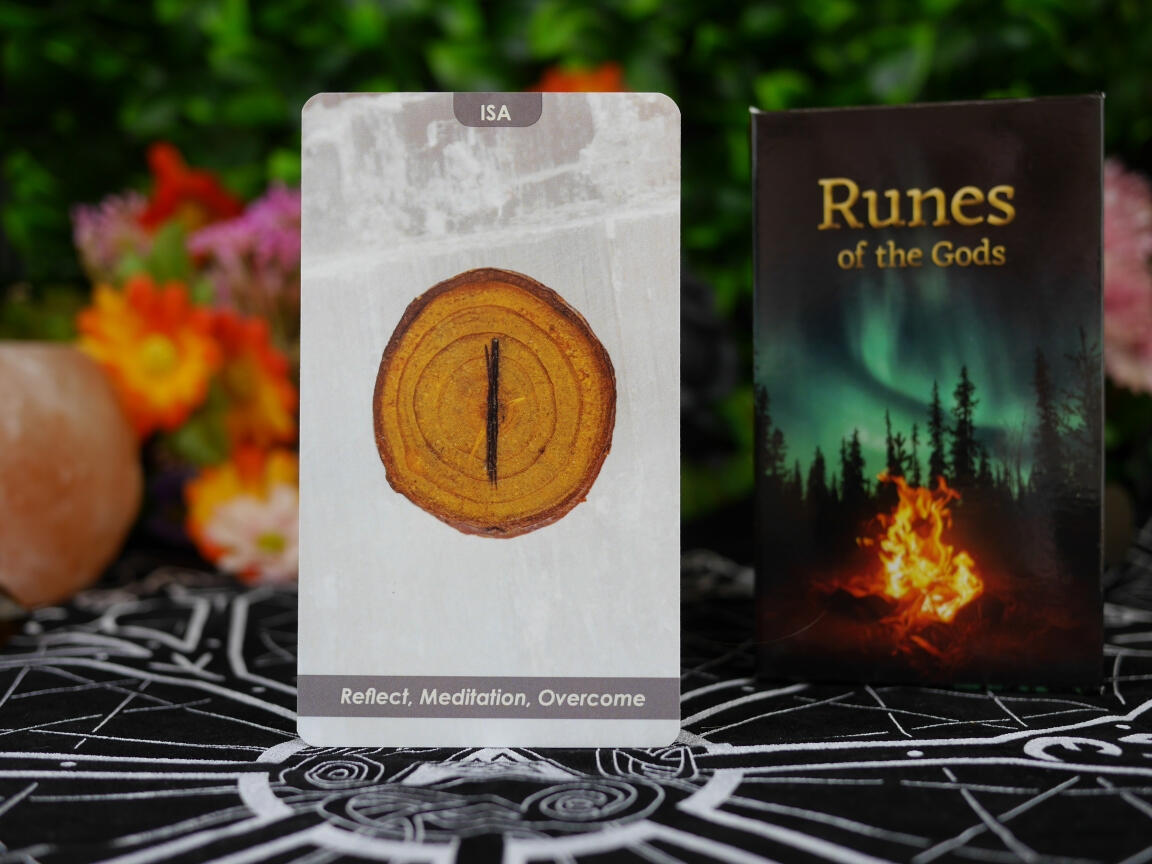 Isa: I: Ice
---
Other Name(s): Isar, Is
It symbolizes an icicle.
It is meant to represent the coldness and frigidity of ice, and suggests that one must tread carefully across such bodies. This rune can mean freezing or suspension of plans. It also suggests that delaying certain plans may reap fruitful results.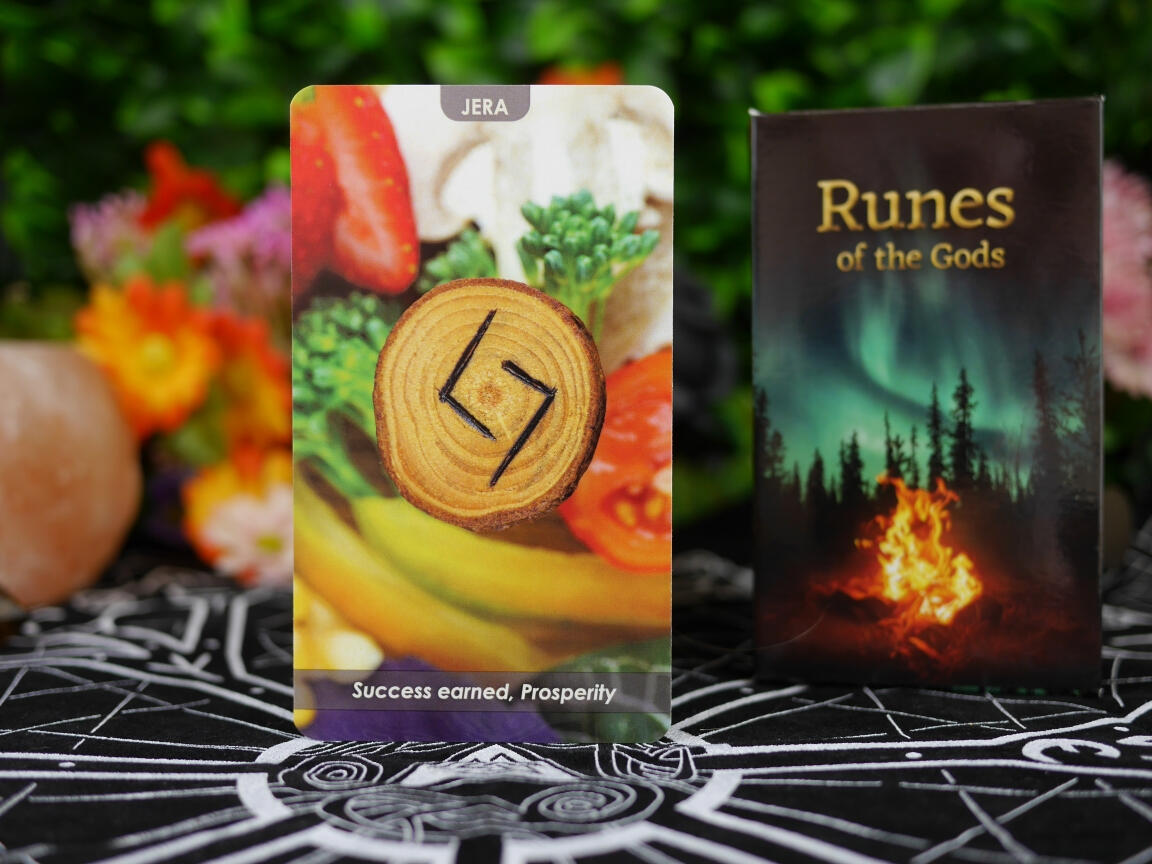 Jera: J or Y: A year, a good harvest
---
Other Name(s): Jeraz, Ger
The results of earlier efforts are realized. A time of peace and happiness, fruitful season. It can break through stagnancy. Hopes and expectations of peace and prosperity. The promise of success earned. Life cycle, cyclical pattern of the universe.
Everything changes, in its own time.
(Jera cannot be reversed, but may lie in opposition)Sudden setback, reversals. A major change, repetition, bad timing, poverty, conflict.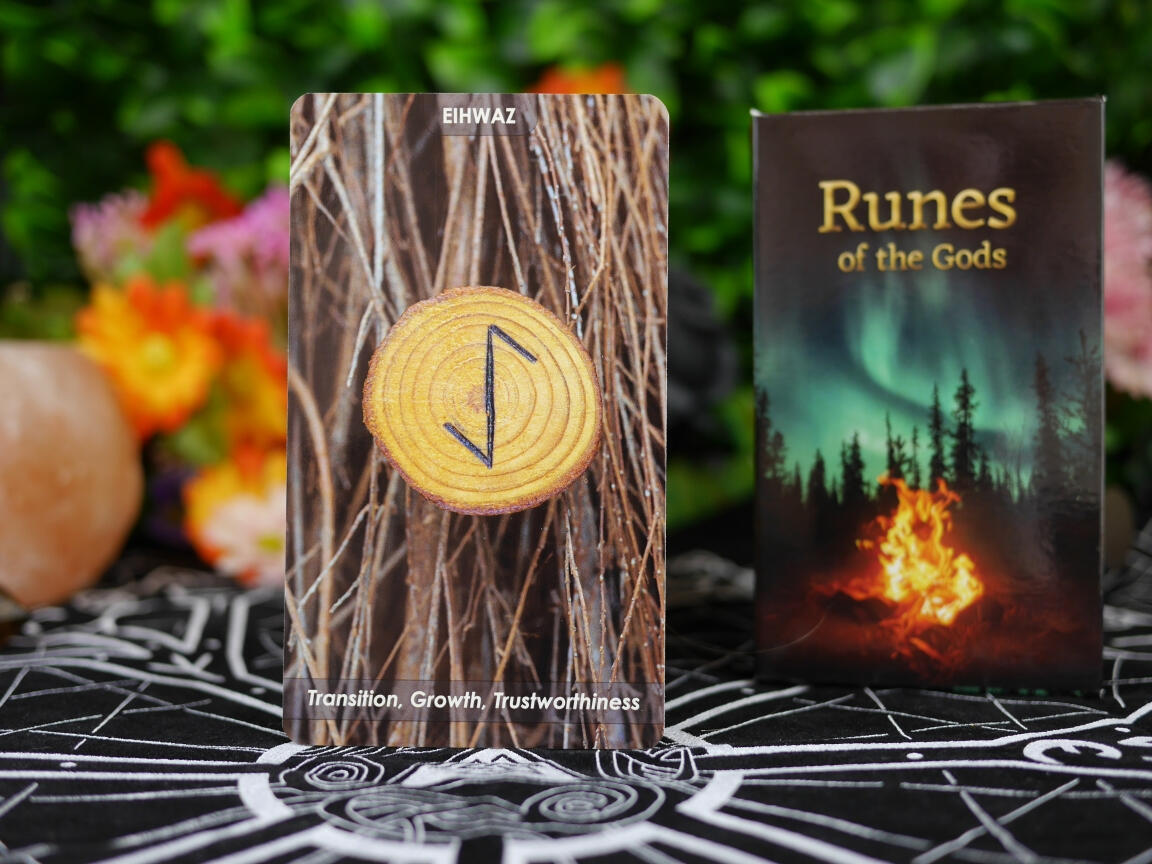 Eihwaz: EI: Yew tree
---
Other Name(s): Eihwas, Erwaz, Eo
Strength, reliability, dependability, trustworthiness. Enlightenment, endurance. Defense, protection. The driving force to acquire, providing motivation and a sense of purpose. Indicates that you have set your sights on a reasonable target and can achieve your goals. An honest man who can be relied upon.
Reversed : Confusion, destruction, dissatisfaction, weakness.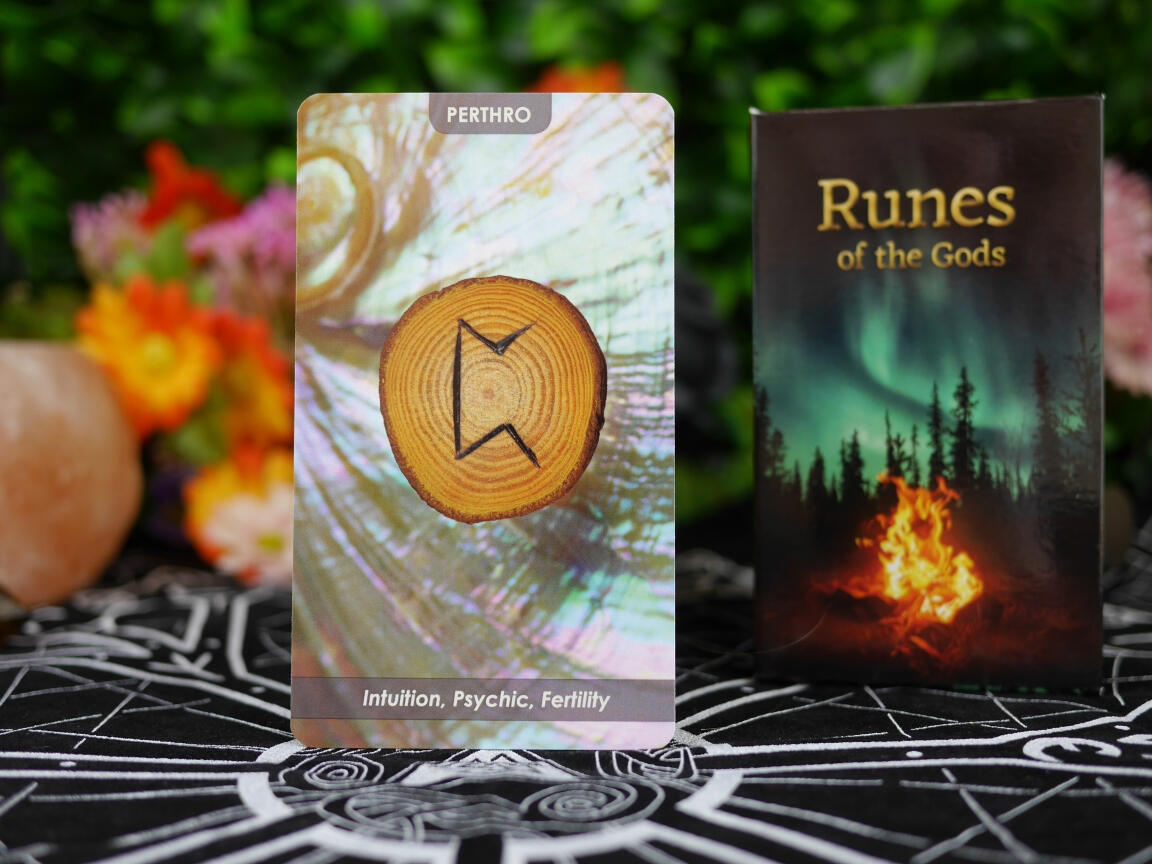 Perthro: P: Dice cup, Fate, Womb
---
Other Name(s): Perth, Pertho, Pertra
Uncertain meaning, a secret matter, a mystery, hidden things and occult abilities. Initiation, knowledge of one's destiny, knowledge of future matters, determining the future or your path. Pertaining to things feminine, feminine mysteries including female fertility. Good lot, fellowship and joy. Evolutionary change.
Reversed: Addiction, stagnation, loneliness, malaise.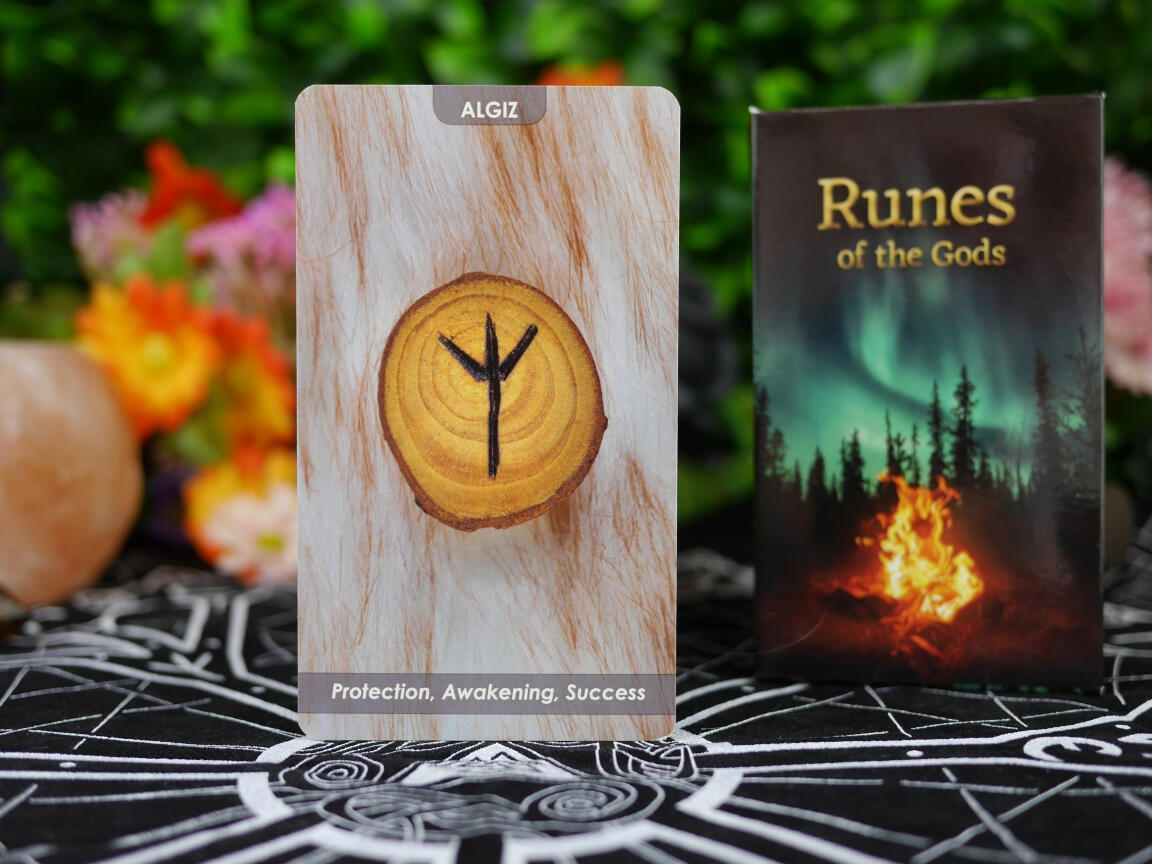 Algiz: Z or -R: Elk, protection
---
Other Name(s): Elhaz, Eolh, Algir, Elgr
Protection, a shield. The protective urge to shelter oneself or others. Defense, warding off of evil, shield, guardian. Connection with the gods, awakening. It can be used to channel energies appropriately. Follow your instincts. Keep hold of success or maintain a position won or earned.
Reversed: Hidden danger, consumption by divine forces, loss of divine link. Taboo, warning, turning away, that which repels.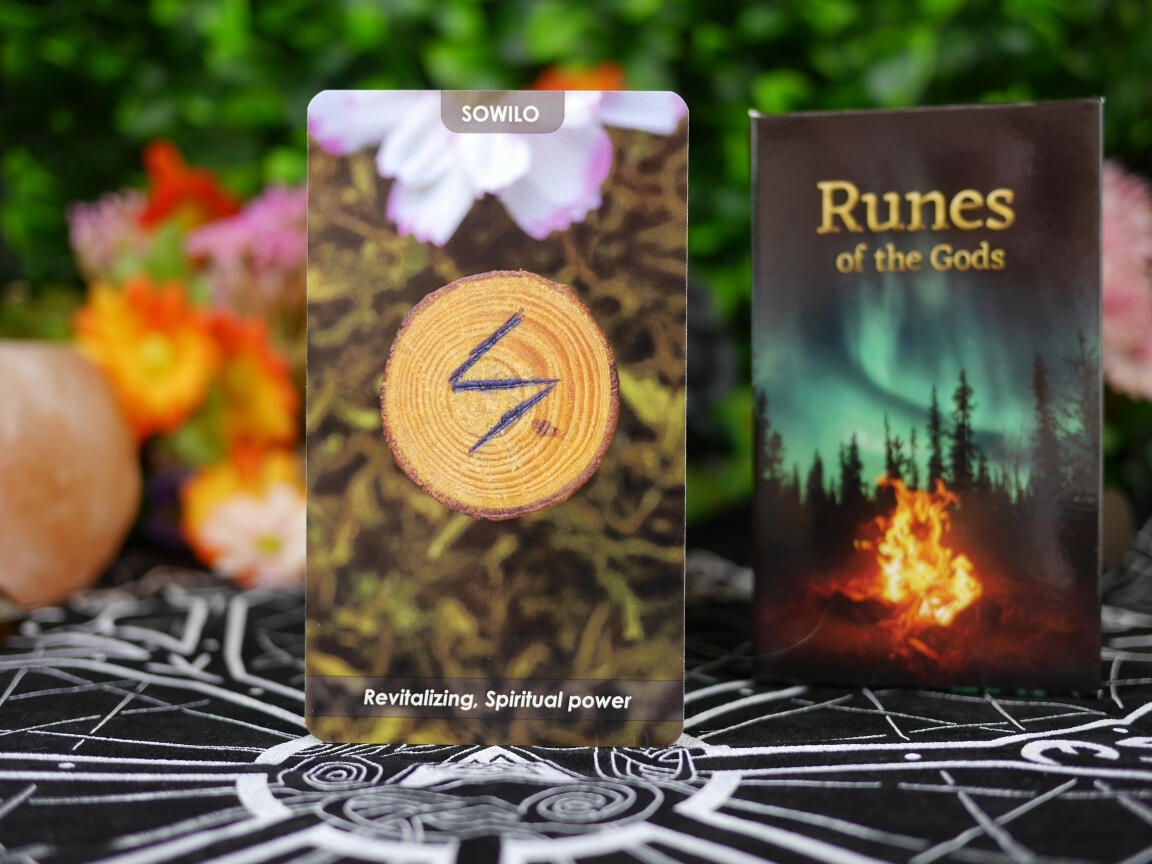 Sowilo: S: The sun
---
Other Name(s): Sowulu, Sigel, Sugil
This rune symbolizes of might and strength. It also symbolizes the rising or awakening of one's spirit from darkness, and tells you that success and goals will be reached. This rune represents power and vitality, revitalizing your life force, and providing you with the energy to attain your goals. It is also indicative of light after dark.
---
Tyr's Aett
---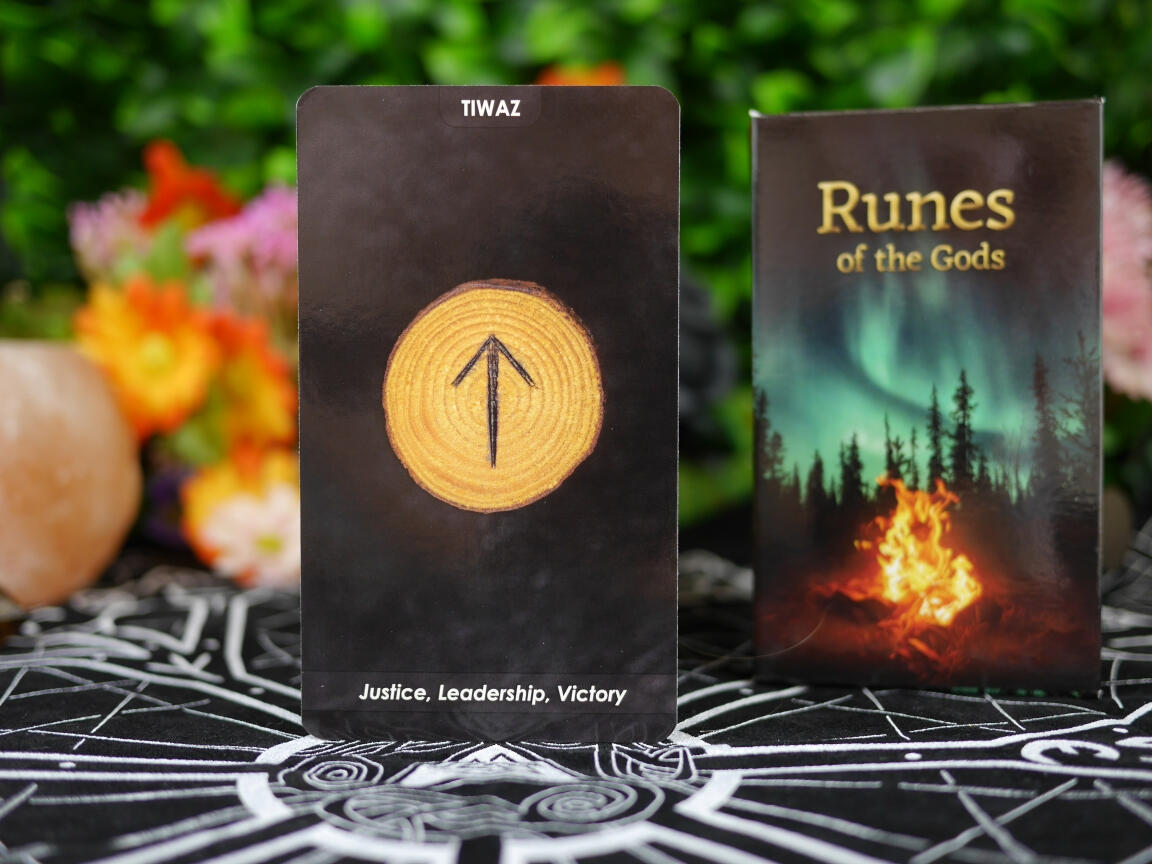 Tiwaz: T: Tyr, the sky god
---
Other Name(s): Teiwaz, Tyr
This rune represents the Norse god of War, Honor, justice, leadership and authority. Knowing where one's true strengths lie. Victory and success in any competition or in legal matters.
Reversed : One's energy and creative flow are blocked. injustice, imbalance. Strife, failure in competition.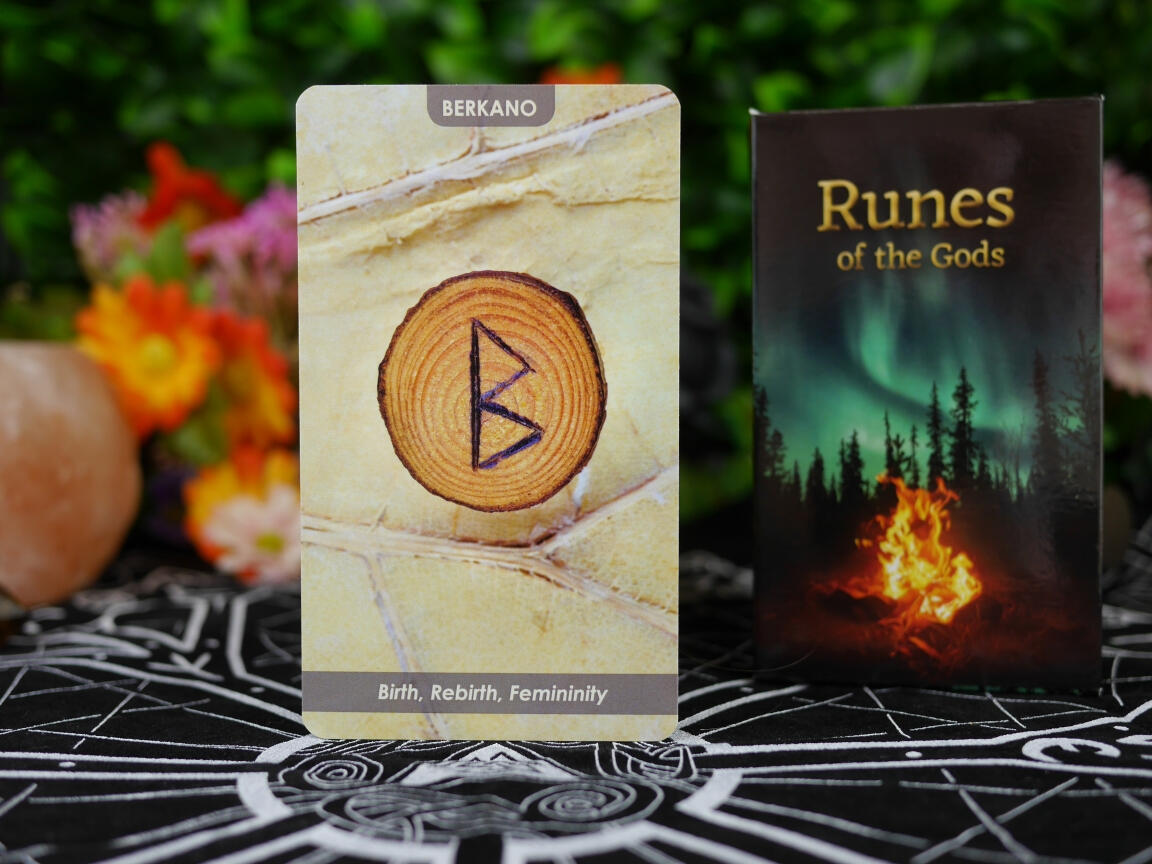 Berkano: B: Birth and rebirth
---
Other Name(s): Berkanan, Beorc
It represents Berchta, the Norse goddess of the birch tree, and stands for fertility. This rune symbolizes the chance of a new beginning or something old rejuvenating itself. Recovery and renewal of objects, ventures, and personal relationships is indicated by this symbol.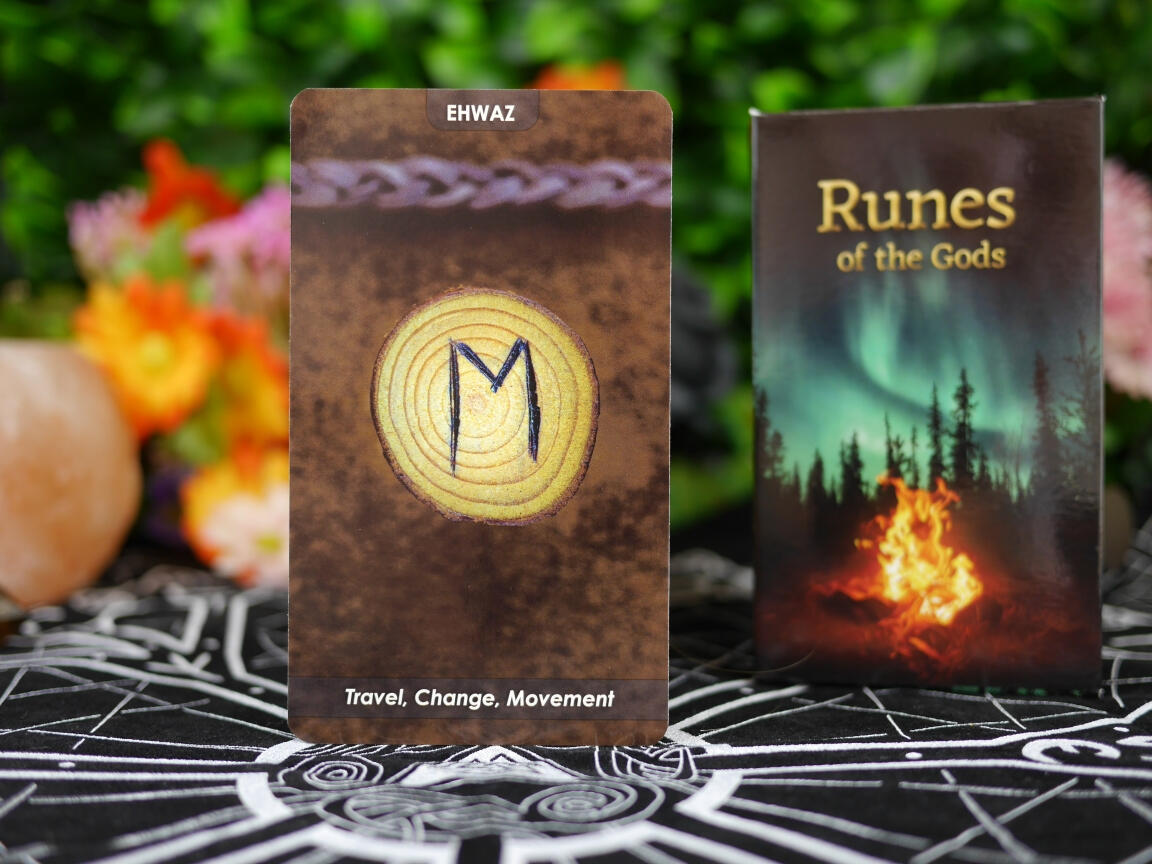 Ehwaz: E: Horse,Two horses
---
Other Name(s): Eh(e)
This is the rune of travel and change. It suggests that a person is on a route to prosperity. However, if this rune is reversed, it indicates loss of momentum and backward movement.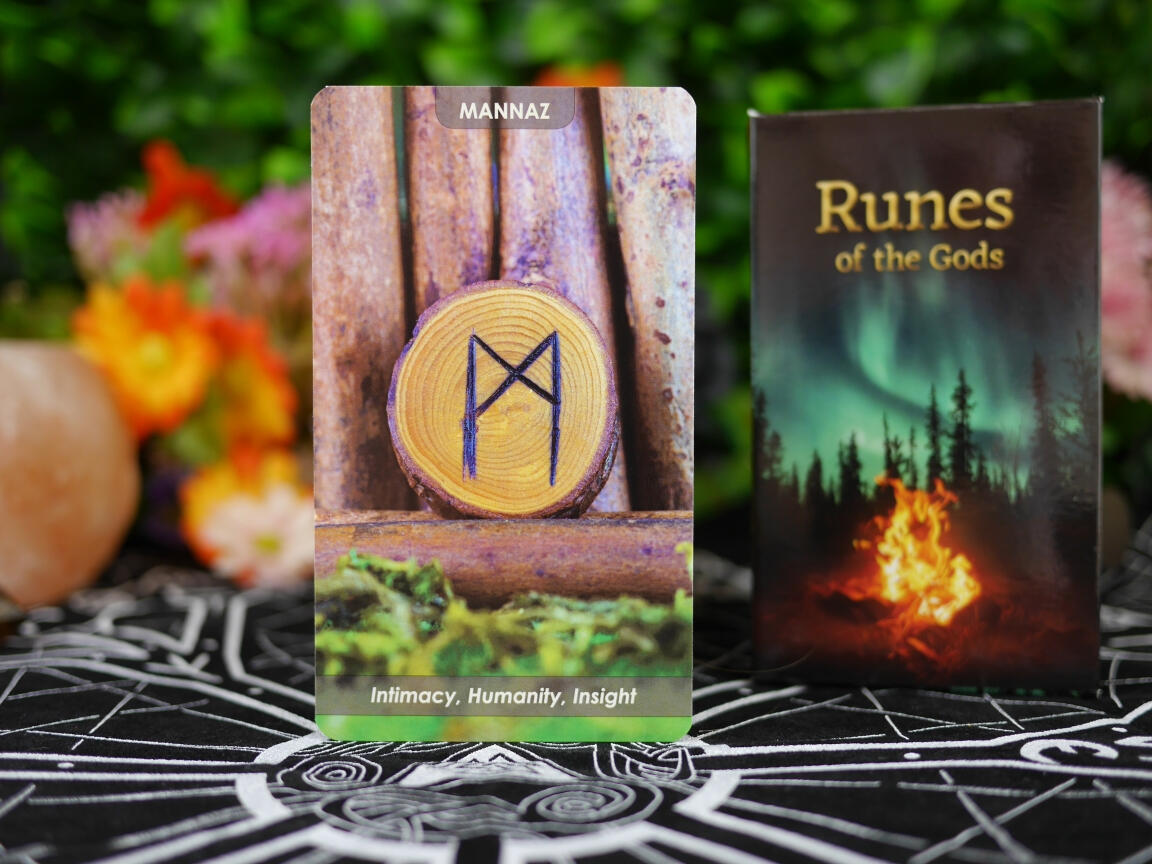 Mannaz: M: Man, mankind
---
Other Name(s): Manwaz
The Self; the individual or mankind. Your attitude toward others and their attitudes towards you. Friends and enemies, social order. Expect to receive some sort of aid or cooperation now.
Reversed :solitude, and isolation from people around you.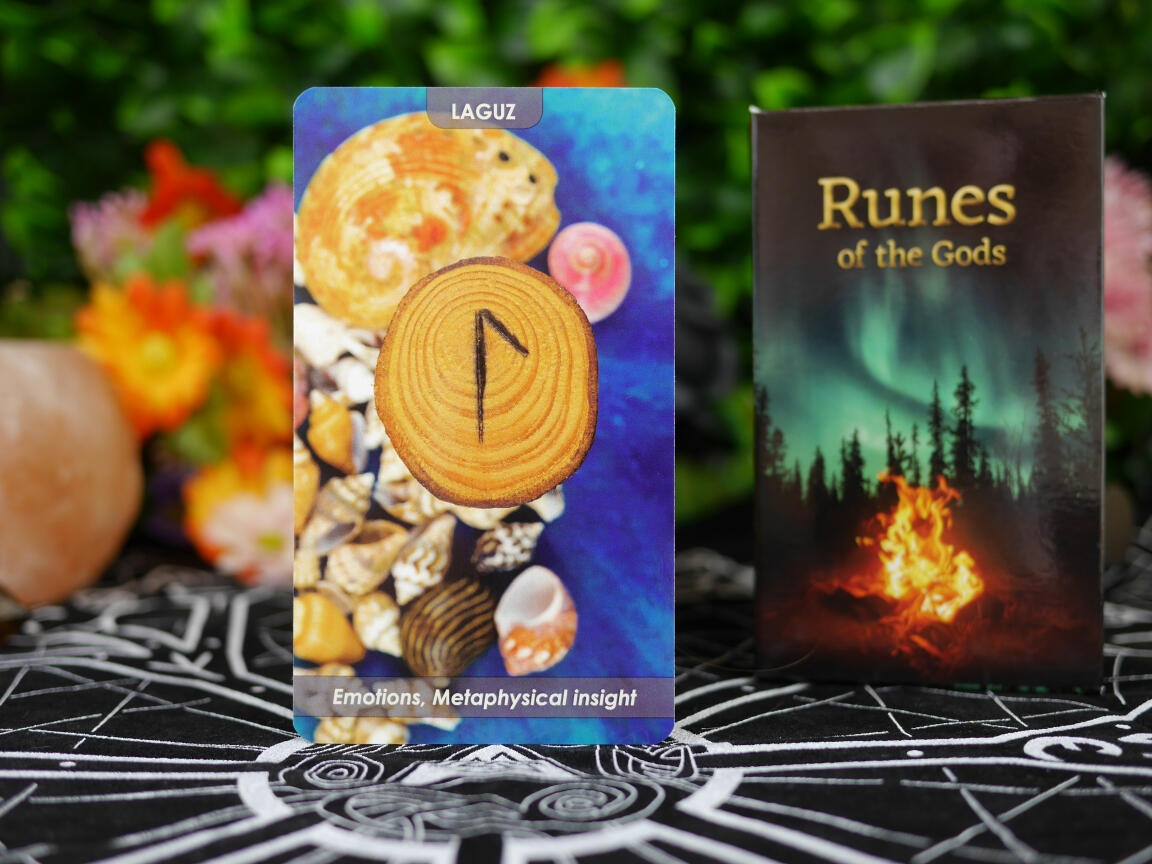 Laguz: L: Water
---
Other Name(s): Lagu
Water in all its forms, from a tiny pond to the mighty ocean.
Water has high tides, flows, and ebbs. It cleanses everything in its path. This rune of water indicates inner cleansing by means of learning through life's ups and downs.
Reversed, it suggests possibilities of madness, obsession, despair, illness.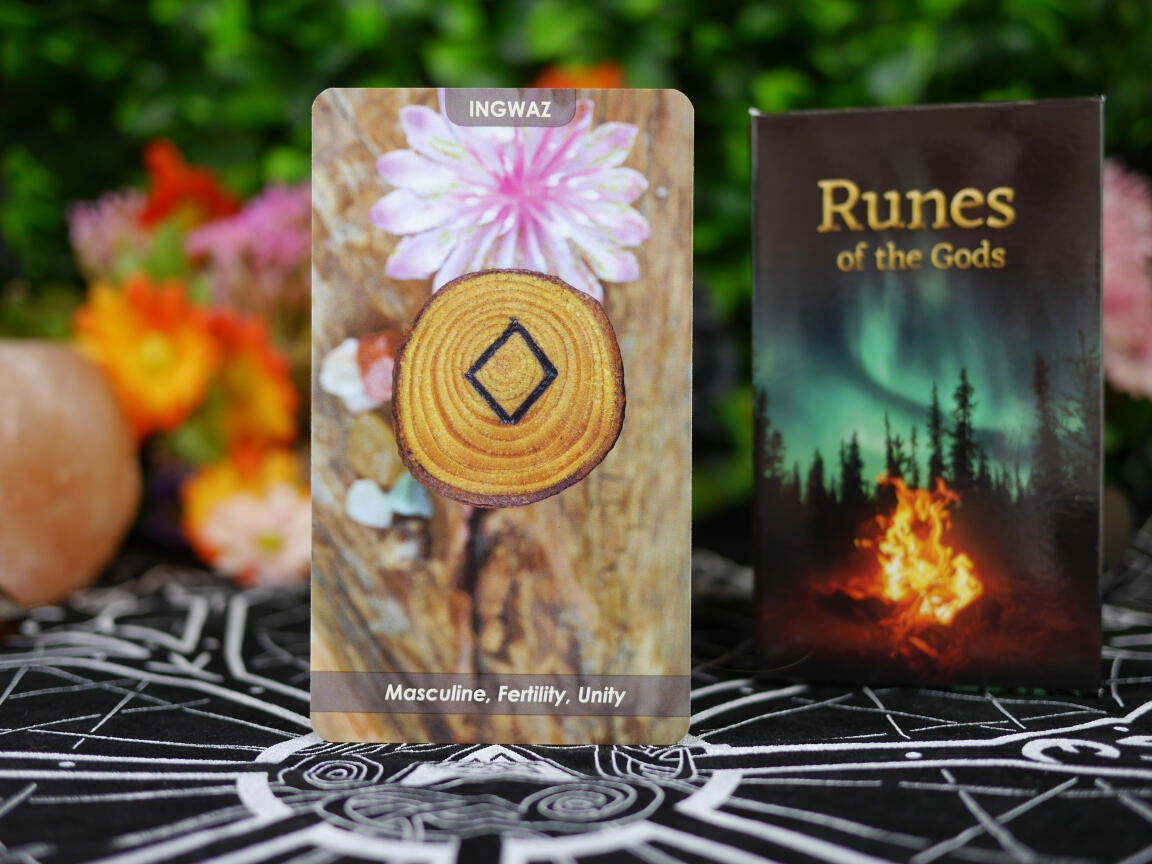 Ingwaz: NG: Earth
---
Other Name(s): Inguz, Ing
This rune symbolizes peace, unity, togetherness, and strengthening of relationships by means of love and respect. It also represents mental relief and peace of mind that may result in new beginnings. It suggests that for starting a new venture, the person has to have mental peace and should be devoid of anxiety.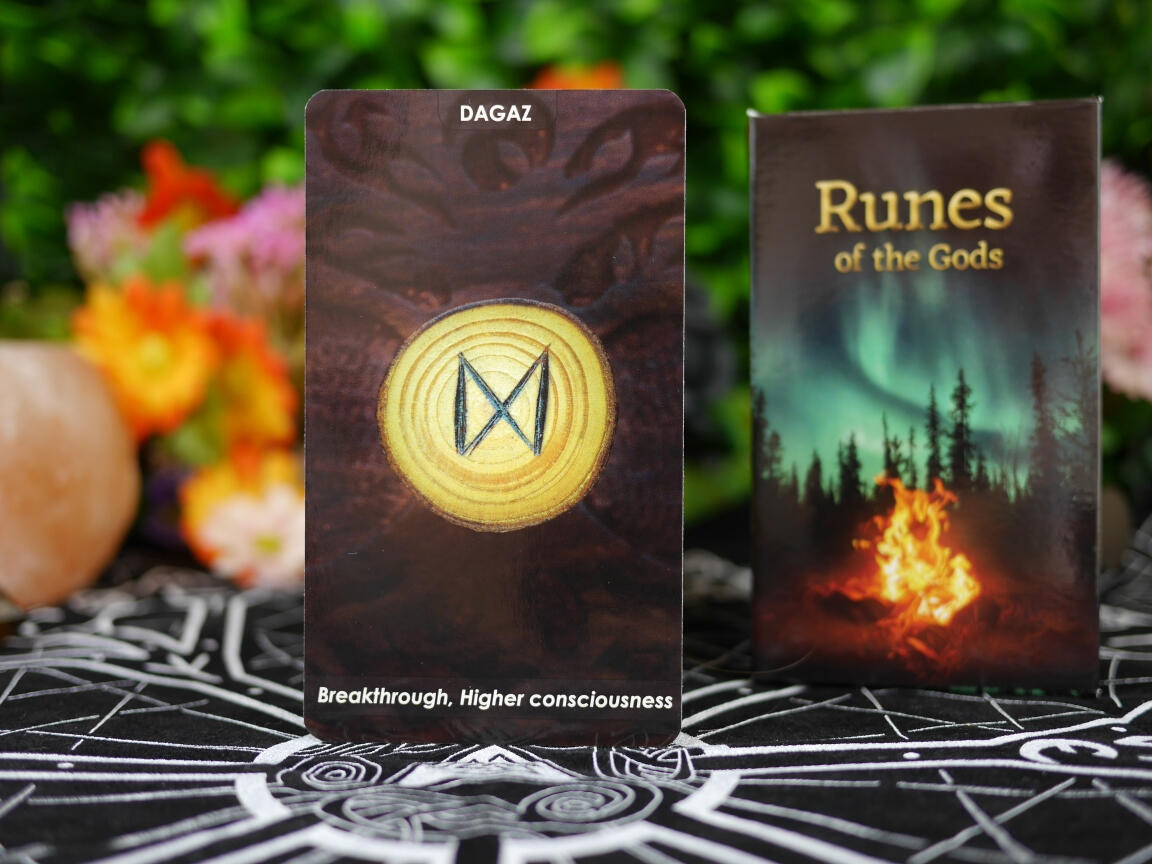 Dagaz: D: Day or dawn
---
Other Name(s): Dag, Daeg
Breakthrough, awakening, awareness. Daylight clarity as opposed to nighttime uncertainty.
A time to plan or embark upon an enterprise. The power of change directed by your own will, transformation. Hope/happiness, the ideal. Security and certainty. Growth and release. Balance point, the place where opposites meet.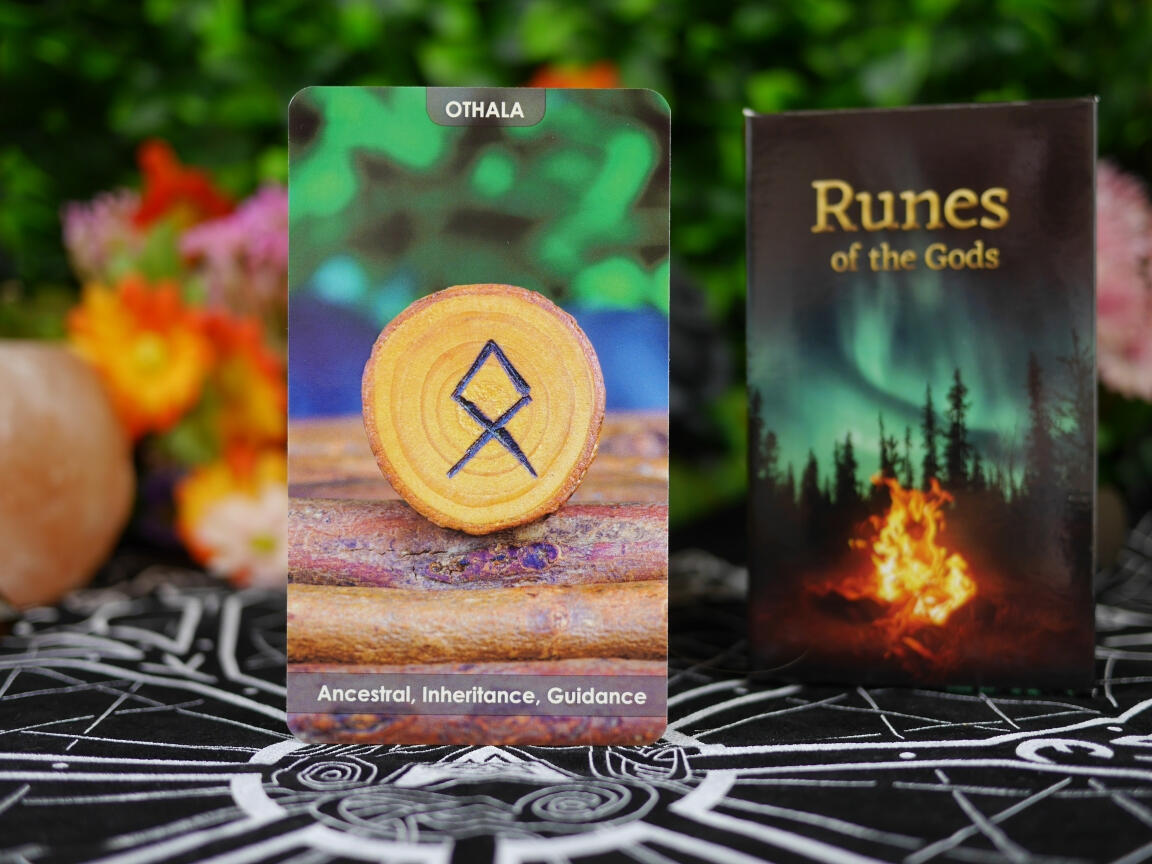 Othala 0: Homeland, Ancestral Inheritance
---
Other Name(s): Othila, Odal, Othel
What is truly important to one. Group order, group prosperity. Land of birth, spiritual heritage, experience and fundamental values. Aid in spiritual and physical journeys. Source of safety, increase and abundance.
Reversed: Lack of customary order, totalitarianism, poverty, homelessness, no home land. What a man is bound to.
---
What is the "blank rune"?
---
One common fad which has become popular among rune-enthusiasts in recent years
has been the introduction of a "blank rune" - it's actually a sketchy new-age phenomenon
starting in the 1980s...The reality is, the "Elder" Futhark never contained a 25th rune, and there is no evidence that Vikings
or other ancient Germanic people carried blank rune tiles either.There is no historical support for a "Blank Rune" in runic divination.
It should not be used in a rune casting.So who invented this "blank rune"?The concept of a blank rune was invented by Ralph Blum, who up until 1982 was a virtually
unknown New Age author and UFO novelist, His Flawed Interpretations Revealed he is a novice
and lacking in Knowledge of True Runelore. He proceeded to write a highly watered-down guide
to runic divination called The Book of Runes that same year, based on this misguided interpretationThe biggest fraud he invented was the infamous "blank rune". He claimed that there had once been a blank rune tile, with no rune written on it,
used by the Vikings and other ancient Germanic peoples along with the 24 Elder Futhark
to represent Odin on the one hand, and the unknown, or fate, on the other.
This blank rune is not only a baseless fraud (that was shamelessly mass-marketed as "ancient Viking spirituality"), it's not even a rune at all.A rune by definition is a symbol, not the absence of any symbol.
A blank stone or tile is NOT a rune, it's simply a blank stone or tile, and the symbolism
he attributed to his "blank rune" is unnecessary anyway -
The "Elder" Futhark already has an "Odin's rune" (Ansuz) and a rune of fate (Naudhiz),
as well as a rune of the unknown (Perthro).
There's no need for a "blank rune" to represent any of these meanings.(our Elder Futhark Rune sets Include the blank rune should you wish to use it )

---
---
---
---
---
---
ODIN'S DISCOVERY OF THE RUNES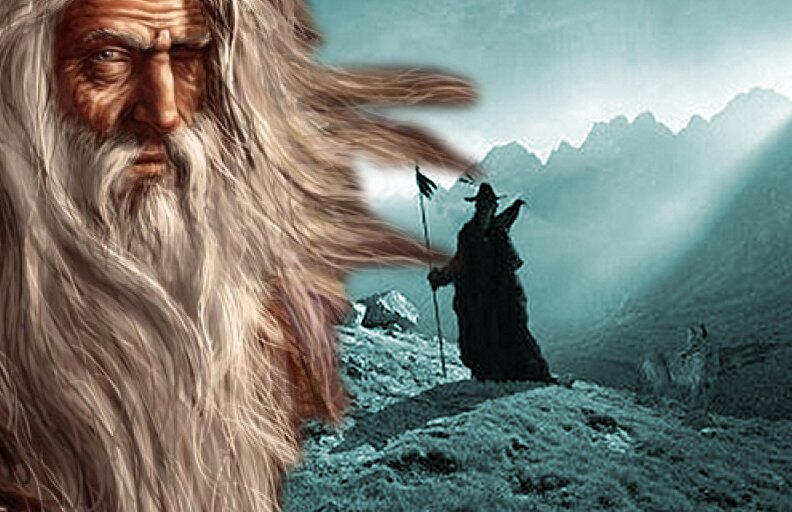 At the center of the Norse cosmos stands the great tree Yggdrasil. Yggdrasil's upper branches cradle Asgard, the home and fortress of the Aesir gods and goddesses, of whom Odin is the chief.
Yggdrasil grows out of the Well of Urd, a pool whose fathomless depths hold many of the most powerful forces and beings in the cosmos. Among these beings are the Norns, three sagacious maidens who create the fates of all beings. One of the foremost techniques they use to shape fate is carving runes into Yggdrasil's trunk. The symbols then carry these intentions throughout the tree, affecting everything in the Nine Worlds.
Odin watched the Norns from his seat in Asgard and envied their powers and their wisdom. And he bent his will toward the task of coming to know the runes.
Since the runes' native home is in the Well of Urd with the Norns, and since the runes do not reveal themselves to any but those who prove themselves worthy of such fearful insights and abilities, Odin hung himself from a branch of Yggdrasil, pierced himself with his spear, and peered downward into the shadowy waters below. He forbade any of the other gods to grant him the slightest aid, not even a sip of water. And he stared downward, and stared downward, and called to the runes.
He survived in this state, teetering on the precipice that separates the living from the dead, for no less than nine days and nights. At the end of the ninth night, he at last perceived shapes in the depths: the runes! They had accepted his sacrifice and shown themselves to him, revealing to him not only their forms, but also the secrets that lie within them. Having fixed this knowledge in his formidable memory, Odin ended his ordeal with a scream of exultation.
Having been initiated into the mysteries of the runes, Odin recounted:
Then I was fertilized and became wise;
I truly grew and thrived.
From a word to a word I was led to a word,
From a work to a work I was led to a work.
-
The Hàvamàl
The Hàvamàl is part of the "Elder" or Poetic Edda, which is one of the primary written sources for Norse mythology. This excerpt from the W. H. Auden and P. B. Taylor translation of the Havamàl contains Odin's telling of how he obtained the runes and runic power. Odin continues with a description of the 18 charms he learned.
Wounded I hung on a wind-swept gallows
For nine long nights,
Pierced by a spear, pledged to Odin,
Offered, myself to myself
The wisest know not from whence spring
The roots of that ancient rood.
They gave me no bread,
They gave me no mead,
I looked down;
With a loud cry
I took up runes;
From that tree I fell.
Nine lays of power
I learned from the famous Bolthor, Bestla' s father:
He poured me a draught of precious mead,
Mixed with magic Odrerir.
Waxed and throve well;
Word from word gave words to me,
Deed from deed gave deeds to me.
Runes you will find, and readable staves,
Very strong staves,
Very stout staves,
Staves that Bolthor stained,
Made by mighty powers,
Graven by the prophetic God
For the Gods by Odin, for the Elves by Dain,
By Dvalin, too, for the Dwarves,
By Asvid for the hateful Giants,
And some I carved myself:
Thund, before man was made, scratched them,
Who rose first, fell thereafter.
Know how to cut them,
know how to read them,
Know how to stain them,
know how to prove them,
Know how to evoke them,
know how to score them,
Know how to send them,
know how to send them.
Better not to ask than to over-pledge
As a gift that demands a gift.
Better not to send
Than to slay too many.
The first charm I know is unknown to rulers
Or any of human kind;
Help it is named,
for help it can give
In hours of sorrow and anguish.
I know a second that the sons of men
Must learn who wish to be leeches.
I know a third: in the thick of battle,
If my need be great enough,
It will blunt the edges of enemy swords,
Their weapons will make no wounds.
I know a fourth:
it will free me quickly
If foes should bind me fast
With strong chains, a chant that makes
Fetters spring from the feet,
Bonds burst from the hands.
I know a fifth: no flying arrow,
Aimed to bring harm to men,
Flies too fast for my fingers to catch it
And hold it in mid-air.
I know a sixth:
It will save me if a man
Cut runes on a sapling' s roots
With intent to harm; it turns the spell;
The hater is harmed, not me.
If I see the hall
Ablaze around my bench mates,
Though hot the flames,
They shall feel nothing,
If I choose to chant the spell. [seventh]
I know an eighth:
That all are glad of,
Most useful to men:
If hate fester in the heart of a warrior,
It will soon calm and cure him.
I know a ninth:
When need I have
To shelter my ship on the flood,
The wind it calms, the waves it smoothes
And puts the sea to sleep
I know a tenth:
If troublesome ghosts
Ride the rafters aloft,
I can work it so they wander astray,
Unable to find their forms,
Unable to find their homes.
I know an eleventh:
When I lead to battle old comrades in-arms,
I have only to chant it behind my shield,
And unwounded they go to war,
Unwounded they come from war,
Unscathed wherever they are
I know a twelfth:
If a tree bear
A man hanged in a halter,
I can carve and stain strong runes
That will cause the corpse to speak,
Reply to whatever I ask.
I know a thirteenth
If I throw a cup of water over a warrior,
He shall not fall in the fiercest battle,
Nor sink beneath the sword,
I know a fourteenth, that few know:
If I tell a troop of warriors
About the high ones, Elves and Gods,
I can name them one by one.
(Few can the nitwit name.)
I know a fifteenth,
That first Thjodrerir
Sang before Delling's doors,
Giving power to Gods, prowess to Elves,
Fore-sight to Hroptatyr Odhinn,
I know a sixteenth:
If I see a girl
With whom it would please me to play,
I can turn her thoughts, can touch the heart
Of any white armed woman.
I know a seventeenth:
If I sing it,
The young girl will be slow to forsake me.
I know an eighteenth that I never tell
To maiden or wife of man,
A secret I hide from all
Except the love who lies in my arms,
Or else my own sister.
To learn to sing them, Loddfafnir,
Will take you a long time,
Though helpful they are if you understand them,
Useful if you use them,
Needful if you need them.
The Wise One has spoken words in the hall,
Needful for men to know,
Unneedful for trolls to know:
Hail to the speaker,
Hail to the knower,
Joy to him who has understood,
Delight to those who have listened.
-
Why Odin is One Eyed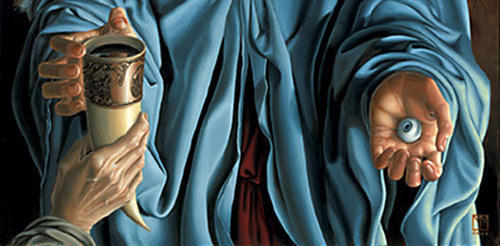 Odin's quest for wisdom is never-ending
Odin wanted knowledge; not just any knowledge, but the knowledge of the universe.
He traveled to the Well of Urd, also known as the Well of Wisdom, to visit Mimir, who was the guardian of the well.
The Well of Urd is the well that nourishes the World Tree, Yggdrasil, the tree in which all of the nine worlds of humans, gods, giants, dwarves, and elves live. Because the World Tree grows in its water, the Well of Urd houses all the knowledge of the universe.
When Odin approached Mimir, he asked if he could drink from the Well. Being a good guardian, Mimir told Odin he'd have to make a sacrifice if he wanted to drink from the Well.
The Well contained too much deep wisdom to offer to just anyone.
A great sacrifice was required.
Odin gave Mimir his eye. Mimir then gave Odin a drink from the Well of Wisdom.
From that moment on, Odin gained extensive knowledge.
Odin is the Norse god with the most wisdom and is the most far-seeing.
The great king of the gods, Became one-eyed.
If you can find Mimir's well, you will see Odin's blue eye resting on the bottom.
-
Thor Goes Fishing With The Giant Hymir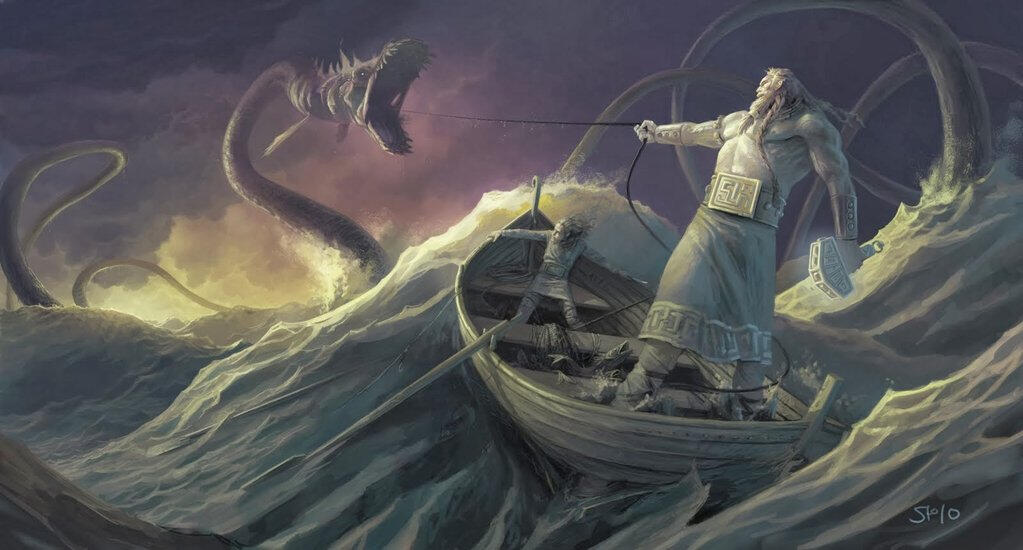 Long long ago, when the gods wanted to arrange a feast with two giants Aegir and Ran who were the sea dwellers.
The two giants offered to host the party if the gods helped them find a cauldron big enough to brew the mead for serving the guests.
Of all the Norse creatures, only the giant Hymir had the cauldron that could satisfy their need.
Thor, who was good at dealing with the giant and such type of situations, volunteered to meet Hymir to ask for the cauldron.Having arrived at Hymir's house, Thor was treated with all the hospitality of the giant.
Hymir slaughtered three bulls to serve Thor during his stay.
Thor, however, impressed and somewhat dismayed Hymir as he ate two bulls quickly at his one sitting. Because of this, the giant declared that they needed to go fishing for their next days.Before fishing, they prepared the baits.
Thor killed the remaining bull of Hymir and used its head to make the bait. Although the giant was annoyed by this action of Thor, he hoped the thunder god would use his strength to help the fishing trip.Off they went to the middle of the sea and fished. The two caught two whales easily but this was not enough to satisfy Thor.
Then he rowed the boat farther away from the shore.
However, Hymir expressed his fear as Jormungand would raise from the waves. Contrary to Hymir's fear, the appearance of Jormungand, the sworn enemy, lured Thor to row and row.Finally, Thor put down his oars and dropped his fishing line into the water.
The time went by with the silent sea but Thor quickly felt the strong force from the sea below. As Thor tried to pull the lines up, a tremble shook their boats. The giant was too scared to say anything but heavily leaned himself onto the boat. But Thor still focused on his sworn enemy.When Thor successfully pulled up the head of Jormugand beneath the sea, he reached his Mjolnir hammer and was ready to deal a deadly blow.
But much to his surprise, Hymir cut the fishing lines, which meant releasing the enormous Midgard Serpent to the sea.
However, this unpredictable action of Hymir was reasonable. According to the prophecy, once Jormugand lifted his head from the waves, Ragnarok would begin. Because of his fear of Ragnarok, Hymir cut the line.
But anyway, Thor was so angry that he threw Hymir out of the boat and went back to Asgard with whales and the cauldron.
-
THE DEATH OF NORSE GOD BALDUR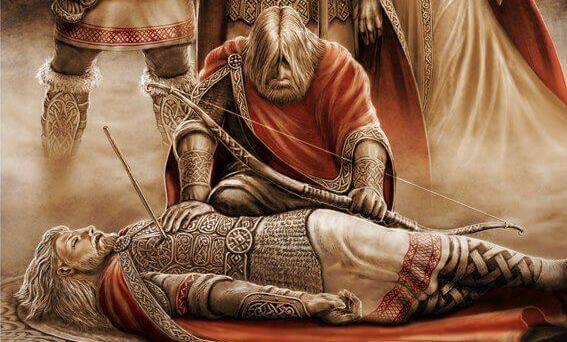 Baldr, Balder, Baldur
The gods and goddesses gathered in the shadow of Balder's terrible dreams, dreams that threatened to pitch him into the darkness for ever. Not one of them doubted his life was in danger and for a long time they discussed how to protect him.
The gods and goddesses thought of all the ways in which one can die; they named each earth-thing, sea-thing and sky-thing that can cause sudden death. Then Balder's mother, Frigg, began to travel through the nine worlds and get each and every substance to swear an oath that it would not harm Balder.
Fire swore an oath. Water swore an oath. Iron and every other kind of metal swore an oath. The stones swore oaths. Nothing could stay Frigg from her mission or resist her sweet troubled persuasion. Earth swore an oath. The trees swore oaths. Each kind of illness swore an oath. Balder's mother was untiring and painstaking. All the animals swore an oath and so did every sidling snake.
Then the gods and goddesses met again and Frigg satisfied them that she had done as they asked, and that nothing in creation would harm Balder.
"We should put it to the test," they said. And one picked up a pebble and lobbed it so that it landed right on Balder's head.
Whatever power that small stone had, it withheld it. Balder did not even know that the pebble had struck him. "I could not feel it at all," he said.
Then all the gods and goddesses laughed. They left Gladsheim and streamed out into the sunlight. The hall's gold roof and gold walls were glowing and the green plain of Idavoll teemed with activity — the gods' servants coming and going, troops of light elves hurrying about their business, visitors to Asgard staring in wonder about them, and animals of many kinds grazing or dozing, all of them glad to be alive.
The foremost gods met in Gladsheim and the goddesses in Vingolf. They ruled over Asgard; they discussed the feats and the fates of heroic men in Midgard. And after their councils, they often met together and were joined by a jostling throng — gossiping, sociable, eager for amusement. Sometimes they drank, sometimes they sang, they made trials of their strength and played games of all kinds.
It was not long before the gods thought they should check Balder's safety again; they could not resist the sport. One tossed a pebble at him and it struck him on the cheekbone; another aimed a stick at him and hit him on the chest.
"I could not feel them at all," said Balder.
Then the gods laughed and tried other tests. One thing led to another and soon they became very bold. They made Balder stand against a wall as a target. Some threw darts with wicked points at him, and the darts bounced off him and fell at his feet. Some brought in stones and hurled them at him. The rest struck at him with axes and slashed at him with swords and the tempered metal would not scathe Balder, it would not even graze him. The fairest and most gentle of the gods became the butt of the most violent assaults and they did not harm him. Everyone present enjoyed this new game hugely and they all rejoiced that it was impossible to hurt him.
Death of BalderAll except Loki: the Sly One watched with distaste and impatience. Trouble and suffering were meat and drink to him, and it sickened him to see that Balder was immune from every kind of attack. This grudge grew in him day by day and began to consume him. He refused to take part in the games and yet he was unable to keep away.
One afternoon Loki was loafing as usual against the door of Gladsheim, watching the assembly, when an idea occurred to him. He half closed his eyes; he licked his twisted lips and smiled. Unnoticed, he stepped out of the hubbub and quickly walked off in the direction of Fensalir.
Loki paused. He had a careful look round; there was nobody about. Then he whispered the charm; the Shape Changer turned himself into an old woman.
As Loki hoped, Frigg was in her hall and alone. Loki hobbled across the floor; she sniffed, wiped her dripping nose with the back of her hand and rubbed it against her grubby dark dress. "Where am I?" she demanded.
Frigg rose, greeted the old woman, and named herself.
"It's a long way from home," observed the old woman. "And I'm not sure it's been worth coming."
Frigg listened patiently.
"I passed a place some way back. What a noise! I couldn't get anyone to listen. And the people there were all stoning one man. Poor man! He had a white face, so white … shining hair. One against all, yes; I didn't know that sort of thing went on in Asgard."
Frigg smiled faintly and thought it wise to wait until the old woman had had her say.
"I didn't stay long; I never did like stonings. Who would have thought it? So far to have come, and then it's much the same. He hadn't got long., poor man. He'll be dead by now, yes." As the old woman rambled on, it seemed she had quite forgotten she was in company. But now she her head fiercely and glared at Frigg. "What was going on then? Do you know why they were stoning him?"
Frigg told the old woman that what she had seen was not a stoning but a host of gods and goddesses sporting with her own son. She explained that Balder had not been hurt by a single stone and was just as ready take part as anyone else.
"What kind of magic is that then?" asked the old woman. She had the makings of a moustache and it was twitching in rather a disturbing way.
"Nothing will hurt Balder," replied Frigg. "No metal will harm him, no wood will wound him. I've taken an oath from everything."
"Everything?" said the old woman. "Even a pinch of salt, I suppose?"
Frigg began to feel irritated with this wearisome crone; she shrugged as if she were trying to get rid of her.
"Everything?" The old woman sniffed. "You really mean that everything has sworn you an oath that it will not injure Balder?"
"Everything," said Frigg dismissively, "except the little bush that grows west of Valhalla, the mistletoe. That's so young I didn't bother with it."
The old woman grunted. "Well you've given me the time of day," she said. "You've given me the time of day, yes; now I'll be getting along.
Frigg inclined her head.
The old woman turned and painfully made her way to the doors of Fensalir. And Frigg was not in the least sorry to see her go.
As soon as he was quite certain he was alone, the Shape Changer muttered the magic words. Then, crowing, he resumed his old form – Loki again.
Jauntily the Trickster walked across the plain of Idavoll – deserted now except for the animals that stood in motionless groups, as if they were waiting, or had never moved. The air was thickening, the distance and middle distance were blurred and bluish; it was almost night.
Loki hurried past Gladsheim. He hurried towards Valhalla and smiled to himself as he heard the Einherjar shouting. He hurried on west in the fading light, whistling and looking sharply to left and right and under his feet. Then he entered a small grove. And there, rooted neither in earth nor water, but growing out of the trunk of an oak, the Sly One found what he had come for — the spray of mistletoe.
Its berries gleamed like clusters of pale eyes. Its leaves were green and yellow-green, its stem and small branches and twigs were green. Unmoving and otherworldly it seemed in broad daylight, and even more strange now in the half light.
Loki grabbed at the little bush and wrenched at it until it came away from the oak. Then he left the grove and took the path to Gladsheim, picking at the spray as he hurried along. He chose the straightest branch, almost as long as his forearm, and stripped it down, leaving a small trail of droppings behind him. Loki sharpened one end of it; he stropped it against his belt, and stepped into the warm light of the hall.
The gathering in Gladsheim was so caught up in the game they playing that no one was aware Loki had gone and no one noticed he had come back again. The Sly One looked around. He smiled when he that Frigg had joined the company; his lips tightened and his eyes narrowed as he watched blind Hod, Balder's brother, standing a little aside as usual — pathetic in his slow fumbling movements; and when Loki saw that many of the gods were once again hurling darts at long-suffering Balder, he doubled up. For a moment his whole I was convulsed, as if in laughter or terrible pain.
A servant hurried up and offered Loki wine. Loki drained the cup in one draught and then sauntered across the spacious hall, behind the semicircle of the gods and their followers. He sidled up to Hod and poked him in the ribs.
"That can only be Loki," said Hod.
"None other," said a voice in his ear.
"Well?" said Hod.
"Why don't you join in? Why aren't you throwing darts at your brother?"
"Because I can't see where he is," said Hod.
Loki sucked his cheeks.
"Another thing," said Hod. "I have no weapon."
"This is not as it should be," said Loki with measured indignation "They do wrong to ignore you — and you his brother."
Hod's expression did not alter. He had long since learned to accept his fate. "Nothing comes," he said, "of rankling resentment."
Hod's words were drowned in a roar of laughter.
"What was that?" he asked.
"Only more of the same," said Loki. "A dart well aimed. But now it's your turn, Hod. You should pay your respects to Balder like everybody else."Loki and Hodur"I have no weapon," Hod repeated.
"take this twig then," said Loki, and he put the sharpened mistletoe between Hod's hands. "I'll show you where he's standing. I'll stand behind you and guide your hand."
Loki's eyes were on fire now. His whole body was on fire. His face was ravaged by wolfish evil and hunger.
Hod grasped the mistletoe and lifted his right arm. Guided by Loki, he aimed the dart at his brother Balder.
The mistletoe flew through the hall and it struck Balder. It pierced him and passed right through him. The god fell on his face. He was dead.
There was no sound in Gladsheim, no sound, only the roaring of silence. The gods could not speak. They looked at the fairest and most wise of them all, shining and lifeless, and they could not even move from where they stood to lift him.
The gods stared at each other and then they turned to stare at Hod and Loki. They had no doubt. They were all of one mind about who had caused Balder's death and yet none of them were able to take vengeance. The ground of Gladsheim was hallowed and no one was ready to shed blood in the sanctuary.
Hod could not see the fearsome gaze of that gathering, Loki could not withstand it. He loped towards the doors of Gladsheim and slunk away into the darkness.
Then the terrible silence was broken. One goddess began to weep, seized by wild grief. And the weeping of one unlocked the floodgates of them all. When they tried to speak, they found they could not tell their grief and their words were choked with tears.
Odin himself was there and, of all the gods and goddesses, he was the most deeply afflicted. He best understood that this was the greatest evil ever sustained by gods and men, and foresaw what loss and sorrow would follow in the wake of his son's death.
Frigg was the first to speak. "Does anyone …" she asked. "Does anyone here want to win all my love and favor?"
The mourning company turned to face her.
"Is there anyone here who will ride the long road to Hel and try to find Balder?"
Then the goddesses buried their faces in their hands and sobbed again.
"Is there anyone here," said Frigg, her voice rising, "who will offer Hel a ransom, offer her a ransom if she'll allow my son Balder to come home to Asgard again?"
Then Hermod stepped forward, Odin's son whom everyone admired for his boldness. "I will," he said. "I am ready to go."
Gladsheim began to breathe and sound again. Odin gave servants orders. They hurried out of the hall and soon returned with Sleipnir, Odin's own horse.
Allfather took the reins and handed them to Hermod. Then, in Gladsheim, Hermod mounted Sleipnir. He looked down at the upturned faces of the gods and goddesses and at the fair fallen body of Balder. He raised his hand and spurred the steed; Sleipnir's hooves clattered against the marble floor. Hermod galloped out into the darkness and on towards the endless night.
The gods and goddesses did not sleep; they kept a silent vigil in Gladsheim. Ranged around Balder's body, so white that it was gleaming, each of them was prey to his own thoughts and hopes and fears — what chance Hermod had of bringing Balder back from the dead, how to avenge Balder's death on his own unhappy brother Hod, what kind of punishment would begin to suffice for Loki, and what meaning the death of one must have for them all.
Day began to dawn: a lightening in the east at first mysterious, then quickly gathering speed and spreading in every direction.
Then with aching hearts, four of the gods lifted Balder's body on to their shoulders, and all the others formed a long cortège. They carried him down to the sea and laid his corpse near Ringhorn, his own great boat with its curved prow.
Balder on Ringhorn
The gods wanted to build Balder's pyre in the waist of the boat, up against the mast. They took hold of the stern and tried to launch the boat, but their grief had so exhausted them that they could not summon up the strength to shift it on its rollers.
Then the gods sent a messenger speeding to Jotunheim to ask for the help of the giantess Hyrrokin. A great crowd out of Asgard sat near the water, watching the pulse of the waves. They were pensive and subdued, none of them so strong that he could escape the flux of his own feelings and comfort the others.
In a while Hyrrokin came. She was huge and grim, riding a wolf with vipers for reins. As soon as she leaped off her steed, Odin summoned four Berserks and told them to watch over the wolf (and the vipers) and ensure they caused no harm.
The very sight of the four men in their animal skins angered the wolf; its eyes flickered and it snarled.
The Berserks seised the viper-reins but they were unable to hold the wolf fast. First it dragged them one way, then another, slithering helplessly through the sand, as it tried to break free. Then the Berserks became as mad as wolves themselves and in fury they rained blows on the wolf with their club-like fists. They struck it down and left it for dead in the sand.
Hyrrokin, meanwhile, stalked up to Ringhorn. She looked at the boat, so large and yet so sweeping and graceful, and gripped the prow. Then she dug in her heels and with a horrible grunt she pulled — pulled so hard that Ringhorn raced screaming down the rollers and crashed into the water. The pine rollers burst into flames and the nine worlds trembled.
"Enough!" shouted Thor. His fingers closed round his hammer and he felt his old strength surging back into him.
Hyrrokin looked at Thor scornfully.
"Enough!" repeated Thor. "I'll teach you respect."
But Odin and several other gods hurried to Thor's side and restrained him. They took his arm and reminded him, "she is here at our bidding,"
"I'll crack her skull," muttered Thor.
"It would be wrong to injure her," said the gods. "Leave her. Ignore her."
And slowly Thor's volcanic anger subsided inside him. He kicked at the sand, causing a sandstorm, and walked up and down.
Then the four gods who had carried Balder's body down to the sea gently raised it again and waded out to Ringhorn, rocking on the water. They set down his spotless body on a high bench, covered in crimson cloth.
Balder's wife, Nanna, was watching. And when she saw Balder lying there lifeless, her body shook; she could not control it. She was tearless, in too much pain for tears now. Then Nanna's heart broke. The daughter of Nep died there, and she was carried out to Ringhorn and laid beside her dead husband.
The cortège had swollen to a vast gathering. Odin was there; his ravens, Thought and Memory, perched on his shoulders. Frigg accompanied him, and so did the Valkyries: Shaker and Mist, Axe Time and Raging, Warrior and Might, Shrieking, Host Fetter and Screaming, Spear Bearer, Shield Bearer, Wrecker of Plans — all those beautiful maidens, choosers of the slain, stood grouped around the Father of Battle.
Freyr had come to the cremation in his chariot drawn by Guilinbursti, the gold-bristled boar fashioned for him by the dwarfs Brokk and Eitri. Heimdall had ridden out of Asgard on his mount Gold Tuft. And Freyja sat in her chariot drawn by cats.
The elves were there. The dwarfs were there. And hundreds of frost giants and rock giants stood there too, a great gang who had followed Hyrrokin out of Jotunheim. That was a vast concourse, a mingling of mourners and the merely curious on the foreshore, scuffing the strip of sand that never wholly belongs to earth or to sea. The seabirds rose and wheeled and dipped, screaming, the sea sobbed, and everyone there watched the ritual on Ringhorn.
A pyre was built round the body of Balder and his wife Nanna, dry faggots that needed nothing more than a spark to leap into their own life and consume the lifeless bodies that lay upon them, releasing their spirits to travel on.
Then many treasures were laid within Ringhorn — buckles and brooches and rings, clasps and pins — and not only treasures but knives and buckets and scissors and spindles and spades and all the fabric of life.
Balder's horse, meanwhile, was galloped along the foreshore and worked into a steaming sweat. Then a servant plunged a short dagger into its throat. It gave a violent jerk and, without a sound, crumpled amongst the wrack. No sooner was it dead than its body was hacked up, and the pieces were thrown into Ringhorn.
Now Odin strode through the shallows and gripped the gunwale. He climbed into the boat and stood over the body of his dead son. For some time he gazed at him. Slowly he took off his arm-ring Draupnir, the gold ring that dropped eight rings of equal value on every ninth night, and slipped it on to Balder's arm. Then Odin bent down and put his mouth to Balder's ear. Again he gazed at his son; then he left Ringhorn.
At a sign from Odin a servant stepped forward with a lighted brand. He set fire to the pyre and at once a steady plume of smoke, twisting and spiralling, rose into the calm air.
Thor raised his hammer. Slowly and solemnly he intoned the magic words to hallow the cremation.
Then a dwarf called Lit, who had lost all interest in the proceedings, came running along the water's edge. He passed right in front of Thor and Thor was so enraged that he put out a foot and tripped him. Before Lit had time to pick himself up, Thor gave him a terrible kick. The dwarf flew through the air and landed right on the licking and curdling pyre. In this way, he was burned to death beside Balder.
The painter was released and with it the pent emotions of the mourners. They wept as the boat began to drift out, rocking, across the water. They wept and they talked about Balder—the most beautiful, the most gentle, the most wise of them all.
Ringhorn rode across the water. Sea winds caught at her and tugged her away. First she was more boat than flame, but soon more flame than boat. She was a quivering shape, a farewell on the horizon, moving on under a great cloud of her own making.
For nine nights Hermod rode through a valley so deep and dark that he was unable to see anything. The ground fell away from him and the cold fingers of the underworld began to reach up towards him and search him. The god crossed many rivers, all of which spring from the seething cauldron of Hvergelmir: cool Svol and defiant Gunnthra. Fjorm and bubbling Fimbulthul, fearsome Slid and storming Hrid, Sylg, Ylg, broad Vid and Leipt which streaked past like lightning. At last Hermod came to the icy river Gjoll, a swirling torrent of water. Sleipnir needed no spurring. He galloped across the bridge there; it was thatched with strips of gold.
On the far side, Hermod was stopped by the maiden Modgud, warden of the bridge. She raised one pale arm and it gleamed with an unearthly pallor. "Before you go further," she said, "tell me your name and your lineage."
Hermod kept quiet.
"Five troops of dead men came this way yesterday," said Modgud. "they rode over this bridge. But you make as much noise as they all made together."
Still Hermod said nothing.
"I can't say you look like a man who has died," said Modgud. "Who are you?"
"I am Hermod," said the god, "and I am Odin's son. I must ride to Hel in search of my brother, dead Balder. Have you seen him yourself on his way there?
"He has crossed this river," Modgud replied. "He rode over this bridge. But the way to Hel is no short way; far as you have come, it is still a little further northwards and downwards."
Hermod thanked Modgud and she stepped aside. Then Sleipnir saw the way before him: horse and rider galloped onward. So at last Hermod came to the massive gates and towering walls that Hel had set up in front of her hall Eljudnir.
Sleipnir stopped in his tracks and whinnied.
Hermod dismounted and looked around in the dismal light. The gates were locked; impassable, it seemed, for all those not fated to pass beyond on their way to dreadful Nastrond, the shore of corpses. Hermod tightened his stirrups. He swung himself into the saddle and spurred Sleipnir fiercely.
Odin's steed galloped at the gates. For a moment he seemed to pause, then he gave a great thrust with his back legs and leaped clear of the iron gates.
Hermod boldly took Sleipnir right up to Eljudnir's doors. There he dismounted once more and walked straight into the cavernous hall. Faces without number turned towards him — the faces of the newly dead, faces green and rotting, faces less flesh than bone; faces pitiful, unanswered, resigned, many scowling or leering or treacherous or murderous and in agony, all of them with eyes only for Hermod.
But Hermod saw only the fair figure sitting in the high seat: his brother Balder.
For Balder's sake and the sake of the gods, resolute Hermod stayed all night in the hall. He sat by the door and kept his own counsel, silent in that company of the dead who could not speak unless he spoke to them; he waited for Hel to rise from Sick Bed and draw back its hangings, Glimmering Misfortune.
Hermod before HelHel's face and body were those of a living woman; but her thighs and legs were those of a corpse, mottled and mouldering. She crept towards the god, looking gloomy and grim.
Hermod greeted Hel and told her of the grief of the gods. He said all Asgard was caught in a tearfall and a storm of sorrow. He wove his words with care and love and asked Hel if she would agree to let Balder ride home with him.
Hel thought for a while and her expression did not change. "I'm not so sure," she said at last, "that Balder is as much loved as people say."
She waited for Hermod to reply and Hermod said nothing.
"However," said Hel, it can be put to the test." She spoke as slowly as Ganglati and Ganglot, her aged servants, moved — so slowly that her words were only like punctuations between her silences. "If everything in the nine worlds, dead and alive, weeps for Balder," Hel declared, "let him return to Asgard. But if anything demurs, if even one thing will not weep, Balder must remain in Niflheim." And with these words Hel slowly turned away from Hermod.
Then Balder stood up and Nanna rose from the shades and stood beside him. They walked the length of the hall; they passed between the benches of corpses and Balder's face was white and shining. Balder and Nanna came up to Hermod and greeted him and led him out of Eljudnir. Then Balder took off the arm-ring Draupnir that Odin had fixed on him when he was lying lifeless on Ringhorn, and he put It into Hermod's hands. He said, "Give this to my father in remembrance of me." And Nanna offered Hermod linen for a head-dress and other gifts. "these are for Frigg," she said. "And this is for Fulla." She handed Hermod a gold ring.
Hermod took leave of Balder and Nanna. He mounted Sleipnir and rode without rest until he reached Asgard. And there, in Gladsheim, he told the gods and goddesses all he had seen and all that had been said to him.
The Aesir sent out messengers to every corner of the nine worlds. And all that they asked was that dead Balder should be wept out of Hel. As each substance had sworn an oath before that it would not harm Balder, each substance now wept. Fire wept, iron and every other metal wept, the stones wept, earth wept, the trees wept, every kind of illness wept, all the animals wept, all the birds wept, every kind of poisonous plant wept and so did every sidling snake — just as these things weep when they are covered with rime and begin to thaw again.
The gods' messengers were making their way back to Asgard and they all felt they had overlooked nothing.
Then they came across a giantess sitting in a cave.
"What is your name?" asked one.
"Thokk," said the giantess.
Then the messengers explained their mission and asked Thokk to weep as all things had wept, weep and weep Balder out of Hel.
The giantess glowered at the messengers and then she answered sourly, "Thokk will weep dry tears over Balder's funeral. I never cared for the Old Man's son — alive or dead, I have no use for him. Let Hel hold what she has."
Despite the messengers" prayers and entreaties, Thokk refused to say another word. She would not recant, she would not weep.
Then the messengers left her; they mournfully crossed Bifrost. And they had to say was clear from the manner of their coming.
The gods and goddesses ached; they felt old and confused and unable and weary.
And not one of them doubted that Thokk, the giantess in the cave, was also Loki.
-
Kvasir and the Mead of Poetry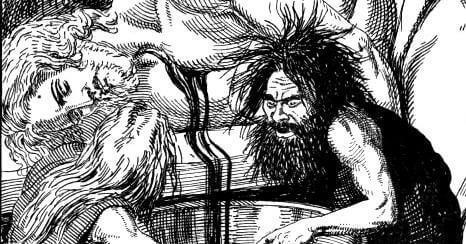 When The Aesir and the Vanir had made a truce, and settled terms for a lasting peace, every single god and goddess spat into a great jar. This put the seal on their friendship, and because the Aesir were anxious that no one should forget it, even for one moment, they carried off the jar and out of the spittle they fashioned a man.
His name was Kvasir. He was so steeped in all matters and mysteries of the nine worlds since fire and ice first met in Ginnungagap that no god nor man nor giant nor dwarf ever regretted putting him a question or asking his opinion. And wherever Kvasir went, news of his coming went before him. When he reached some remote farm or hamlet, sewing and salting and scything and sword-play were laid aside; even children stopped chattering and listened to his words.
What was his secret? It was as much in his manner as in his mine of understanding. Questions of fact he answered with simple facts. But to ask Kvasir for his opinion — What shall I say? What do you think? What shall I do? — did not always mean getting a direct answer. Sitting back in his ill-fitting clothes, as often as not with his eyes closed, he would listen to recitals of problems and sorrows with a kind, grave, blank face. He took in and set everything in a wider frame. He never intruded or insisted; rather, he suggested. Often enough he answered a question with another question. He made gods and men, giants and dwarfs feel that they had been helped to answer their own questions.
The stories of Kvasir's wisdom soon reached the ears of a most unpleasant pair of brothers, the dwarfs Fjalar and Galar. Their interest soon turned to envy and their envy to energy, for they could not admire anything without wanting it for themselves. They asked Kvasir to feast with them and a large gathering of dwarfs in their cave under the earth and, as was his custom, Kvasir accepted. The table was a long slab of uneven rock, the floor was grit and the wall-hangings were dripping stalactites; the talk was chiefly of profit and loss and petty revenge; the food, however, and the tableware, all made of hammered gold, were rather more pleasing.
After the feast, Fjalar and Galar asked Kvasir for a word in private. Kvasir followed them into a gloomy chamber, and that was a mistake. The two dwarfs had knives hidden in their sleeves, and at once they buried them in the wise man's chest. His blood spurted out of his body and Fjalar and Galar caught it all in two large jars, Son and Bodn, and a cauldron called Odrorir. Kvasir's heart stopped pumping and his drained white body lay still on the ground.
When, after a while, the Aesir sent a messenger to ask after Kvasir, the two dwarfs sent back word that he had unfortunately choked on his own learning, because there was no one in the nine worlds well- informed enough to compare and compete with him.
But Fjalar and Galar were delighted with what they had done. They poured honey into the jars and cauldron filled with Kvasir's blood, and with ladles stirred the mixture. The blood and honey formed a sublime mead: whoever drank it became a poet or a wise man. The dwarfs kept this mead to themselves. No one else tasted it ; no one even heard about it.
One day the dwarf brothers entertained two gruesome guests, the giant Gilling and his wife. It was not long before they began to quarrel and Fjalar and Galar became more and more spiteful and full of hate. They suggested that Gilling might enjoy the sea breeze, and each taking an oar, rowed far out into the ocean surrounding Midgard. Then the dwarfs rammed their boat into a slimy, half-submerged rock. Gilling was alarmed and gripped one gunwale. His alarm was well-founded ; the boat foundered and capsized. Gilling was unable to swim and that was the end of Gilling! The two dwarfs cheerfully righted their craft and rowed back home, singing.
Fjalar and Galar described what had happened to Gilling's wife.
'An accident,' said Fjalar.
If only he had been able to swim,' Galar said sadly.
Gilling's wife wept and wept and, sitting in their cave, the two dwarfs did not like the feel of the tepid water washing round their ankles. 'I've an idea,' whispered Fjalar to his brother. 'Find a millstone, and go and wait above the entrance to the cave.'
Galar got up and went outside and Fjalar asked the giantess: 'Would it help if you looked out to sea? I could show you the place where he drowned.'
Gilling's wife stood up, sobbing, and Fjalar stepped aside for her as befits a host. And when the giantess stepped out into the daylight, Galar dropped the millstone on to her head.
'I was sick of her wailing,' said Fjalar.
When Gilling and his wife did not return to Jotunheim, their son Suttung set out in search of them. He looked at the dwarfs' dismal faces and listened to their lengthy tales and then he seized both of them by the scruffs of their necks.
Holding one in each hand, a pair of danglers, he angrily waded a mile out to sea, until it was too deep even for him. Then Suttung dumped Fjalar and Galar on a skerry, a sopping rock standing just clear of the water. 'It's much too far for you to swim,' he said. 'Much too far. So when the tide rises …'
Fjalar looked at Galar and both brothers grimaced.
'We've a suggestion,' said Fjalar.
'Since it has come to this,' said Galar, 'we're willing to offer you our greatest treasure.'
Then Fjalar described their mead, both its origin and power, with a wealth of words.
'Give us our lives,' said Galar, 'and we'll give it to you.' 'Agreed,' said Suttung.
So Suttung took the two dwarfs back to their cave and, since they clearly had no choice, they handed over Kvasir's blood. The giant stumped back to Jotunheim, carrying Son in one hand and Bodn in the other and Odrorir under his arm. He took the precious liquid straight to the mountain Hnitbjorg where he lived. Suttung hewed a new chamber out of the rock at the heart of the mountain and hid the three crocks in it. And he told his daughter Gunnlod that she had one duty: 'Guard this mead by day and guard it by night.'
Unlike the dwarf brothers, Suttung was boastful about his treasure. So it was not long before the gods learned about the divine mead, and heard how it had fallen into Suttung's unholy hands. Odin himself elected to go to Jotunheim and bring the mead back to Asgard. The Masked God, the One-eyed God, God of the Gods, disguised himself as a giant of a man, and called himself Bolverk, worker of evil. He crossed the river that divided Asgard and Jotunheim and strode across a desert of shifting grey grit where nothing, not even a grassblade, could take root. Bolverk came to a curtain of mountains. He hurried over a snowy pass and at last walked dov!rn into a narrow green valley.
Nine thralls were working in a sloping field, men from Midgard with a taste for adventure and handsome reward. They were scything the succulent grass with long, slow sweeps, and seemed very weary.
'Who is your master?' Bolverk asked one thrall who had stopped work entirely.
'Baugi,' said one thrall.
'Baugi?'
'Suttung's brother,' the thrall said, 'the giant who guards Kvasir's blood.'
'Shall I sharpen your scythe?' asked Bolverk affably.
The thrall was rather quick to agree to this, and when Bolverk drew a whetsione from his belt and began to put a new edge on the scythe, the other thralls crowded round in the hope he would hone their scythes too. Bolverk obliged, and the thralls all said that theirscythes had never been quite as sharp before; they complained that the giant Baugi was too hard a taskmaster; they pointed to acres of grass, still uncut, that lay before them; coming to the point, the thralls asked whether they could buy the hone.
'I might think about selling it,' said Bolverk, 'but only to one man; and only to the one — if there is such a man here — who will feast me tonight in the manner to which I'm accustomed.'
The air was filled with shouts of agreement. 'Yes,' the thralls shouted. 'Yes … Me … I will . . . Here … All right … I'm your man … Done … Agreed … Your hand on it!'
Bolverk looked at them with his one eye. He smiled grimly. Then he threw the whetstone into the air. In the sun it glinted, it looked like silver.
The thralls gasped. They raised their scythes and ran, all of them eager to be under the whetstone when it fell. It seemed to hang in the air, so high had Bolverk tossed it. The thralls jostled, they stepped backwards, they suddenly swung round; and in the end, in their confusion, they all slit one another's throats. The nine of them lay in the long grass they had just cut.
Still smiling grimly, Bolverk caught the whetstone, tucked it into his belt, and walked back the way he had come.
The sun dawdled, and so did Allfather. Not until nearly midnight did he come down from the mountains again, and make his way to Baugi's farm. He said his name was Bolverk and explained that he had been walking all day. Then he asked Baugi if he could give him some kind of a meal and let him stay overnight in one of the huge barns near to the farmhouse.
'A fine time to ask,' said Baugi abruptly.
Bolverk looked pained and asked Baugi what was wrong.
'All my farmhands have been killed. That is what's wrong!' Baugi banged his fist on a trestle table, a blow so powerful it would have flattened a man's head. 'All nine of them. And how can I hope to find any more at this time of year?'
'I've an idea,' said Bolverk. 'You can see I'm strong. Very strong. I can take on the work of nine men.'
Baugi looked Bolverk up and down, and smiled in disbelief, thinking Bolverk was a hollow boaster. 'And if I agreed, what wages would you ask?'
'Only this,' said Bolverk. 'One drink of Suttung's mead.'
Baugi sniffed and shook his head.
'I may be strong,' said Bolverk. 'But to be a poet: that's the finest calling.'
'That mead is nothing to do with me,' said Baugi. 'My brother has it in his safe-keeping; and no one except Gunnlod has ever seen a drop of it. That's how things are.'
'Well,' said Bolverk. 'Those are my terms.'
Baugi shrugged his shoulders and so Bolverk got up to leave.
'I can talk to Suttung,' said Baugi. He had little love for his brother; but he felt sure that, in any case, Bolverk would never be strong enough to keep his part of the bargain. 'Work for me this summer, and I'll tell my brother how you helped me out. That's the best I can do.'
'How far can I trust you?' said Bolverk.
'You'll see,' said Baugi.
For as long as the long days, Bolverk worked for Baugi. As the sun climbed out of the east, Bolverk walked to the green fields still thick with the honey-dew that fell every night from the branches of Yggdrasill. All day he worked under the bright skull of the sky. He worked while the sun hurried west until it seemed to hang, blood red, on the western skyline. Baugi was amazed that Bolverk was as good as his boast, and seemed to need so little rest ; bethought now that Bolverk must be more than merely human.
At the end of the summer, Bolverk asked Baugi for his wages. They went together to find Suttung at Hnitbjorg, and Baugi told his brother how Bolverk had helped him and asked for some of the divine mead.
'Never,' said Suttung. 'Not a drop!'
'Well,' said Bolverk as soon as he was alone with Baugi, 'I hope you're not going to accept Suttung's answer. I've worked for you all summer.'
'I've kept my promise,' Baugi said.
'Why should he have it all for himself?' said Bolverk. 'Don't you fancy a mouthful, Baugi? Since your brother won't part with the mead willingly, let us see if we can trick him out of it.'
'Impossible,' said Baugi. 'Do you know where it is hidden?' He was rather nervous of Suttung; but he was also rather nervous of Bolverk. Bolverk pulled an auger called Rati out of his belt, and told the giant that with it he might be able to drill a hole through the mountain. 'This is the least you can do in return for my work.'
Baugi took the auger and pressed the shank against the sheer rock face of the mountain Hnitbjorg; with both hands he turned the handle. He wondered how to get rid of the troublesome farmhand as he wound and wound and the auger sank into the mountain.
'There!' exclaimed the giant. 'Right through!' He withdrew the drill and wiped his brow.
Bolverk peered with his one eye into the dark passage left by the auger. Then he filled his lungs and blew fiercely into it. A shower of rock chippings blew back into his face, and Bolverk knew that Baugi had not, after all, cored the mountain. 'Were you trying to cheat me?' he said.
The giant said nothing. He drilled further into the mountain, vowing silently to dispose of Bolverk as soon as he could.
When Baugi withdrew the auger once more and Bolverk blew down the hole a second time, all the loose chippings were carried forward on the tide of air. Then Bolverk knew that the giant had bored right into the room at the heart of Hnitbjorg. At once he turned himself into a snake and shrithed into the auger hole.
Baugi stabbed at Bolverk with the point of the auger but he was not quick enough; the snake was already half-way down the passage on his way to Gunnlod and the divine mead. As soon as he reached the stronghold, Bolverk changed himself back into a giant of a man — one-eyed but handsome — and stood in front of Suttung's daughter.
Gunnlod was sitting on a stool of solid gold. And at the sight of Bolverk, Suttung's stern warning that she should guard the mead flew right out of her head. She was not sorry to have company. She sat and listened to Bolverk's beguiling words and songs; she wrapped her arms around him; for three days they talked and laughed and for three nights they slept together. In the silent cave under Hnitbjorg, the heartless father of the gods made love to the spellbound daughter of Suttung. Then Gunnlod was drunk with passion and ready to give Bolverk whatever he desired. He asked for three draughts of Kvasir's blood and Gunnlod took his hand and led him to the mead. With his first draught Bolverk emptied Odrorir, with his second draught Bodn, with his third draught Son. The father of the gods held all the divine mead in his mouth.
Then Odin turned himself into an eagle, flapped down the passage out of Hnitbjorg, and headed for Asgard. Suttung saw him and at once murmured the magic words known only to those who have drunk divine mead. Gods and giants and men and dwarfs saw a dark sight —one eagle pursuing another towards the kingdom of Asgard.
The Aesir quickly brought out jars and bowls, and laid them side by side so that they covered the whole courtyard just inside the great wall of Asgard. Anxiously they watched as Suttung came closer and closer to Odin.
The distant rustle became a whirr, and the whirr a terrible flapping and beating of wings. There was only a wingspan between the two birds. Then the eagle Odin dived in over the wall and spat the mead into the crocks assembled beneath him.
In his haste to escape Suttung, Odin could not help letting some mead spill outside the wall, but it was so little that the gods were not bothered about it. They said that anyone who wanted it could have it ; and that became the poetaster's portion.
Suttung shrieked and wheeled away and shrieked again. He had lost through cunning what he had won through force, and there was nothing he could do.
And the gods? They had lost wise Kvasir, witness to the friendship between the Aesir and Vanir. But because of the cunning of Allfather, they had won back his blood. Once more Odin drank some of the precious mead. And from time to time he offered a draught to one of the Acsir or to a man or two in Midgard; he offered them the gift of poetry.
-
Thor and Loki Journeys To The Land of The Giants
While Thor and Loki were traveling far from Asgard in Thor's goat-drawn chariot, night overtook them and they were welcomed into the house of a farmer and his family.
To repay his hosts for their hospitality, Thor offered his goats for supper, knowing that he could bring them back to life afterwards and not be at any loss. After the meal, Thor laid the goats' hides on the floor and instructed his hosts to place the bones on the hides after the meat had been gleaned from them.
The farmer had two children: a boy named Thjalfi and a daughter named Roskva. Despite the thunder god's instructions, Thjalfi broke open one of the goats' leg bones to suck out the marrow before placing it on the hide with the others.
When Thor awoke the following morning, he hallowed the goat hides and bones with his hammer, whereupon the goats sprang back to life. One of them, however, had a lame hind leg. Thor immediately intuited the reason for this, and was so furious at the farmer and his family that he would have slain them all on the spot had the farmer not offered him his children, Thjalfi and Roskva, to be his servants. Thor accepted, and he, Loki, and the children pressed onward on foot, leaving the handicapped goats behind.
The party's goal was to reach Jotunheim, the land of the giants. They crossed an ocean and a thick, tangled forest. Just as night was falling, they came to a huge hall. They found no one inside, and decided to spend the night there.
They were jostled awake by a great earthquake. Running outside, they found a sleeping giant whose snores caused the earth to rumble and shake. Thor, who hated giants, clutched his hammer and resolved to smite this sure foe of his. But the giant awoke at the last second and seemed to be cheered, or at least amused, by the sight of Thor and his companions. The giant introduced himself as Skrymir (Old Norse Skrýmir, "Boaster"), but said that he already knew full well to whom he was introducing himself.
Skrymir picked up his glove, the great hall in which Thor and his company had slept during the night, and proposed that he accompany them on their journey. To this the god agreed, and off they went through forests and over hills.
At night, they took shelter beneath a venerable oak. Skrymir had been carrying all of their provisions in his bag, and when the giant fell asleep and the task of opening the bag fell to Thor, the god found himself unable to untie the giant's knots. This so angered Thor that he struck the dozing Skrymir in the forehead, hoping to kill him. The giant awoke calmly and asked if a leaf had fallen on his head.
Later in the night, the giant's snores grew so loud they echoed through the valleys like thunder. Thor, annoyed by his inability to sleep, and wanting to kill the giant, anyway, tried a second time to smite him by striking him in the head. But, much as before, Skrymir awakened and asked if an acorn had fallen on his head.
Just before dawn, Thor decided to try one more time to end Skrymir's life. But the giant, awakened, asked if some birds had roosted above him and shaken some dirt from the branches onto his face.
Skrymir departed from Thor and his companions, and the company pressed onward toward a castle called Utgard (Old Norse Útgarðr – see Jotunheim and Innangard and Utangard for the significance of this name).
Around midday, the travelers reached their destination. The gate was locked and no one was there to open it, but Thor and the others found that they could fit through the very large spaces between the bars of the gate easily enough. Once inside, they found a hall where men sat eating and drinking. Amongst them was the king of this castle, the giant Utgarda-Loki (Old Norse Útgarða-Loki, "Loki of the Útgarðr"), who immediately recognized his new guests and set about taunting them for their diminutive size.
Wanting to salvage his dignity and that of his companions, Loki proudly asserted that no one else in this castle could eat food faster than he could. Utgarda-Loki challenged him to prove this boast by entering a contest with one of the men there, whose name was Logi (Old Norse Logi, "Fire"). A trough of meat was set before them, with Loki at one end and Logi at the other, and they were to see who could reach the middle first. They met in the middle at the same time, but while Loki had eaten all of the meat between the end and the middle, Logi had eaten the meat, the bones, and even the trough itself! Loki had clearly lost.
Thjalfi, who was an extremely swift runner, then offered to race anyone in the castle. Utgarda-Loki led him out to a race track and appointed one Hugi (Old Norse Hugi, "Thought") to compete with him. By the time Hugi reached the finish line, he was so far ahead of Thjalfi that he doubled back to meet his contestant. They raced a second time, and once again Hugi beat Thjalfi by a long bow-shot. Still, they raced a third time, but Thjalfi fared even worse; he was still at the midpoint of the track by the time Hugi finished.
Thor then challenged anyone in the castle to a drinking contest, something at which he had no little skill. Utgarda-Loki had one of his servants fetch the kind of drinking horn from which Utgarda-Loki's men were said to drink. When it was placed before Thor, Utgarda-Loki informed him that whoever could finish the horn in one drink was considered a great drinker, whoever could do it in two was considered fair, but no one in his retinue was such a poor drinker as to be unable to finish it in three.
Thor drank mightily, but by the time he had to pause for a breath, the level of liquor in the horn had barely lowered. So he gave it a second try, straining to gulp and gulp until his breath failed him. This time, the level had gone down appreciably, but the better part of the horn still remained. His third drink was even more formidable than the previous two, but in the end, much was still left. By that point, however, Thor could drink could no more, and gave up.
Then Utgarda-Loki suggested that Thor attempt to simply lift his cat from the floor, but Thor proved unable to do even this.
In a rage, Thor challenged anyone in the castle to wrestle with him. Insultingly, Utgarda-Loki appointed an old woman, Elli (Old Norse Elli, "Age") who was one of his servants. But the great god lost even this contest.
After this, Utgarda-Loki decided that there should be no more contests, and the company spent the night there in the castle.
In the morning, they rose and prepared to leave. After Utgarda-Loki had shown them out of the castle, he confided to them what had actually transpired in their contests, saying to Thor, "Now that you have left my castle, I shall see to it that you never enter it again. The knot on my provision bag that you almost succeeded in untying had been wrought in iron. I deflected the blows you attempted to inflict on me with your hammer; instead of my face, you hit the mountainside, and carved three gaping valleys into it. Had you struck me, I would have been killed then and there.
"Loki held his own remarkably well in his eating contest, since his opponent was none other than fire itself. So it was with Thjalfi, too – he raced against thought, which nobody could ever hope to outrun. The far end of the horn from which you drank was connected to the sea, and we were actually greatly afraid that you were going to drink it all. When you cross over the sea again, you will see how much you have lowered its level. My cat was actually the Midgard serpent, whom you succeeded in raising out of the ocean and into the sky. And, finally, you wrestled against old age, and took a long, long time to fall.
"Now, for your sake and for ours, leave, and never come back."
Thor was so angered by this humiliating trickery that he raised his hammer and prepared to slay Utgarda-Loki and smash his castle to pieces. But when he turned to do so he saw no giant and no castle – just a vast, empty plain.
--------------------------------------------------------
How Loki was caught and punished by the Æsir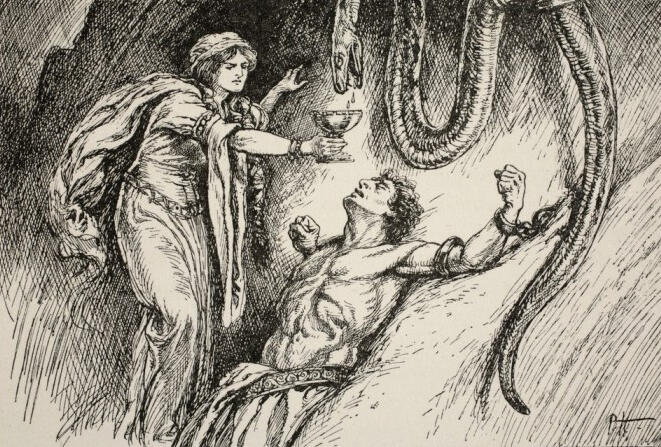 Loki Norse Trickster
Loki for long has become the image of pranks, tricksters, and mischief.
In Norse mythology, Loki was rather a burden than a help to the Gods.
Most of the times, he came up with annoying tricks to put others in embarrassment.
Loki, however, also was the one to help others out of the troubles he created to experience the heroic feeling.
The peak of Loki's prank must be his conspiracy of killing Baldur and this resulted in the Loki Punishment.
Loki contrived a plan to harm Baldur God of Light. As a result, Baldur was killed, coming to Helheim and staying there until the Ragnarok had passed (Baldur Death). Loki could not help the gods to retrieve Baldur. This piled up the anger of the Gods and they finally decided that Loki deserved to be punished for what he had created.
Acknowledging the wrath of Gods, Loki ran away from Asgard to escape his punishment.
He built himself a house on the peak of a high mountain. The house had four doors so that he could observe who were coming in all directions.
By day, he shapeshifted himself into a salmon and hid beneath a nearby waterfall.
By night, he weaved his fishing net for finding his food.
Odin sat on the high throne in his palace observing where Loki dwelled and the gods went after him.
When Loki saw the Gods coming to his house, he threw his net into the fire, turned himself into a salmon, and hid. Arriving at Loki's house and seeing the net smoldering in the fire, the Gods assumed that Loki changed himself into the appearance of something he intended to catch for himself.
The gods then crafted their own net and began to capture the slippery Loki.
Several times of trying were unsuccessful and Loki just managed to elude the Gods.
At last, Thor caught Loki in mid-air when Loki the fish made a flying leap above the net and Thor grasped his tail.
This is why the salmon had a slender tail.
Lokis Punishment
After the Gods had captured Loki, they dragged him to a dark cave. Loki was bound to the rocks. And this was the moment for Loki Punishment.
Skadi placed a snake on the rock above Loki's head and let the venom of the snake drip into the face of Loki. Only the faithful wife of Loki, Sigyn, dared to stay with Loki in the dark cave.
With a bowl, she held up to the mouth of the snake to catch the poison.
As the bowl became full, Sigyn turned away from her husband to dispose of the venom.
At that moment, the venom dripped into Loki's face.
The pain was so awful that Loki writhed, making the earth to tremble.
Maybe because of this, people believed Loki was the causes of earthquakes.
-
---
---
Völva the Norse Witch or Seeress
A Völva or as it is pronounced in old Norse a Vǫlva, is what we in English would call a Seeress. The Völva in the Viking age were the predecessors of the medieval witches, A Völva is very ancient, and their roots go back more than 2.000 – 3.000 years.
A Völva was a woman in the Viking age who practiced magic, known as seiðr, The word Seidr literally means "to bind". A Völva often had a very special role within the society and would often have close ties with the leaders of her clan. You could call a Völva/Vǫlva a spiritual leader or healer in the Nordic society. A man could also practice Seidr, and he would be known as a Seer, but that was very rare.
The vǫlur were referred to by many names. Old Norse vǫlva means "wand carrier" or "carrier of a magic staff"
Völva was both feared and hated by the Christian Church, The Church banned the use of staffs and wands, the use of magic and the heathen altars. The practice of heathendom or the use of magic was punished by death, and the Church would show no mercy to anyone who got caught.
Wand, song and seat
The Völva would either sit on a high chair or she would be lifted up, so she would be able to see into another realm holding a wand. the Völva herself or other girls at the ritual would sing to evoke the spirits.
The song changes the seeress's state of consciousness and sends her into a trance. Now she can visit helpful spirits and gods, state her purpose and see widely. When the song dies down, she still finds herself between worlds. In this state she can predict the future, answering the questions about the future and fate that the participants in the circle ask her.
-
---
---
---
Terms and Conditions
PLEASE READ THE FOLLOWING TERMS AND CONDITIONS OF USE CAREFULLY BEFORE USING THIS WEBSITE.
All users of this site agree that access to and use of this site are subject to the following terms and conditions and other applicable law. If you do not agree to these terms and conditions, please do not use this site.
Limitation of Liability
The Rune Workshop shall not be liable for any special or consequential damages that result from the use of, or the inability to use, the materials on this site or the performance of the products,
Use of Site
Harassment in any manner or form on the site, including via e-mail, chat, or by use of obscene or abusive language, is strictly forbidden. Impersonation of others, including a The Rune Workshop or other licensed employee, host, or representative, as well as other members or visitors on the site is prohibited. You may not upload to, distribute, or otherwise publish through the site any content which is libelous, defamatory, obscene, threatening, invasive of privacy or publicity rights, abusive, illegal, or otherwise objectionable which may constitute or encourage a criminal offense, violate the rights of any party or which may otherwise give rise to liability or violate any law. You may not upload commercial content on the site or use the site to solicit others to join or become members of any other commercial online service or other organization.
RETURNS AND REFUNDS
Should you wish to return your order, please notify us within 7 days of purchase with a valid reason for return. If we are unable to resolve your complaint or further assist you, we will process a refund upon timely receipt of the goods purchased. Refunds will be processed promptly and payment made by the same method that you made payment. Return Shipping is Paid By Buyer With Tracking Number All refunds are made at the discretion of www.theruneworkshop.com.au
Shipping Policy
Shipping Within Australia only No International Post
All Orders Shiped Within 24 Hours With a tracking number
The Rune Workshop is not responsible for lost, damaged or stolen packages. If you did not receive a package that is marked as delivered, it is your responsibility to resolve this issue with the post office. Lost, damaged or stolen packages are very frustrating and we will do our best to help you resolve the problem. Please understand though that this is completely beyond our control and does require you contact the post office for assistance.
Customers are responsible for all shipping costs associated with their order. We do not refund shipping costs for any reason.
In some cases when a package is returned to us unopened by the Post Office we may be willing to refund the cost of the order itself, however this is at our discretion and does not imply any obligation to do so. In all cases, we will not refund the cost of shipping. Shipping cost is the sole responsibility of the customer.
---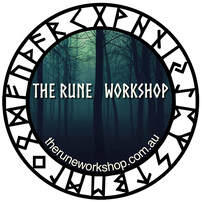 ---
---

---
---
---
Tarot & Oracle Readings
---
Hello and welcome, This is Luna!
I am an intuitive empath with the ability to connect with
spirit guides to give insightful Tarot,Oracle and Rune readingsI have been a professional reader for 20+ years
(I Do not provide Health/Legal or General Readings)
Have a blessed day!
---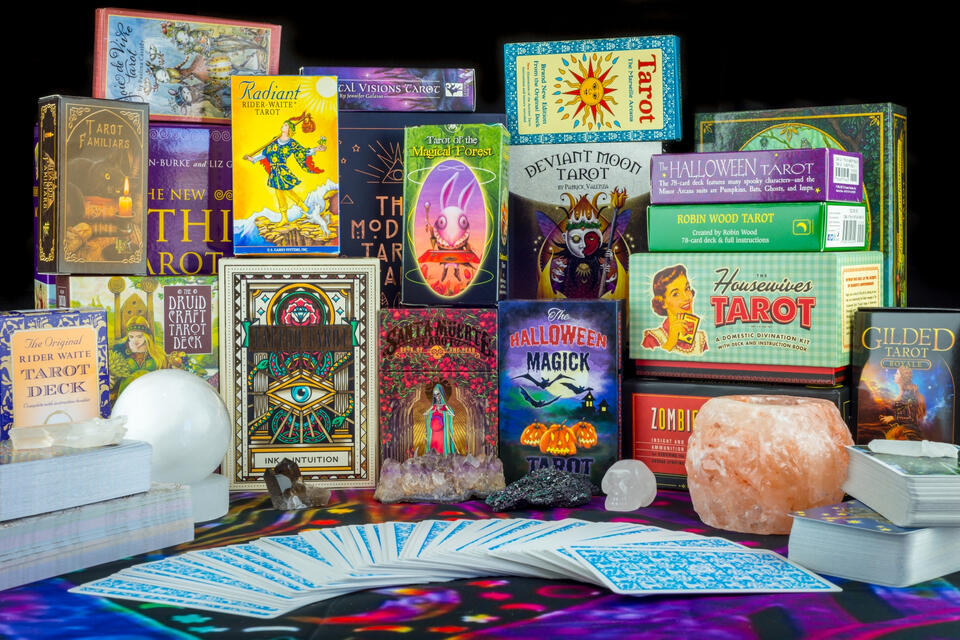 One Card Tarot Spirit Guide Message
This is a no question singular tarot card pull and a bonus affirmation card pull, with a message from the spirit guides
Your reading will be written & sent to you via Email
Just leave your Name and Email
in the paypal box
$2.00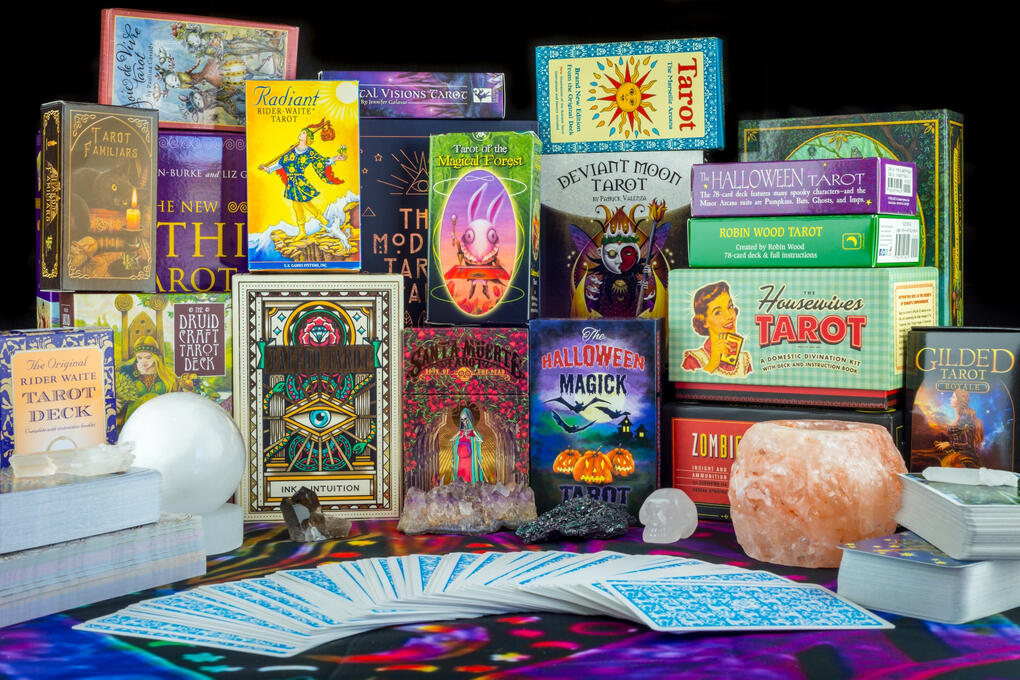 One Question Tarot Card Pull
This is a one question singular tarot card pull and a bonus Oracle and affirmation card pull, with a written interpretation designed to point you in the right direction
Your reading will be written and sent to you via Email
Just leave your question and Email in the paypal box
$5.00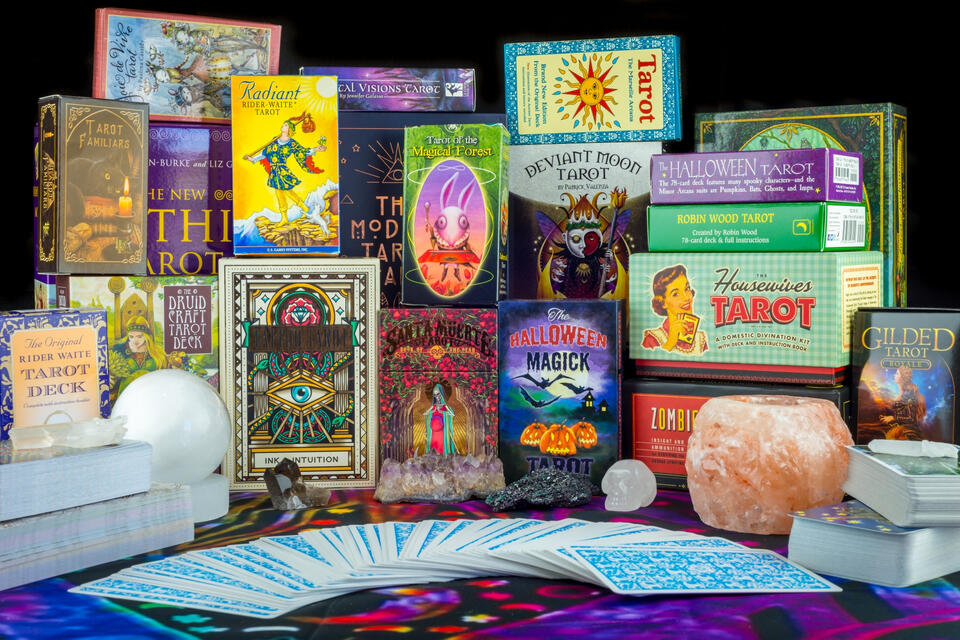 One Question 3-5 Tarot Card Reading
A custom spread of 3-5 cards designed to give you guidance on a question or situation. Includes a bonus oracle & affirmation card pull,
Your reading will be written and sent to you via Email
Just leave your question and Emailin the paypal box
$25.00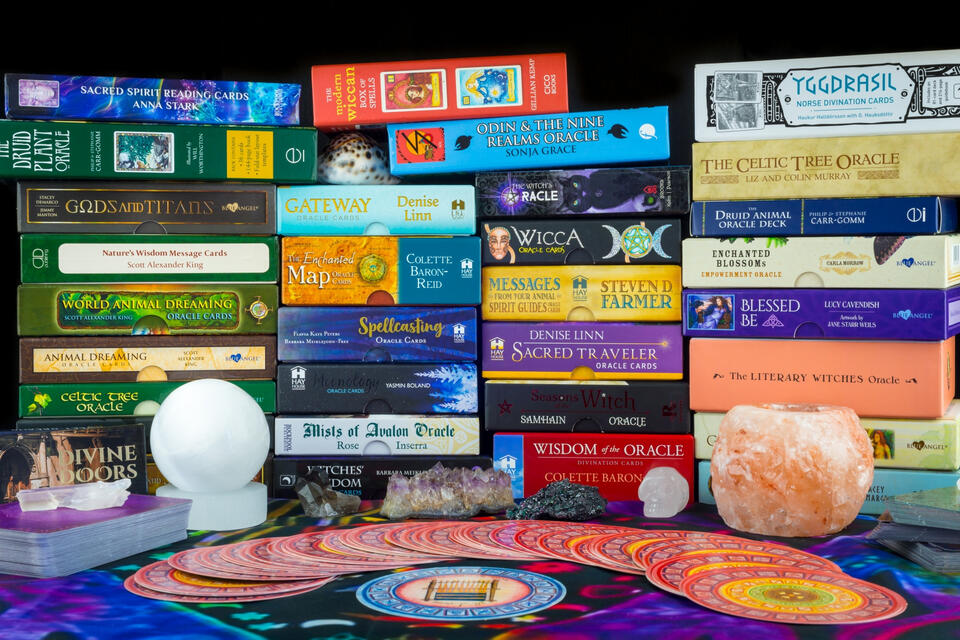 One Card Oracle Spirit Guide Message
This is a no question singular oracle card pull and a bonus affirmation card pull, with a message from the spirit guides
Your reading will be written and sent to you via Email
Just leave your Name and Email
in the paypal box
$2.00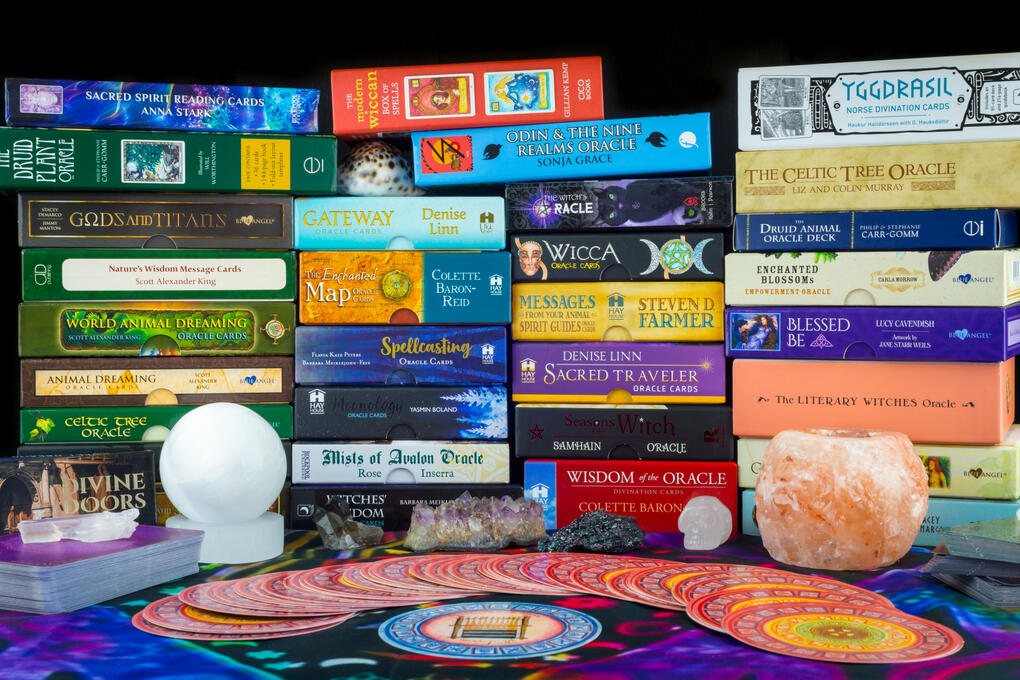 One Question Oracle Card Pull
This is a one question singular oracle card pull and a bonus affirmation card pull, with a written interpretation to point you in the right direction.
Your reading will be written and sent to you via Email.
Just leave your question and Email in the paypal box
$5.00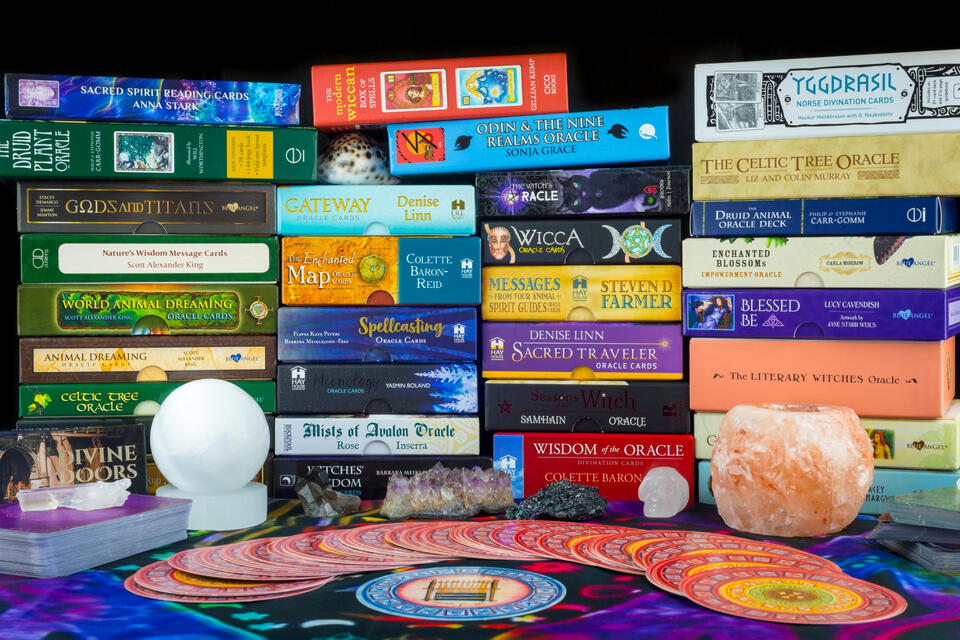 One Question 3-5 Oracle Card Reading
A custom spread of 3-5 cards designed to give you guidance on a question or situation. Includes a bonus affirmation card pull, Your reading will be written and sent to you via Email. Just leave your question and Email in the paypal box
$20.00
---
---
I'm currently doing free one-card mini reads on Twitter @theruneworkshop

---
DISCLAIMER
For legal purposes, I must state that:
This reading is for entertainment purposes only.
I am not responsible for any actions taken from your reading.
By purchasing this reading, you acknowledge that you are over the age of 18.
---
---
---
Thankyou for your purchase!
Your order is on the way
Have a blessed day!
---
All orders shipped on the next business day via Auspost with a tracking number
---